"Food is one of the best ways I know to bring people together," says celebrity chef Govind Armstrong, Executive Chef of The Republic of Laughter Café.
Melrose Avenue's latest foodie destination is bringing all walks of people together in a spacious European style cafe built around locally sourced (organic when possible) California seasonal ingredients. The full menu, featuring down home recipes with some high end cooking, has something for everybody, and is served daily from 11:30 a.m. to 10 p.m..
ROFL opened this summer at Melrose (near Stanley), and business has been steadily growing each month as word spreads about the food (98 percent of everything served is made from scratch in house) and the Intelligentsia coffee. Yelp reviews are consistently four stars or better.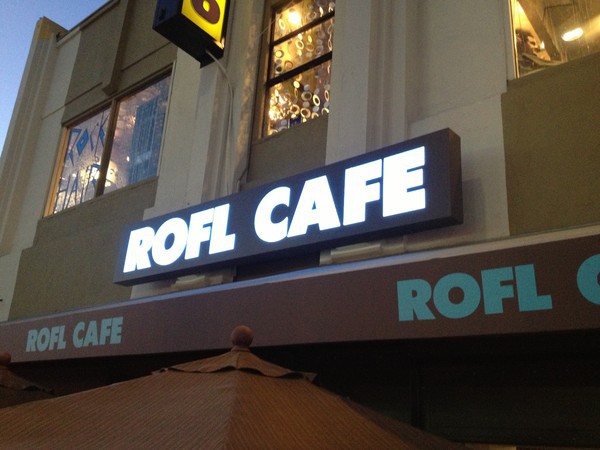 Photo by Brantley Watson
Joshua Moser, Sous Chef, guided the pizza portion of the menu; a pie lovers' dream crust in a traditional Neopolitan style -- light with a crispy outside. Moser has also overseen ROFL's popular Liege waffles, and house made cheesecake -- all outstanding.
The varied menu features Armstrong's signature short rib grilled cheese, creamy deviled eggs, mouthwatering burgers, fresh seasonal soups and salads, perfect mussels, and an impressive selection of vegetable offerings, include the tastiest, freshest beet dish (complete with hazelnuts and goat cheese) I've had in L.A.
We loved everything we sampled on the weekend brunch menu, from the best biscuits and gravy to Chef Jacob Wildman's family recipe of baked Swedish pancakes hitting the spot. During the week from 7 a.m. to 11:30 a.m., breakfast is limited to fresh pastries (from Susina), waffles and the coffee/tea bar.
With ample space and outlets in every single table and booth, and indoor/outdoor patios, ROFL can easily accommodate writers with their laptops, or small meetings.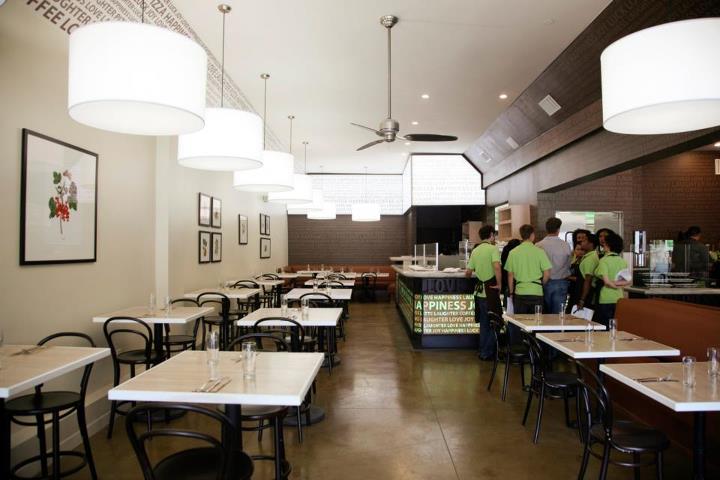 A small gift shop near the coffee bar sells books, including Masaru Emoto's The Hidden Messages In Water, which proved an inspiration for the ROFL's interior.
A beer and wine license should be arriving within the next few months.
Moser comments on the café's name, "the theme of the restaurant is it's a place of happiness and how positive energy ripples into everything else from the food to the service to the positive vibe the customer feels even after they leave."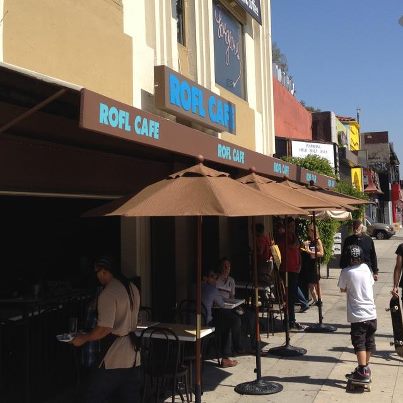 The positive energy is exemplified in Republic of Laughter's staff, among the friendliest, most attentive I've seen in this city. Upon leaving, our lovely hostess (who couldn't do enough to make sure we had everything we needed) with the brightest smile, sang a soul song to us a capella (quite nicely!) -- certainly not part of her job description, but it sure made my guests and me feel good. I'm already looking forward to my next visit.
Jacob Wildman, formerly of 8 Ounce, now the Chef De Cuisine at Republic of Laughter Café (ROFL) comments,
L.A. folks are fickle. It's hard to keep restaurants going in this city because customers can be so fair-weather. So that's why we're trying to create that neighborhood vibe/café here on Melrose. We have the best coffee, sourcing the freshest foods, at reasonable prices. We want people to keep coming back.
ROFL chefs (from left to right) Joshua Moser, Govind Armstrong, Jacob Wildman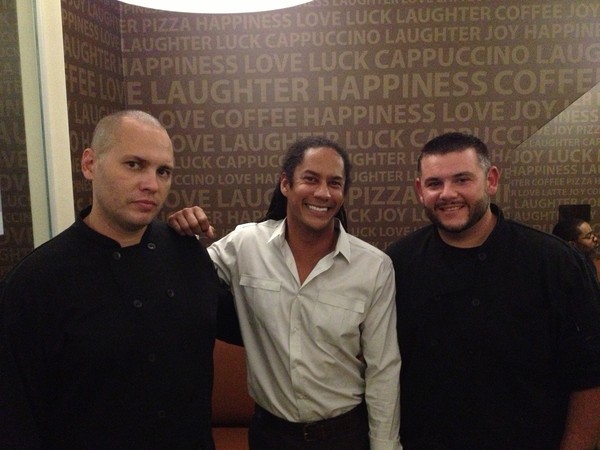 Photo by Brantley Watson
Republic of Laughter Cafe is located at 7661 Melrose Avenue (east of Fairfax, near the corner of Stanley). They also do take out and delivery service. No reservations required.