In 2008, San Juan Capistrano's Mecca of environmental awareness, The Ecology Center, was two acres of dirt lot surrounding the town's oldest wooden home. Four years and an immeasurable amount of community teamwork later, led by the guiding visionary hand of Evan Marks, the center is flourishing with 15,000 guests a year visiting its bountiful gardens around the 1898 homestead located in southern Orange County, California.
To celebrate all that is sustainable, locally grown, and healthy, Marks and company have staged an annual magnificent four-course harvest dinner under the stars at The Ecology Center known as The Green Feast. A gathering of hundreds of discerning food and wine lovers the second weekend of September, this is not just an epic feast for the taste buds, but for all the senses.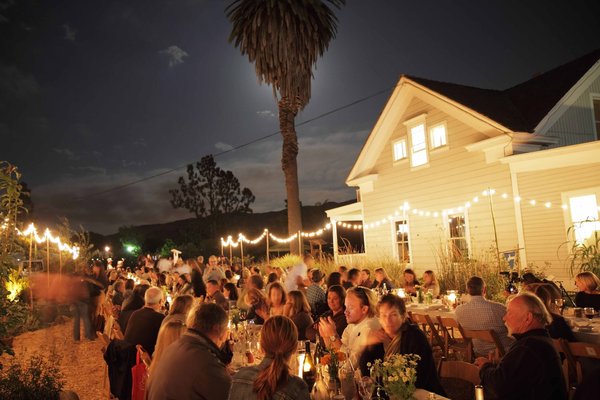 Photo by Kenny Morrison
Before dinner, guests were given two large navy beans as voting ballots and encouraged to sample all the gourmet hors d'oeuvres as created by Orange County's most creative chefs.
My choice for Best Appetizer ("app off") was excruciating for a diehard foodie like myself, but I gave one of my bean votes to the best mussels I have ever had. Chef Pascal Olhats, whose restaurants can be found all around Orange County, created the steamed mussels and adorned them with a perfect blend of bell peppers, and Temecula olive tapenade. The flavors and textures were perfection.
In a French accent thick as brie, Chef Pascal adds, "I can find all these ingredients right here in my backyard. Why should I go back to France? Everything I want to cook with is right here in Orange County."
My other bean went to Gina Galvan's sublime gazpacho bursting with heirloom tomatoes, peaches and even watermelon (all picked a day before the feast), capturing all the flavors of summer. To top it off, the gazpacho was served in hollowed-out cucumbers positioned upright on a half of a watermelon (talk about sustainable!).
Galvan, a self-described flavorsmith (don't you love that word?) from Orange County's Singapore American Truck says, "Eating from the Earth connects us to our past, and hopefully with events like this -- this will be our future as well."
What Is The Green Feast?
The ultimate winner of the Green Feast App-Off was neither of my No. 1 picks, but was certainly in my top five. Chef Erika Tucker (The Cellar in San Clemente) created the most sublime corn chowder accompanied by a whipped goat cheese crostini ("little toasts" in Italian) brushed with a sweet mango-infused honey. Her prize? She's invited to be a main course chef at next year's feast. What will she create? Come to The Green Feast in September 2012 and find out!
As the sun set, and the local musicians played twangy Americana, I left the cinematic fields of corn and took my place at the elegantly set table (stretching half a city block) amongst the friendly gaggle of Orange County movers and shakers that included Top Chef guest judge Govind Armstrong.
Chefs from local eateries within a 200-mile radius collaborated on the epic family-style dinner menu that included fresh local meats, seafood, salads, mouth-watering desserts, as well as delicious alternative entrees for vegetarians.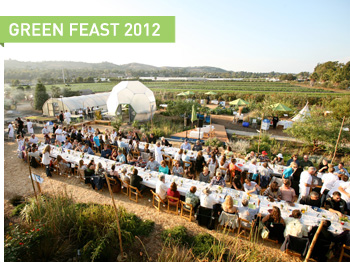 Evidenced by the fourth annual sold-out Green Feast, environmentalist and Orange County native, Evan Marks' vision of a regional hub for sustainability is a dream come true:
At the end of the day it's all about the narration of where our food comes from. It's a bond. Farmers, fishermen, winemakers, and the people eating it -- we're a community that supports each other, and by doing so, we can make a difference in elevating the health of our environment for future generations.
The Ecology Center's board president, Jamie Welsh, kicked off the evening with a heartfelt speech that reminded the crowd this is more than just a dinner:
This is a movement. And if you don't think it is, you're not paying attention. Support sustainable, locally grown food. This is good for our communities. Every time you put a piece of food in your mouth, you should bless the sun, the Earth, the animal, and the farmers that made this possible.
The chefs of The Green Feast "Buy local, think global":
The Ecology Center intends to use the funds from the Green Feast for some of its programs, including the mobile Water Shed, which takes a water stewardship awareness program on the road to schools and other gatherings.
The Ecology Center is located at 32701 Alipaz Street in San Juan Capistrano, and Evan Marks welcomes all who wish to drop in and partake of the various green, eco-friendly programs. For more information, call 949-443-4223.
Tickets to The Green Feast went on sale of June of this year and sold out quickly, for details, check out: http://www.theecologycenter.org/