War Horse, the not-to-be-missed Tony Award winning play, gallops its way through the Ahmanson Theatre this month led by the magnificent equine creations of Adrian Kohler and Basil Jones, the founders of South Africa's Handspring Puppet Company.
Through the magic of theatre, these elaborately engineered horse-puppets embody all the emotional and physical authenticity -- right down to the ear movements -- of the real thing in the wild. One woman behind me gasped as Joey, the main character, thundered through the audience exclaiming, "That's one hell of a horse!" It is.
I had the good fortune of meeting Kohler and Jones (married, they met at age 19 in a South African art school) just before departing Los Angeles for their hometown of Capetown.
Xaque Gruber: Handspring Puppet Company formed in 1981 -- and it has not only survived, but has flourished on international stages. How did your company begin?
Basil Jones: When we started the company we felt failure was probably imminent, so we formulated a marriage and divorce contract between the four founders. We were all art school friends.
Adrian Kohler: My mother was an art teacher and an amateur puppeteer, and I was raised with puppets. So after art school, I said, "Let's start a puppet company." We spent five years making shows, touring them to schools for a few months at a time, and living in a truck.
BJ: Children's theater at the time in South Africa was Jack And The Beanstalk or Alice In Wonderland, which speak more to Europe or America, but we wanted to tell stories rooted in the a social and political awareness that speak to African people. We'll be dealing with the background radiation of Apartheid for the next century, and it's quite a bumpy ride. The plays we do in South Africa take into account that bumpy ride.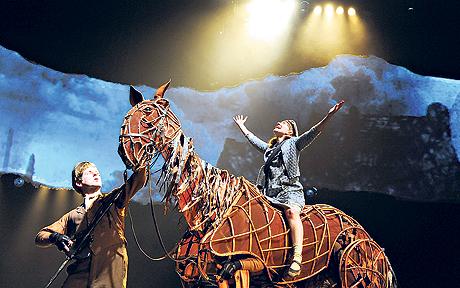 XG: In War Horse, the spontaneity of the horse's movements make the puppets seem absolutely real.
AK: That's the thing. To not lapse into choreography - because that's the real danger. "I have to move here now - and I have to move here now." Animals don't move like that. If the horse moves on the beat, then suddenly something gets broken, and the animal-ness of the horse is lost. The music can encourage movement perhaps, but we fight to break any rhythm.
BJ: And we've got a really great cast, and it's lovely to see them change their movements every night too to keep it fresh. It's subtle but it makes it all more real.
Breathing Life Into War Horse:
XG: How did you get involved in War Horse?
AK: We started touring Europe in the mid 1990s, and the Royal National Theatre of London was looking to develop projects to attract a younger audience. We worked on a giraffe piece called, by chance, Tall Horse, and then soon the Royal National Theatre contacted us to create the nine horses for War Horse. Joey (title character) is the most complicated puppet we've created. There's a huge amount of accumulated expertise that goes into building the horse.
BJ: The horses are built larger than actual scale.
AK: I watch the construction of the horse heads with great joy back in Capetown.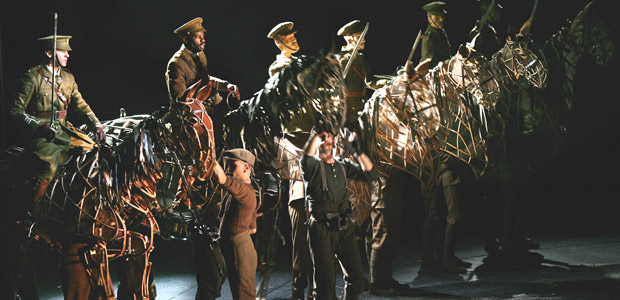 BJ: With eight shows a week indefinitely, the bearings have been attended to, and each puppet maintenance team brings their ideas and perspective on puppet construction. We have repair people -- craftsmen who will travel from London to various cities to help those productions. At the moment, War Horse is in London, Toronto, Los Angeles, and New York simultaneously -- and next year it will be in Australia and Berlin. Our giraffes are in China, and another show called Woyzeck on the Highveld, an adaptation of a classical German play, will be coming to the States.
War Horse Arrives at Los Angeles' Ahmanson Theatre:
XG: What is it that puppetry does well that other forms of theater cannot do?
BJ: We ask ourselves that question, and there are several things, and one of them is staging animal beings.
XG: Which people love to see.
AK: It's true. And for the whole of humanity, about ten thousand years, our relationship with horses was absolutely vital. Mankind has only recently separated from them, and that kind of nostalgia of that separation is what you feel when you see War Horse.
BJ: Both of us used to ride horses when we were teenagers, but we haven't been riding in ages.
AK: Some people had said to us how can you do puppets and war? And will puppetry turn people off? But when they leave the theater they say, "I don't think those were really puppets. They weren't really puppets. (laughs)" People like to have their imaginations pricked, and puppets do that. It's kind of yoga for the imagination because you have to stretch your mind.
A remarkable tale of courage, loyalty and friendship, War Horse runs through July 29th at the Ahmanson Theatre in downtown L.A. For tickets: www.centertheatregroup.org/warhorse
Basil Jones & Adrian Kohler accepting their 2011 Tony Award: