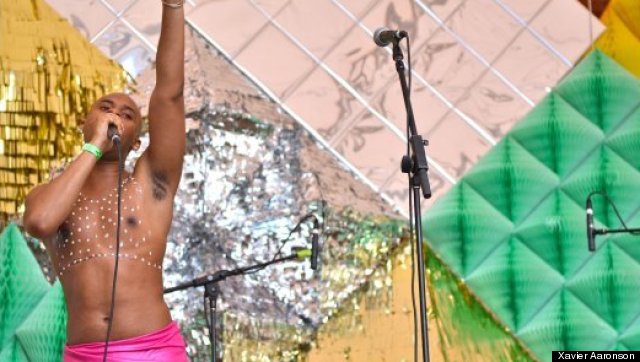 Pull up your socks and tighten your wig, New Yorkers, because the MoMA PS1 is sprucing up your summer museum visit by combining live music with contemporary art; tethered by this year's large-scale, blue-spiked installation, harmlessly named "Wendy."
Saturday was the launch of the MoMA PS1's highly anticipated Warm Up dance party series. For fifteen years the Queens museum has been making art less serious by turning the premises into a multi-sensory funhouse of genre-dipping delights.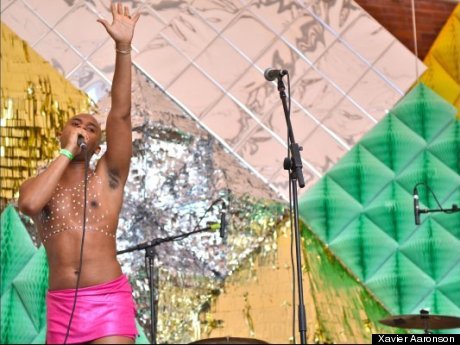 Amongst the shakers on stage, Arca (featuring HBA) kicked things off with a nonplussed performance, sporting a pink skirt-speedo and a fabric-less, rhinestone tank top. The sweat ensued with sets by synth-doom duo Trust. A sea of flailing arms was then ignited with a rump-exploding DJ set by Nguzunguzu. However, the finale by electro-goth duo Light Asylum was the mainstay of the day's talent. Although the artists' twisted sounds lend more to the darker settings of strobe and shadow, the sun-drenched crowd was gyrating and getting weird just the same.
Raucous sounds, towering art and throngs of flesh satisfied the museum's very objective, which is to assault our senses. It's a sensorial overload only imaginable during the most common of grogs, like that of a Monday morning. Bleh! To keep your weekend flame alive, here are some photos from this Saturday's MoMA PS1 Warm Up. Until next week...