"This is your first column, what are you going to do? What will you write? How will you introduce yourself? Don't let it sound too childish or self-pitying. Be brave and spill your guts in front of everyone, just keep your privacy and that of your family and friends. Don't you dare over exaggerate with wild descriptions, but don't just write down dry facts."

Dry facts? That's just not me -- you can ask my doctors for some though. If they introduced me it would probably sound like this:

"Yaniv Aviran, male, suffers a muscular dystrophy called SMA type 2. One out of 6000 infants are born with this disorder. The main symptoms include gradual muscle weakness and loss of motor skills. Yaniv, surprisingly, is already 27-years-old and he is completely supported by his surroundings, 24/7. Due to his neuro-whatever disability he is now supported by a wheelchair, is extremely underweight and suffers from breathing deterioration. In short, he's a handicap."

I look up, get a bit startled, then I laugh a little. If I was reading this medical report of somebody else, I would be shocked. I would probably feel pity, empathy and protest the injustice in the world. Maybe even close this page all together, because I don't want to get too depressed over a stranger. However, my column will tell a different story; a story where you will ignore the paperwork, and focus on what is actually going on. So let's start again, and this time I will introduce myself.

It's nice to meet you all. My name is Yaniv, son to Rachel and Shimon, brother to Meirav and Michal, and good friends to a wonderful few. I am 27-years-old, I live in Israel and I'm a copywriter (after changing professions). At the early age of 15, I was a partner executive of a web hosting company. Within a year, we had already sold it. Today, I'm running my own advertisement agency, I'm a motivational speaker, and I even wrote and published a successful children's book. And sure, I do have a sickness: I love soccer!

I hope I managed to break the harsh image you were introduced to in the beginning. If there's not a way to get a second first impression, then I'm out of luck. You would never expect this medical disaster to go out and have fun, travel around the world, or pursue and achieve every goal he set for himself. You wouldn't believe that the man described earlier is on a country-wide tour, telling everyone in earshot how great life is, and how you can make it even better.
Don't think for a moment that there is any denial here. When I look in the mirror I remember the toughness of my situation. Even among the other handicapped people, I'm considered a "worse case scenario." And there is pain, sometimes in my back, my hands, my chest or my legs, reminding me to slow down and remember that it might be too tough for my body to keep up in the pace of my thoughts and dreams. Nothing is simple, and sure, I had to give up on some childhood dreams (a tragic loss for the flight world), but so what? There isn't one great movie without a plot twist.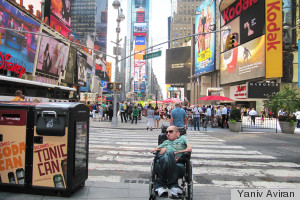 Even with all that self-loving, my story is not about me. It's about a starting point, about solid facts. How many people in this world have a disability that stops them from fulfilling themselves? From being happy? Like a giant weight that is strapped to their legs and won't let them fly, though it doesn't exist. You can say it's cliché but I learned this all of my flesh -- what would have happened if I was chained by that medical report? What will I get out of this life if I keep looking at my starting point compared to the rest of humanity?

In my case, the disability is physical, but there are many other reasons why people are holding themselves back -- financial status, family issues, education, gender, lack of time or even an ingrown toenail. If we always look for reasons why we can't, believe me, we won't stop finding them. I am not a super hero and don't have magical solutions, but if there is one thing I'm sure of, it's that every problem has a solution. You know, we are pretty in-touch with our problems, we know them all too well and some of us are even comfortable with them. Just thinking about going out of that "safe zone" and fighting, it's scary. Then again, I could tell you that going on a field trip with your class is pretty scary; scary, but worth every moment.

So as far as I see it, the first step was to get rid of my self-pitying. My amazing parents taught me as a child to be grateful, grateful for all you have. Focusing on the empty half of the glass, who spilled it, and if there is some water worth drinking from it is none of my concern right now. I am thankful for the glass and thankful that I'm alive. The glass is slightly broken, the body is broken, but I'm thankful that the most important organ of all is working well. (Oh, wait, my brain works fine too.)

If I can manage to deal with it, so can you -- with anything! -- so long as you get rid of that self-pity state of mind. I got rid of mine, and I hope you do the same. I'm telling you this because there are people out here who are still caught up with themselves, people that are quite sure I'm probably unhappy with my predicament, despite all the awareness tours I did for my disability.
If any of what I said above sticks, then you know better than to feel sorry for me.
I do welcome comments, insights, likes, shares, hugs and kisses. I'll be back with some more yapping, but until next time remember to always believe in yourselves because succeeding is believing.
--
Yaniv Aviran is an Israeli copywriter, children's author, and motivational speaker. In the past he was a partner-executive of a startup company and today he runs his own advertisement agency. His moving personal story captures the idea of fulfilling dreams while coping with a severe disability. Yaniv lectures globally on the theme that everything is really possible -- if one simply believes in one's self.