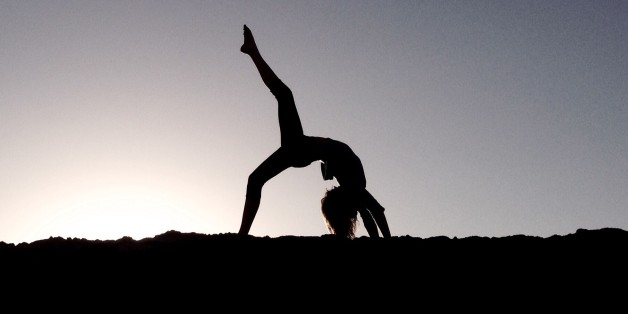 I recently got some publicity for an Eka Pada Koundinyasana pose I did on my desk, which ended up making it to the official Instagram accounts for HuffPost and Arianna.
Of course my ego was proud. And I've worked at my yoga practice for a long time, so some cool poses are a nice side benefit. And they make great party tricks!
But I hope that people won't view the poses as the purpose of yoga. I think yoga is fundamentally about maintaining a steady breath and alignment of the body in all poses (or asanas) in the pursuit of mindfulness.
As some asanas become so easy that they don't create an opportunity to help the mind focus on a challenge, it is okay to add additional asanas to your practice. But a "difficult" asana shouldn't be viewed as a goal -- if a Half Moon Pose (Ardha Chandrasana) is the right pose for the rest of your life to receive those benefits, then we should think of it as the gift that keeps on giving.
In any case, perfecting the alignment of even the most basic poses like a simple standing pose (tadasana) can take a lifetime to master. And in line with the observation that most yogis come for the physical benefits but stay for the mindfulness, Jason Crandell has said, "Sivasana is always the peak pose."