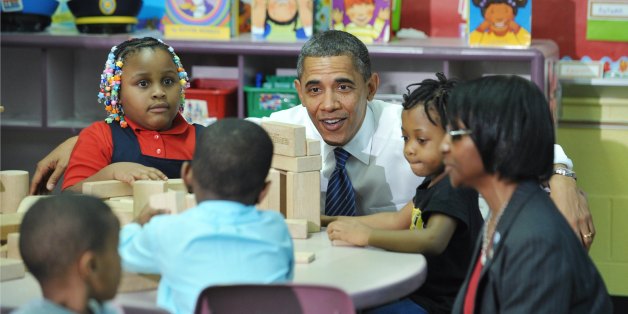 This week, President Obama will step up to the lectern on the dais of the U.S. House of Representatives to give his sixth State of the Union Address. Over the past twelve 12 months, America has been tested by slow economic recovery and too little progress lifting our most vulnerable from poverty. Most distressingly, poverty among children continued at an alarming rate. During that same period, as the demand for it rose, Head Start's ability to serve those same children was also tested. 2013 was a particularly trying year for Head Start, a pillar of America's War on Poverty, as programs nationwide faced overwhelming budget reductions that hindered the ability to provide the high quality early learning the President spoke of during last year's address.
Last February, President Obama said, "We know [high-quality early childhood education] works. So let's do what works and make sure none of our children start the race of life already behind." That's exactly the right note to strike. President Obama's Administration and the 113th Congress are stewards of the commitment America made nearly 50 years ago to provide quality early learning to all children.
That commitment, however, was soon tested. Just two months later, a $430 million, 5.27 percent across-the-board budget cut hit Head Start programs. What was unthinkable became an unavoidable reality. Critical services like home visits, health screenings and nutrition programs had to be removed from a ledger now unbalanced. Head Start's calling card, a set of comprehensive services following a whole family approach to early learning, took a devastating blow.
In August, the full impact of the budget cuts shattered the spirits of the Head Start community. As programs re-opened for the new school year, we learned that 57,000 fewer children would be able to attend Head Start. As terrible as that news was, stories from across the country showed a resiliency among Head Start directors. Their tough decision-making kept as many slots open as possible. They knew that empty seats meant lost opportunities for at-risk children and families. As school years were cut short, a total of more than 1,342,000 days of service were lost and more than 18,000 Head Start employees were laid off or had their pay reduced. Programs with no margin of error in the best of conditions did whatever they could to hold open windows of opportunity for the greatest number of Head Start children.
The double-whammy hit to Head Start came on October 1, when the federal government shutdown put potentially 19,000 vulnerable children in jeopardy of losing Head Start services. Centers in 23 programs across 11 different states were thrown into crisis. Fortunately, those 23 programs were reopened or kept open because of emergency funding. In fact, 13 of those programs received a generous philanthropic donation that averted the interruption of access to Head Start for nearly 9,500 children in nine states. Though the government re-opened before another 157 programs faced crisis on November 1, the budget sequester continued for all Head Start programs.
Thankfully, this January has started out differently with unequivocally positive news. A Congressional budget bill passed, restoring the Head Start funding lost to sequestration and prioritizing an additional, robust investment in Early Head Start. Finally, there is a step in the right direction for the future of America's neediest children.
Head Start programs nationwide are enthusiastic about beginning 2014 by getting back to the work of rebuilding rather than cutting. It is often said that the work of construction is far more challenging than that of tearing down. That is most certainly true. It is something Head Start has learned over nearly 50 years of service as a War on Poverty program getting at-risk children ready for kindergarten. However, it will be a long road back to full health.

As President Obama speaks, hundreds of Head Start leaders will be listening intently as they are gathered in our nation's capital for our Winter Leadership Institute. As the Head Start community begins to recover from the past 12 tumultuous months, it is important to remember the lessons learned and to set the right priorities to avoid repeating mistakes. The past year has reinforced what Head Start has known for nearly 50 years: We need a strong, consistent investment in early childhood education that builds on what works, and befits our national commitment to the success of our children, regardless of the zip code in which they were born.
--
Yasmina Vinci is Executive Director of the National Head Start Association, and has held leadership positions in local, state and national early childhood education organizations.