The killing of teenager Michael Brown has galvanized an entire nation and sparked a discussion on race relations and policing that has long been over due.
This past week, I traveled to Ferguson with a group of activists from Washington, DC. While we all had different reasons for traveling to Ferguson and came from a mix of ethnic, racial, socioeconomic, and educational backgrounds, we all shared a mutual passion for social justice and felt an obligation to stand in solidarity with the people of Ferguson, to march with them and call to heal the wrongs that have plagued Ferguson.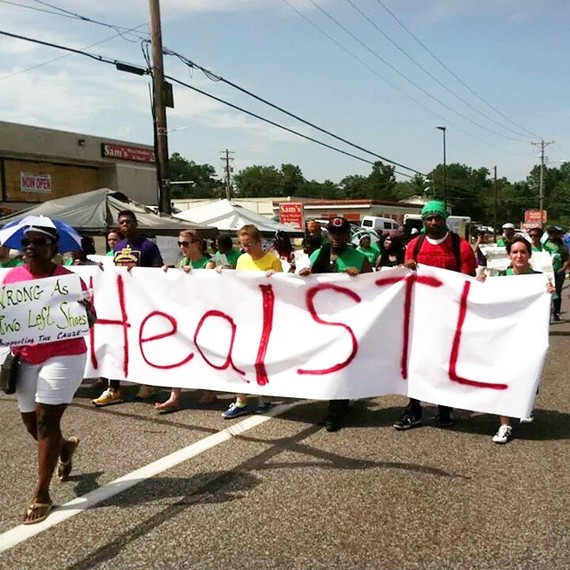 Photo credit: Randall Keith Benjamin II
Though my time in Ferguson was brief, what I saw there brought home the very real and justified sense of oppression many of our fellow Americans feel - a sentiment derived from a deep-seated communal experience with police racism and brutality.
Every Ferguson resident I spoke to seemed simply fed up with years of police harassment, inequality, lack of job prospects, neglect, and no representation in the political system. Our institutions have clearly failed to address the needs of many of the residents in Ferguson and beyond. And the tragic death of this teen was simply a catalyst - the latest in what many Americans view as a long-established pattern of how police treat black men. It was only a matter of time before people took to the streets to demand change.
The sense of oppression that drove hundreds of people out from their homes in Ferguson was palpable. From the perspective of many of these residents - and largely unknown to many Americans - their community has been under siege. We've heard the statistics: 2/3 of Ferguson residents are black but only three of 53 officers in the city are black; the mayor, police chief, and most of the city council is white. In 2013, 92% of all vehicle stops and 93% of arrests made were of African-Americans. The poverty rate in Ferguson is also double the rate of the surrounding St. Louis County, with unemployment nearly tripled since 2000.
In Ferguson, the sense of persecution was only reinforced by the initial police reaction to the protests. Demonstrators were met with tear gas, rubber bullets, stun grenades, armored vehicles, and rows of riot police in full military-gear and armed with semi-automatic weapons. The sight of such a militarized police response to largely peaceful protests sent shockwaves throughout the country and the world, and started a much-needed discussion on the state of militarization of our police forces. I did however notice signs of a softening of policing measures, with police distributing water to demonstrators on Saturday afternoon. Missouri Highway Patrol and St. Louis County officers also joined community members Saturday evening to distribute 1,100 bags of food to residents in Canfield Green Apts, just feet from where Michael Brown was gunned down. Though seemingly just a PR stunt, these small acts did not go unnoticed in the community. One local resident told me that she appreciated seeing the St. Louis officers help with the food distribution and made the salient point that "while there are a lot of crooked cops out there, not all are bad...just like not all black people are thugs."
Our group of 41 activists strategized with Alderman Antonio French of the 21st Ward Saturday morning, before joining more than a thousand demonstrators in an NAACP Youth March. Antonio French told us the goal is to register several thousand Ferguson residents to vote. "We can change this place," he said. "The example we show in Ferguson can inspire other communities."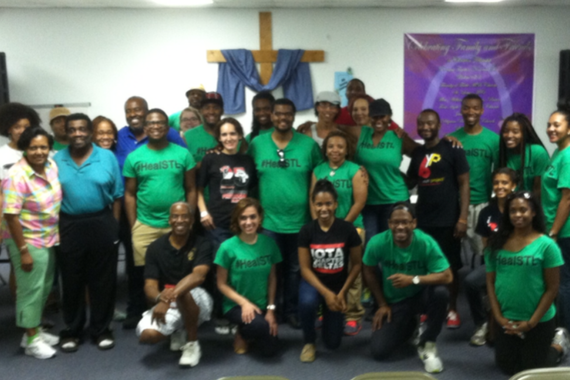 Photo credit: #DCtoFerguson Facebook group page
As I walked to the site on Saturday where Michael Brown was killed to register voters, I saw dozens of neighbors standing outside, socializing and playing games. One young man I spoke to about the recent protests told me he is tired of the police killing black men as if they are "insignificant" and "sub-human." Another older black woman told a colleague of mine that she'd like to vote but can't read.
A sense of awakening has occurred in Ferguson, an awakening that by all accounts has given residents a sense of self-determination that will follow them to the ballot box. By protesting and demanding change, the residents of Ferguson have ensured that they will not tolerate the status quo and will not remain marginalized.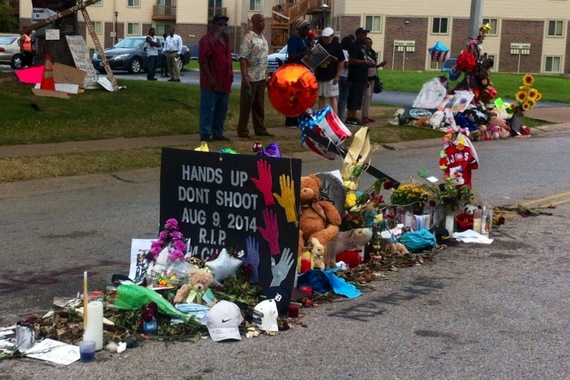 Photo credit: Yasmine Taeb
These latest events in Ferguson also necessitate new legislation by our elected officials that will directly address police brutality and racial profiling. The End Racial Profiling Act (ERPA) introduced in the House by Rep. John Conyers (D-MI) and in the Senate by Sen. Ben Cardin (D-MD), would prohibit profiling by law enforcement on the basis of race, ethnicity, religion, or national origin. And supporting an initiative in Congress by Rep. Adam Schiff (D-CA) requesting the Department of Justice to fund the adoption of body cameras by local and state law enforcement is necessary to ensure transparency and accountability.
Ferguson residents have heroically ensured that Michael Brown's death was not in vain and that this will not be a moment but rather a movement: to heal St. Louis and America.
CORRECTION: An earlier version of this post erroneously stated that Alderman Antonio French said that his goal is to register 20,000 Ferguson residents to vote. In fact, Ferguson's total population is about 20,000; French's goal is to register several thousand of them to vote. The post has been updated accordingly.