Against the expectations otherwise, it happened without much fuss. When four female deputies of the ruling Justice and Development Party (AKP) walked on Thursday, October 31, into the the grand hall of General Assembly of Parliament in Ankara, they knew they were being part of a controversial history. All four were wearing headscarf, which they decided to do after their pilgrimage (hajj) to Mekka.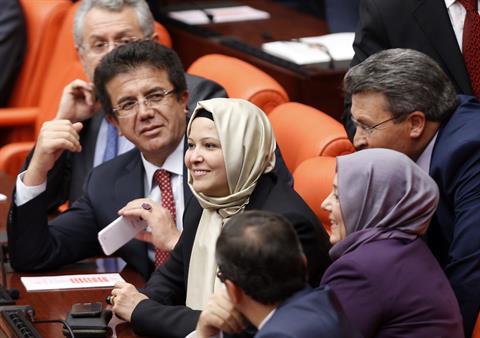 Their entry into the hall, 5 minutes before the opening of the ordinary session was a critical moment. A similar move 14 years ago, when a young deputy of Virtue Party (FP), Merve Kavakçı, tried to take the oath at the same venue with a headscarf, it led to tumult. Following intense protest, hate campaign and a military pressure, she was chased out, banned from politics, stripped from her Turkish citizenship. It was a primary reason Virtue Party was shut by the Constitutional Court two years later.
This time it was different. Soon after Turkey's Prime Minister Recep Tayyip Erdoğan announced a 'Democracy Package' -- which included a liberation of headscarf in public institutions, except for judges and prosecutors -- it was a question of when, and not if, the de-facto ban of headscarf in the house of the elected would be challenged. Given the 'retreat' of the harshest adversary of the headsscarf reform, the military, the time seemed ripe for the AKP to do it.
For the conservative, pious majority it is a landmark step. But for the segments that continue to be suspicious of the AKP's agenda it is a worrisome one, perceived by some as another sign of creep ingIslamisation.
Nevertheless, it is a taboo-breaking moment in modern Turkish history. A threshold has been passed on the path toward civilian rule, and diversity -- as many reformists hope -- though it still is a forked one.
What underlines the significance of the ground being broken has to do with the specifics of women's rights, society's struggle for freedom and, also, the role of the religion in politics in Turkey. Women gained the right to vote and be voted already in 1934, and 17 female deputies entered Parliament already in 1935 -- long time before some European countries had granted equality to them.
Certainly, none of them wore headscarf, neither in Parliament nor in public institutions. It has remained banned until recently, despite some attempts by late Turgut Özal, who served as prime minister and president during the 1980's, and severely guarded by the judiciary, which has served as the tough protector of Kemalism's ultra-secular values.
The move therefore delivers a new blow to its prohibitive approach, seen by large swaths of society as the mother of all problems Turkey is struggling with over decades. It is also a product of the decade-long transformation of the society, normalization of politics, in which conservatism gains ground.
Yet, it comes on a background of growing polarization, and rapid loss of patience for an all-encompassing, democratic constitution which, many expect, will grant equal rights and guarantee a protection of all diversity.
Freedom for the headscarf in public without anymore hassle, historic as it may be, therefore exposed what needs to be accomplished, rather than what has been done.
The main question being asked in the immediate aftermath is inevitably on a new watershed Turkey has come to: will the reforms, so far meeting the needs of the large Sunni segment be expanded onto the others or not?
In other words, is the headscarf reform a part of the democratization or Islamisation?
In a speech on Friday, Erdoğan sought to assure the crowds. 'Both those who cover their heads and those who do not are the citizens of this country, masters of this republic, own equal freedom and rights,' he said. 'To prefer one for another is opposed to the notion of justice and equality.'
His words may not disperse the entrenched suspicion among the segments -- secular urban, less pious or non-pious women, Alevis, Kurds, non-believers etc -- unless backed by the deeds.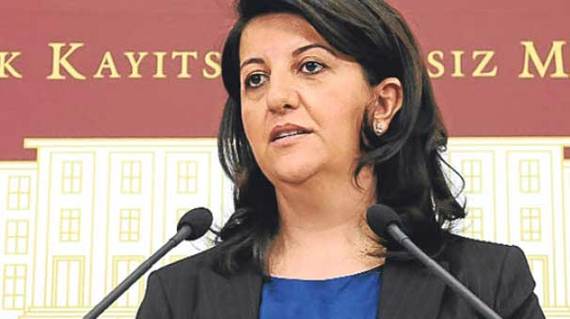 Skepticism was already voiced by the female deputies of the opposition at the historic session. Pervin Buldan, MP of the pro-Kurdish Peace and Democracy Party (BDP), praising the reform, said: 'But, freedom can not be limited to headscarf only. Bans are not only about it. Language, creed, culture remains banned, and we all have to build a Turkey where no ban applies, where we need to live in freedom.'
'Of course I have immense anxiety about the future of secularism here', said Şafak Pavey, a disabled deputy (with a prostaethic leg) of the Republican People's Party (CHP).
But my concern is not about symbols squeezed in between a lipstick and headscarf. I am frightened by the mentality which asks for an edict , by the (exclusively Sunni) Directorate of Religious Affairs about a permission to open an Alevi shrine in Parliament. I fear, namely, a mentality that subordinates a creed's right to worship to another's permission. Before I took the floor, I looked through speeches by thedeputies wearing headscarf, and I saw no word in there about others' freedoms. I could not see a similar sensitivity as they show to their belief in minority schools, Alevi shrines or Khalki Orthodox Seminary (which is closed, yb). I can only conclude that our legend of peaceful existence has collapsed.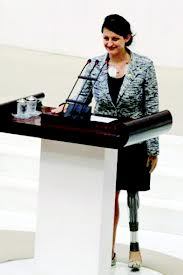 Such opposition reactions, a blend of gentle warnings and bitter remarks, reflect the way the debate intensifying on lifestyles, cultural divides and majoritarianism in a country, observed carefully in and beyond its region.
So far it has been mainly the Sunnis who have had gains out of the AKP's latest 'Democracy Package'. Will the others have to wait? For how long? What will be the govrenment's priorities?
These and many other questions now await answers.
But, no matter what, a problematic chapter in Turkey's human rights issues has now been closed -- for good.