Ever since 1978, each time I returned to my most beloved jazz festival, I left with with visions and sounds that are easy to remember.
By its eternal beauty, graceful human spirits and attraction to diverse forms of esthetics in music, Umbria Jazz Festival turns everyone devoted to this art form to move about in the mesmerizing streets of the central town of the region, Perugia, like someone in love for 10 or 15 days.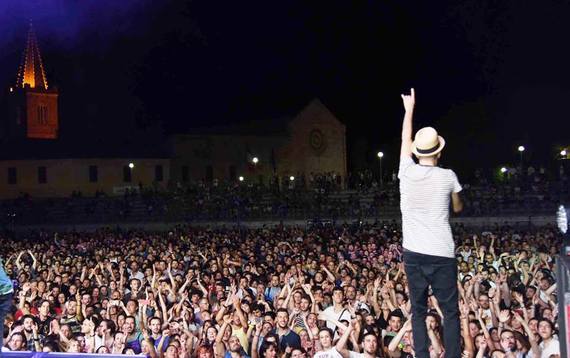 This year, where the musicians and their followers, of all ages, again met, in sweltering heat, was the same. 41st Umbria Jazz once more managed to merge the conventional with the avantgarde, pop with the experimental, electric with the acoustic, with successful encounters.
It was a packed programme, that put an emphasis on duets as well as crowded formations on stage. Herbie Hancock met - once more - Chick Corea, as did Tony Bennett Lady Gaga, as did the young genius of the piano in Italy, Danilo Rea with Ramin Bahrami, as was the grand reunion of Caetano Veloso and Gilberto Gil. On the groovy Piazza Novembre IV, the central square of Perugia, Alissia and her Funkateers with full force entirely occupied the stage, as did Snarky Puppy at a packed central stage, 'downtown', at Arena Santa Giuliana.
Another aspect of the success this year seems to be on the financial side of the festival.
As noted by the esteemed jazz critic, Thomas Conrad with Jazz Times,
'The festival set new revenue and attendance records. Ticket sales (35,000 for €1.5 million) surpassed 2013, the 40th anniversary year. An estimated 450,000 people came into the city for the festival's 10-day street party. €100,000 in merchandise was sold.'
Breaking my habit, I arrived in the festival three days late, just to get there in time for Hancock-Corea reunion. Compared to their appearance in 2013, the level of inspiration and energy seemed low; the repertoir rather uninspiring, and much of the expectations of the crowd faded until a sing-along to - sort of obligatory - 'Spain' at the end of the concert. Corea was definitely more 'present' at the stage with his attention and instant innovations, as Hancock felt it hard to 'lift up'.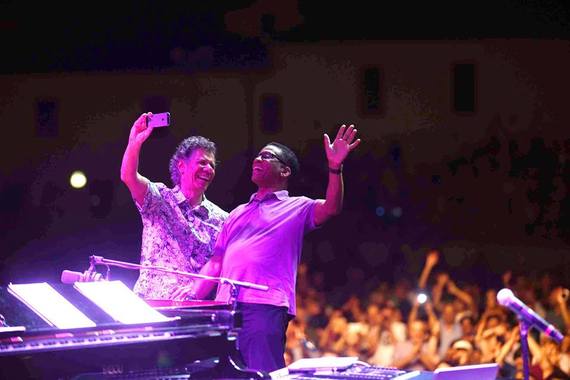 I may have missed what many had at my arrival told me one of the absolute highlights of the festival - Brad Mehldau's return to Perugia for a midnight concert at ancient Morlacchi Teathre accompanied by the masterful Larry Grenadier (bass) and Jeff Ballard (drums). Other friends also mentioned Charles Lloyd Quartet as 'something you missed' and I surely believed them, since Lloyd at late 70's is enjoying a peak in his long career, displaying a mesmerizing maturity, as I follow him.
But I was lucky to witness other two performances which will definitely go down in Umbria Jazz history as unforgettables.
One was by Ravi Coltrane, John's son, who simply keeps improving to be placed among the absolute masters of the instrument today. The quartet, including the brilliant guitar player, Adam Rogers, backed by Scott Colley and Nate Smith at the rudder, was all along with full of sparks, puzzling ideas and dazzling unity.
The other was by Danilo Rea's trio. Arguably the greatest piano player in Italy today along with Enrico Pieranunzi and Stefano Bollani, he created magic with two equally masterful musicians, Massimo Moriconi (bass) and the inimitable Tullio De Piscopo (drums). The concert was pure magic; a poetry in sound not often witnessed, a beacon of where jazz is today and where it should be heading for further explorations. If anything, this one was the peak point of the entire festival.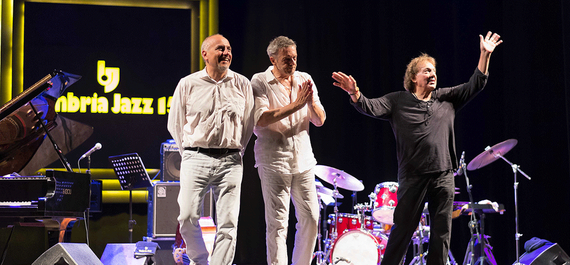 There were other great Italian figures of jazz present also this time, such as Enrico Rava with a new quartet, seeking new territories of sound; or Bollani, who filled the Arena with a personal visit to Frank Zappa world. Overall, the increased Italian presence made the festival even more worthwhile, because as a member of Istanbul Jazz Festival advisory team, I know that when everywhere else in Europe - except in Sweden and Norway - jazz is in regression, Italy is booming, is an oasis of new music.
As Conrad also noticed, ' The Italian jazz scene is the strongest in the world outside the United States, and to truly experience it, you must go to Italy. This year's Umbria program was especially deep in homegrown talent.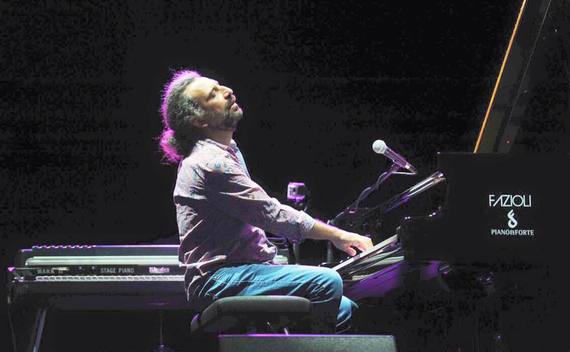 As usual, Umbria Jazz had something this year also to offer all music tastes and generations. Funk and blues echoed way beyond midnight in free concerts at the historic piazza and the lovely Carducci Gardens, groups identified with 'acid jazz' such as 'old' Incognito and 'new' Orlando Julius and Heliocentrics took the crowds hostage at Arena Santa Giuliana.
The popular highlights were the duets by Tony Bennett and Lady Gaga, and the grand reunion (50 years anniversary) by the two musical icons of Brazil's Bahia - Caeatano Veloso and Gilberto Gil.
Needless to say, Bennett-Gaga gig attracted fans from opposite sides of the table, and the sold-out concert, cheered in frenzy, left experienced followers of vocal jazz, like me, in a blend of joy and disappointment. The show included fantasitic moments of pure Bennett, who left the crowd speechless - and many in tears - in interpretations like 'In My Solitude', 'Wee Small Hours in the Morning and a sort of 'life or death attack' on 'How do you Keep the Music Playing'. It is simply amazing that Bennett can still be on top of every phrase, in full control of emotion, at 89 years of age.
Lady Gaga, on the other hand, to the delight of her fans, was keen on surprises by daring dresses, that she changed several times, as if to hunt attention to the Las Vegas type entertainment aspects of the show. Back stage, I heard many musicians chuckle in disapproval each time she addressed the microphone. One of them put it bluntly - and correctly - that she lacks nuances, and often is out of tune, a flaw she disguises in striking vision of appearances. It is true that she is no Amy Winehouse. Screaming through well-written compositions were only blurred thanks to the musicians on stage.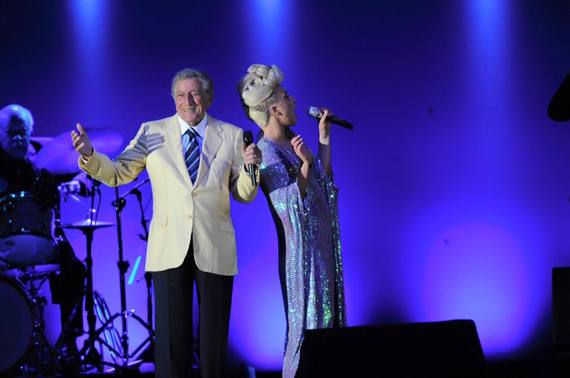 Somebody told me why on earth Bennett needed to be backed by her, when he could anyhow easily fill the stages this summer in Europe by simply being himself. Perhaps he needed to rest somewhat between his mesmerizing interpretations of the American songbook? But others argued that Gaga's presence, by way of popularity, was very helpful to the new generations to be introduced to the depths of that catalogue. Fair point.
Mixed feelings, thankfully, were dispersed, when Cassandra Wilson, took Arena by storm a day after, with a band which could shed light on Billie Holiday repertoire in a state of musical trance. Wilson was in a dream state, capturingb the audience in a style that made every moment of silence or sound profound, full of meaning. This one was another artistic moment which will be remembered dearly.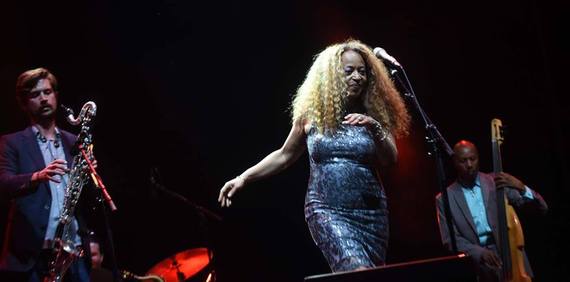 The most popular part was, certainly, the acoustic performance by two masters of melody and rythm: Veloso and Gil. They brought the full Bahia joy on a plate, the songs they wrote or sang, and did indeed show that you needed only two guitars to get the 5.000 or more at the Arena up on dancing and singing-along ecstacy. When we heard an incredibly fragile (Italian) version of Mario Lanza's 'Come Prima', many without a doubt felt that they were in heaven; a brief moment of rapture, only a festival like in Umbria can offer.