In mythology, Pheobe was a daughter of Gaia, a Titan goddess and an oracle of Delphi. She was characterized as bringing forth prophetic light.
Not unlike her namesake, Pheobe of Kuwinda -- a slum in the affluent district of Langata in Nairobi, Kenya -- beams as she opines about her three daughters and their potential futures. She envisions a little plot of land where her chickens run freely, laying eggs for her to sell at market, a home where she lives self-sufficiently and is not a burden to her children. She speaks with a soft assuredness of her own struggles and a knowing tone of one who has recognized her lot in life.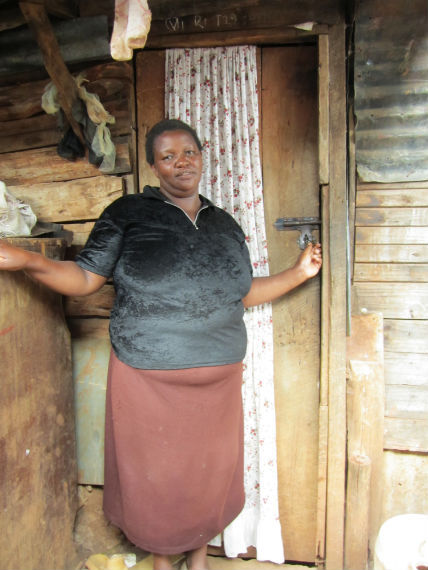 A woman's position within Kenyan society is quickly revealed on street level, in the boardroom and at home. Early on, fathers teach their sons to beat their sisters if they have not tended to the domestic duties of the household, aka 'women's work.' This inherited gender view gives rise to all manner of violence against women, including wife on wife violence within the cultural hierarchy of polygamous marriages practiced by men from several tribal lineages.
Gender imbalances are further exacerbated by economic conditions in slums. Kuwinda is only one of many informal urban settlements stitched into Nairobi's patchwork of rapid property development. It was borne as a necessary advent to house low-cost labourers for the neighbouring factory. The impromptu camp turned defacto kijiji was raised on the red earth with rusted corrugated aluminum and found objects like its counterparts in the Eastlands.
A girl's life in the slums is riddled with hardships. Aside from lack of clean water, daily food and waste management, there is a disproportionately high rate of school absenteeism among teenage girls due to pregnancies and during their menstrual cycles, as sanitary napkins are deemed a luxury. Sexual violence and female genital mutilation are also part of slum life. It's no wonder that many girls resort to prostitution out of intense desperation to escape. Unfortunately this path exposes them to unimaginable acts of depravity.
Notable economist Jeffrey Sachs has been a vocal proponent of women's rights as a driving factor of a functioning model economy. It appears that Kenyan civil society is in agreement, re-engineering the constitution to ensure female representation in their political framework. As a result, one-fifth of parliamentary seats were won by women during the March 2013 Kenyan elections, marking history.
Although there is still much work to be done, such efforts are constructive indicators for women on the ground like Pheobe, who is known as a community leader or 'mama' of Kuwinda settlement. Women come to visit her from nearby slums and participate in the 'voluntary savings and loan' cooperative of which she is the treasurer. The women pool their money, borrow and repay with 10 percent interest. Any profits are distributed as dividends to each participant at year end. The dividends may be a few shillings but when one is subsisting below the international poverty line of US$1.25 per day, one learns how to stretch every shilling.
Each day Pheobe endeavours to save in the hopes of purchasing land. Unfortunately immediate needs eat away at her collection, so she is often left with a balance sheet of zero at the day's end. Women also face barriers in the property market due to the cultural preference of fathers handing lands to sons. Thus land ownership is dominated by men. However, Pheobe holds hope and sees change on the horizon.