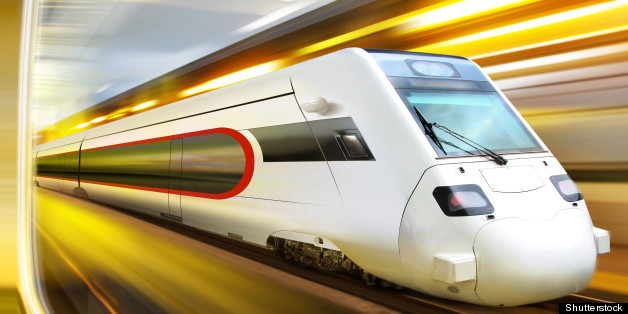 Long before cars were the dominant mode of transportation, long before private homes and sprawling suburbs, America's story was written to the blaring of the train whistle.
Trains, buses, and public transit in general played a vital role in the growth of America's cities and suburbs in the East and fueled migration out West. But I believe that public transit will be an integral part of our nation's future as well.
As a member of the Youth Advisory Council of Philadelphia's mass transit system, SEPTA (Southeastern Pennsylvania Transportation Authority), I know that youth ridership of public transit stems from not only comfort and convenience, but also long-term sustainability for our cities. Youth of today, unwilling to take on the car payments, gas prices, and insurance costs of their parents, will be more likely to opt for the convenient, green alternative of public transportation. As a soon-to-be college student, I foresee a generational shift in the teens and 20-year-olds of today towards a renewed affinity for public transit.
In 2012, the American Public Transportation Association released a report showing that Americans took 235 million more public transit rides in 2011 than in 2010. In all, Americans took 10.4 billion rides on public transportation in 2011.
Yet our government remains relatively unresponsive to increasing ridership, especially with the recent federally mandated, $1.2 trillion sequestration budget cuts. Luckily, most of the federal money for highways and public transit operations comes from the Highway Trust Fund, which is exempt from the sequester. On the state level, while Pennsylvania Governor Tom Corbett has unveiled a new plan allotting an additional $40 million toward public transit, Pennsylvania's long- under-funded infrastructure needs far more to stay afloat. SEPTA alone faces a $38 million operating shortfall next year even with a planned fare increase. Cuts in state funding have reduced SEPTA's capital budget 25 percent since 2010, and SEPTA now faces a choice between cutting service and raising fares.
I'm concerned as a Philadelphian, as an American citizen, and as a member of the next generation that will have to tackle these looming infrastructural problems. If public transit in Philadelphia is barely staying afloat, how can Philadelphia keep pace with the high speed rail lines and innovation continually being introduced?
Countries such as China, Japan, France, Germany all have developed an expansive high-speed rail lines as well as a national focus on public transportation. The U.S. by contrast has lagged behind in innovating and investing in our nation's trains.
After a year on SEPTA YAC and witnessing the dedication of my fellow YAC members, I am more convinced than ever that the youth of today have a vested interest in the sustainability and convenience that public investment in public transit brings. Someday, these will be our cities. This will be our country, with its 70 thousand structurally deficient bridges. Someday, these problems will be ours.
Over the next 20 years, SEPTA will need approximately $8.5 billion to pay for repair projects. That's just maintaining $8.5 billion to pay for repair projects. That's just the state of good repair backlog for all deferred projects - stations, bridges, catenary, track work, and trains. It's up to the adults of today, from the federal to the state to the local level, to keep our country's infrastructure and transit running.
Trains have been an integral part of America's story thus far. Investment in mass transit means continued investment in America's future. In the future of youth today.