Today's guest blog post is from Claudia Cadelo, whose blog Octavo Cerco has been featured here before. Today Claudia is writing about her reaction to the "return" of Fidel Castro, who, after staying out of the public eye -- except in photographs and in his newspaper column, Reflections -- since he fell ill in 2006, has suddenly returned to Cuban television, visited a research center, the aquarium and other public places, turning up somewhere almost every day.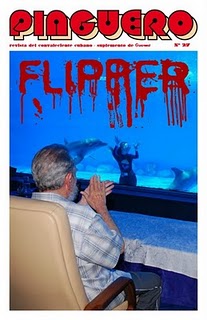 Image: El Guama
The Return
by Claudia Cadelo
I don't know why, nor for what, the obscure reasons and the theories surrounding his reappearance don't interest me. I don't think, even for a moment, of trying to figure out Fidel Castro's return to the cameras. There are things in life that that are only for delight, and this is one of them.
The Twilight of the Dictators is hard not to enjoy in its entirety, since his retirement, in 2006, I've had a feeling I would miss a good part of the senile finale of the "Cuban Revolution." I was wrong and I rejoice for my mistake.
I had to satisfy myself with his newspaper column, Reflections, increasingly more like science fiction short stories in nickel magazines than anything else, good for a laugh, but infinitely inferior to their graphic versions -- it wasn't for nothing that television flooded the marketplace in the twentieth century.
It is not the same as reading statements like this one from the former Comandante en Jefe, who is using his reemergence to warn us of the empire's pending nuclear war (due just a few weeks from now):
"The economy of the super power will collapse like a house of cards. American society is the least prepared to withstand a catastrophe like that the empire has created on its own territory from where it left.
We are ignorant of the environmental effects of the nuclear arms, which will inevitably burst upon various parts of our planet, and that in a less severe variant will be produced in abundance. To venture a hypothesis would be pure science fiction on my part."
Or listening to and seeing this.
Gentlemen, without sadness or despair, this miracle of the national comedy calls for a celebration, there is a distinct possibility that this will be the last time we will see it pass by.

Below: Blogger Claudia Cadelo de Nevi