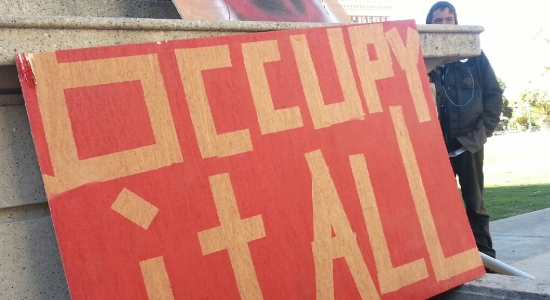 Photo Credit: JENNY BOLARIO/Youth Radio

Protesters gather in Frank Ogawa Plaza in downtown Oakland, Calif. in preparation of a a rally and march.
By: Robyn Gee
Occupy Oakland reconvenes today in downtown Oakland, Calif., to reclaim Frank Ogawa Plaza. The site became home to one of the most infamous Occupy movements in the country, regularly associated with property damage, violence, police action and arrests. Events today include an open forum, dinner and then a "F**k the Police" march through the city.
One year ago today, Oakland police officers raided the encampment, resulting in many arrests and the injury of Scott Olsen, a young Iraq War veteran, who became a symbol of the movement.
Today the movement looks much different, according to SF Gate. Distinct groups with diverse agendas have emerged, including the ones mentioned below.
Feminists
I spoke with Melisa Spence, 30, who is a member of Girl Army, a collective that teaches physical and psychological self-defense to women and transgender people in Oakland. She joined the Occupy Oakland camp security team during the first week of its existence. She was arrested one year ago today in the raid.
"I think that Occupy and the global political climate has really inspired local feminist and queer organizers. Two new projects which are exciting to me are the Feminist Vigilante March, and the Offensive Feminist Project," she said.
Over the past year, Spence has watched the movement struggle to agree on how to move forward. "In the past year, there has been some good dialogue as well as plenty of divisive in-fighting centering around the concept of "violence," and what that word refers to." Overall, she hopes to see dialogue continue, and will attend the march and rally today in celebration of the movement.
Beyond the Barricades
Beyond the Barricades is a group of Occupiers that was present at the birth of Occupy Oakland, and now calls for the movement to rest in peace.
Their latest blog post reads:
There is only one reason left to come to a [General Assembly]: To officially dissolve Occupy Oakland in order to let there be no legitimate claim to speak or act on it's behalf. Also, to divide the funds among the remaining active committees or give the committees the autonomy to decide... When anyone can post to the world claiming to be a representative and spokesperson of Occupy Oakland and be taken seriously, not just by the mass media, but also by anarchist and insurgent news sources, then hasn't the time come to end?
Feelings on Twitter vary with regard to burying Occupy Oakland.
Defend Our Oakland Movement (DOOM)
It's unclear whether this name represents one person or 100 people, but posters calling for Occupiers to take up arms against anarchists and vandals during today's march have been seen around the city.
Originally published on Youthradio.org, the premier source for youth generated news throughout the globe.
Youth Radio/Youth Media International (YMI) is youth-driven converged media production company that delivers the best youth news, culture and undiscovered talent to a cross section of audiences. To read more youth news from around the globe and explore high quality audio and video features, visit Youthradio.org