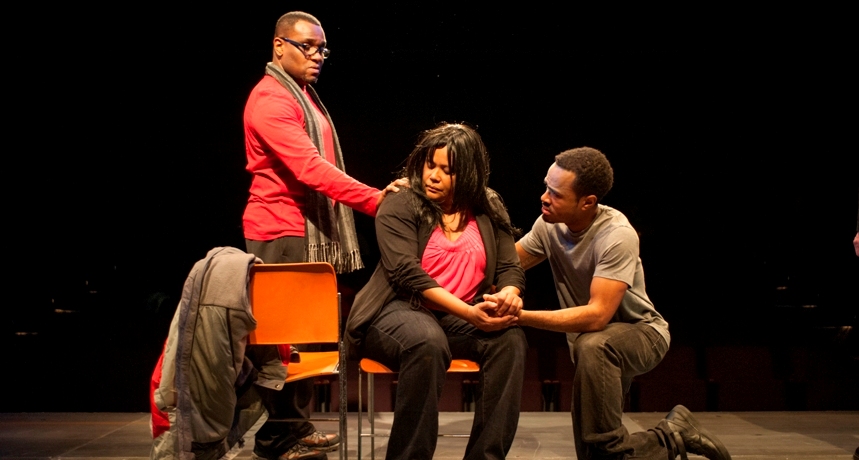 Photo Credit: Steppenwolf Theater

(Left to right: Pastor Brooks (Mark Smith) comforts a grieving mother (Celeste Williams) and her son (Charles Gardner) in Steppenwolf for Young Adults' world-premiere production of How Long Will I Cry?: Voices of Youth Violence, by Miles Harvey, directed by Edward Torres. How Long Will I Cry? runs February 26 – March 23, 2013 in Steppenwolf's Upstairs Theatre (1650 N Halsted St)
By Donisha Dansby
"How Long Will I Cry: Voices of Youth Violence" is a new play at the Steppenwolf Theater in Chicago. The play depicts young people who were involved with gangs, and participated in or were victims of street violence. It follows the true stories of young people in Chicago.
Miles Harvey, a teacher and journalist, wrote the play based on interviews he did with young people who had experienced street violence first-hand. Harvey explained that he wanted to empower kids in rough neighborhoods to see that they have another choice besides a life of street violence.
We got to read some of the interviews in story form -- they were graphic, intense, and tragic. We asked Harvey what message he wanted to send the audience."It's not an optimistic message, but it's not a pessimistic message either... What I want people to do is think about this problem in an open and realistic way. We don't know if we can offer any solutions to it -- [but] it's important to look at it with a skeptical, realistic, and hopeful eye." he said.
To gather stories and information for the play, Harvey and his team talked to parents of victims, community activists, and even the county coroner, and of course young people. Many were hesitant to talk at first, but Harvey said they wanted to be heard.
Harvey said he feels more a part of his city by getting out into neighborhoods he'd never been in before. "We all get in our ruts, and we don't leave our little neighborhoods, our little worlds in Chicago... There were neighborhoods I'd never been in and I've lived in Chicago my whole adult life. I feel like a real citizen of Chicago," he said.
Youth Radio got the chance to talk with some of the young people whose stories are acted out in the play. Deshon McKnight's story inspired one of the characters in the play. Mcknight, 21, grew up in Chicago amongst street violence.
Many of McKnight's family members were gang-affiliated and victims of gang violence. He didn't know that his story would be the chosen to be represented in the play, but he said he couldn't be more excited. "I just want to give people insight on my life," he said. McKnight feels that some people don't understand what people who are living in impoverished communities go through.
McKnight mentioned in his interview that he once owned a gun. He told us he believes buying a gun nowadays is as easy as buying candy. "I would say to ban guns, but that's nearly impossible because it's not like all guns are sold in stores. I could leave the house right now and get a gun." he said.
McKnight went on to explain why he purchased the gun. "In the situation I was in, I felt like that was my only protection.[That] if I came across anyone who threatened me, I felt like if I just showed it to them then that would be enough to get them away from me."
Another character in the play calls himself Jaime. He requested his real name be kept confidential.
Jaime believes that this play will have a huge impact on the audience, and that everyone will be left with a new outlook on life. "I believe that it will impact people... they will see what I went through... people can look back and think about [their actions] twice before they make [a mistake]."
The play will run through March 23, 2013. While Harvey admits that he has no idea how the play will be received, he wants his main audience to be young people in Chicago. Harvey said, "My ideal audience would be someone who writes me ten years from now, and says I saw your play and it helped me figure out that I could take control over my life and I don't have to - wind up in jail, or dead."
Originally published on Youthradio.org, the premier source for youth generated news throughout the globe.
Youth Radio/Youth Media International (YMI) is youth-driven converged media production company that delivers the best youth news, culture and undiscovered talent to a cross section of audiences. To read more youth news from around the globe and explore high quality audio and video features, visit Youthradio.org