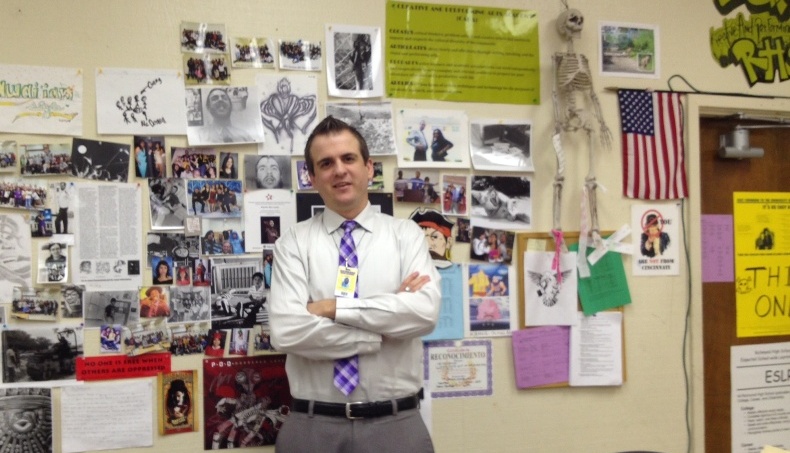 Photo Credit: Youth Radio

Jake McDonnell is a teacher at Richmond High School in Richmond, Calif.
By: Robyn Gee
As gun control remains near the top of the political agenda in the aftermath of December's mass shooting in Connecticut, Bay Area teachers are contemplating their roles in enforcing security at their own schools.
One East Bay teacher told Youth Radio he feels pressure to be heroic in emergency situations, and to serve as the first line of defense between an intruder and his students.
"It's kind of the pinnacle of what it means to be a teacher or a leader, is to die for someone you're trying to educate," said Jake McDonnell, a teacher at Richmond High School. He said the Sandy Hook shooting in Newtown, Connecticut made him reevaluate his position as a teacher, and accept the fact that one day, he may get hurt on campus. "I would be okay with that," he said. "The hard part was telling my wife, 'If that was my school, I'd be dead.' Because I can't see myself evacuating a school in a situation like that.'"
That night McDonnell posted on Facebook, "I'm very proud of the teachers who fulfilled the ultimate role of a teacher and gave their lives for their students. Yet I am sobered because I know that any day could be the day that we are asked to do the same."
While McDonnell has made peace with the fact that his job might put him in harm's way, he thinks armed guards on campus are assets, especially in an urban area like Richmond, Calif. He knows that gun violence affects his students in a very real way. He described reading students' notebooks and finding memorial entries with R.I.P. written next to a list of names. He said he follows the homicides in local papers to make sure they aren't his students.
But not all teachers would welcome more security guards. Julia Gelormino, a first grade teacher at Think College Now in Oakland, Calif. thinks it would be traumatizing for people in uniform to carry weapons on campus. "That goes against our peaceful curriculum and everything we teach our kids, which is to talk through conflicts, and never use your fists or your feet to harm another person," she said.
She said she formerly worked at a school that had guards at the end of each hallway. "I saw kids being dragged down the hall by a person in uniform. In a sense, those security people just worked against the children," she said.
Originally published on Youthradio.org, the premier source for youth generated news throughout the globe.
Youth Radio/Youth Media International (YMI) is youth-driven converged media production company that delivers the best youth news, culture and undiscovered talent to a cross section of audiences. To read more youth news from around the globe and explore high quality audio and video features, visit Youthradio.org