By: Youth Radio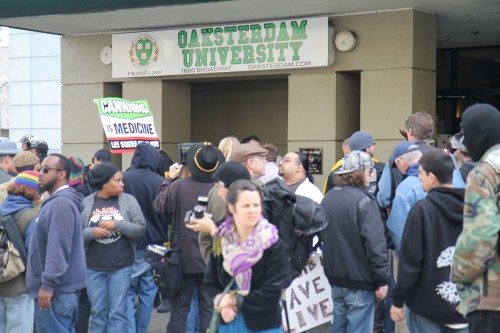 Photo Credit: Denise Tejada/Youth Radio

A crowd of protesters gather outside Oaksterdam University in Oakland, California, as federal agents raid the facility.
Federal agents raided Oaksterdam University this week, armed with search warrants claiming that the business is too close to schools and parks. The self-proclaimed university in downtown Oakland, California is a hub for people in the medical cannabis industry. The federal agents were targeting Richard Lee, medical pot impresario.
Oaksterdam is one of multiple businesses founded by Lee. He has spearheaded the growth of this industry in Oakland, running pot dispensaries and classes for people who want to jump into the lucrative business, and driving legislation to legitimize it in the city and the state.
Melinda Haag, US attorney in San Francisco, has been cracking down on pot dispensaries near schools and parks. Oaksterdam's businesses fall into this category: as the downtown area has been revitalized, a proliferation of charter schools, entertainment venues, and pot clubs have all intermingled in the same neighborhood.

So which came first -- the pot or the kids?

Oaksterdam was founded in 2007, the same year that Oakland Charter High School moved into the neighborhood. And while a team of DEA agents were carrying garbage bags full of Oaksterdam products into their vehicles, a couple of blocks away, it was Career Day at the charter school, where a doctor, a news reporter and yes, someone from the DEA were speaking to students about career possibilities.

"It's disheartening that we try to be good inside of our schools, and outside there's a lot of stuff that our kids are being pushed towards. Perhaps it's not so much that they're looking for the outlet of marijuana, but there's adults that take advantage of their innocence," said Gabriela Jimenez, physics and biology teacher at Oakland Charter High School.

School officials in the neighborhood disagree over how much the neighborhood pot clubs impact their students and school culture. Youth Radio talked to one charter school teacher who didn't want to go on the record, but said that her students are independent thinkers, probably more influenced by their peers than the pot clubs.
Jimenez, on the other hand, said students often walk into class with leaflets that they picked up from someone on the sidewalk advertising "smoke-outs." "Then we look like the bad guys because we're about academics and teaching them everyday," she said. And the influence goes beyond leaflets. She told us there have been incidences of students showing up to class high or with marijuana on their person. "If they're high, they're not learning," she said.
Local business owner King Solomon, manager of the Triangle Gift Shop around the corner from Oaksterdam's offices, said the clubs have an undue influence on young people. "A lot of kids have interest in marijuana, and now with Oaksterdam being right there on Broadway, they can ask a buddy to purchase it or something like that. I think they're too close to schools."
Originally published on Youthradio.org, the premier source for youth generated news throughout the globe.
Youth Radio/Youth Media International (YMI) is youth-driven converged media production company that delivers the best youth news, culture and undiscovered talent to a cross section of audiences. To read more youth news from around the globe and explore high quality audio and video features, visit Youthradio.org