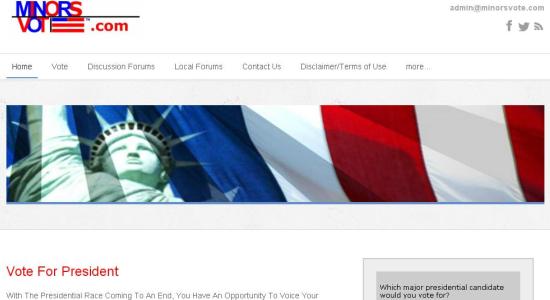 Photo Credit: www.minorsvote.com
By: Ashley Williams
With election day upon us, some young people aren't taking advantage of the chance they have to vote, but there are plenty of youth who wish they could go to the polls. Youth like Baxter Hankin from Newton, Connecticut. At just 15 years-old, Hankin started his own website called www.minorsvote.com in June of this year. It gives him and minors across the world the chance to voice their opinions on today's pressing issues.
As a member of his school debate club, Hankin became interested in politics and created this website with the goal of raising awareness within his age group about political issues. The website gives young people the chance to vote in polls and to suggest their own polling topics. They can then gauge other young people's opinions on the topics. For example, the website asks, "Should the United States get out of Afghanistan?" As of November 5, 2012 the results show that 54 percent are in favor of pulling out.
They can also connect with other young people across the nation through discussion forums.
There are a lot of particulars that go into running the website. Hankin told Youth Radio, "I look into the news and I see what I think are the important political issues. To add to that, I ask members of the site through social networking what they think the next poll topic should be." The presidential election takes the cake as the most popular topic at the moment, with 51 percent in favor of Obama, and 21 percent for Romney.
Hankin wasn't surprised with these results. "Minors tend to be more liberal," he said.
"My goal for the website is to increase an interest in politics among minors. Those young people will be voters in a few years," said Hankin. So although these votes don't matter now, Hankin is trying to engage young people in politics early.
Originally published on Youthradio.org, the premier source for youth generated news throughout the globe.
Youth Radio/Youth Media International (YMI) is youth-driven converged media production company that delivers the best youth news, culture and undiscovered talent to a cross section of audiences. To read more youth news from around the globe and explore high quality audio and video features, visit Youthradio.org