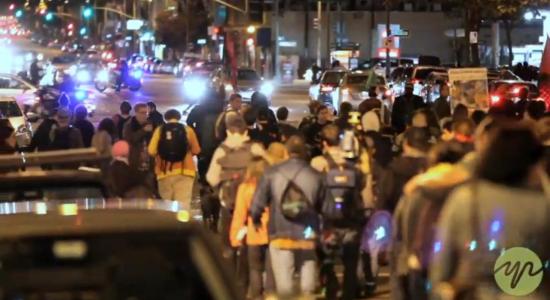 Photo Credit: Youth Radio

Protesters march through downtown Oakland one year after the Occupy Oakland camp was raided by police.
By Chaz Hubbard and Denise Tejada
Occupy protesters marched through Oakland last night to commemorate one year since Oakland police raided the Occupy tent encampment in Frank Ogawa Plaza. According to SFGate, the protest remained peaceful, and only two people were arrested. Protesters started gathering and holding a General Assembly at 3 p.m. and marched around 7 p.m.
Originally published on Youthradio.org, the premier source for youth generated news throughout the globe.
Youth Radio/Youth Media International (YMI) is youth-driven converged media production company that delivers the best youth news, culture and undiscovered talent to a cross section of audiences. To read more youth news from around the globe and explore high quality audio and video features, visit Youthradio.org