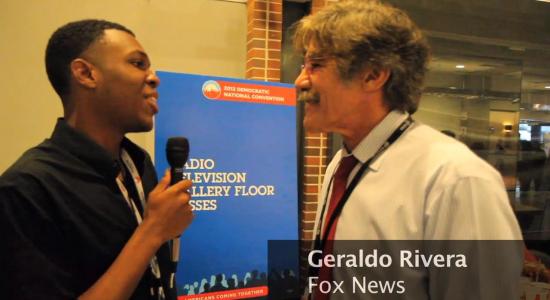 Photo Credit: Youth Radio

Youth Radio's Malachi Segers asks Geraldo Rivera from Fox News about the youth vote at the DNC.
By Malachi Segers
It's hard to miss all the celebrities (political and other) at and around the Time Warner Arena today, where all the speeches happen, with Michelle Obama headlining tonight's lineup. We bumped into actor Jeff Bridges and Daily Show correspondent Samantha Bee, who had no time for us. But Fox News' Geraldo Rivera did. He gave his take on the power of the youth vote.
Originally published on Youthradio.org, the premier source for youth generated news throughout the globe.
Youth Radio/Youth Media International (YMI) is youth-driven converged media production company that delivers the best youth news, culture and undiscovered talent to a cross section of audiences. To read more youth news from around the globe and explore high quality audio and video features, visit Youthradio.org