Originally published on Youthradio.org, the premier source for youth generated news throughout the globe.
Denise Tejada, Nathan Hadden, Brandon McFarland, Wilmer Tejada
Reporters from Youth Radio-Youth Media International have been collecting interviews and images from Berkeley, Oakland, and Sacramento, California as the "Day of Action" supporting public education unfolds across the state.
Denise Tejada took these shots along the protest route from Berkeley to Frank Ogawa Plaza in Oakland.
A mural painted on the hood of a car: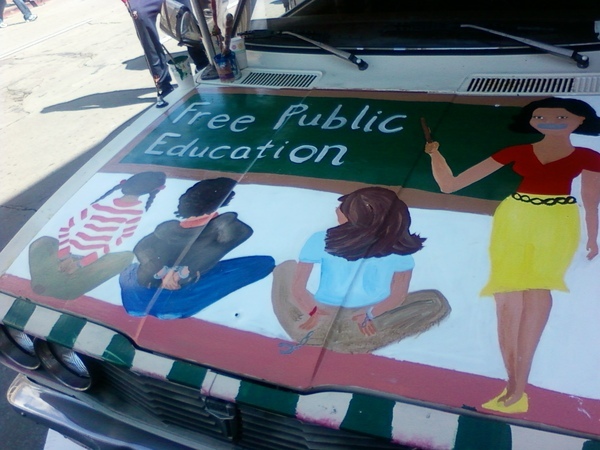 Signs include "March F(our)th" and "UC for All of Us":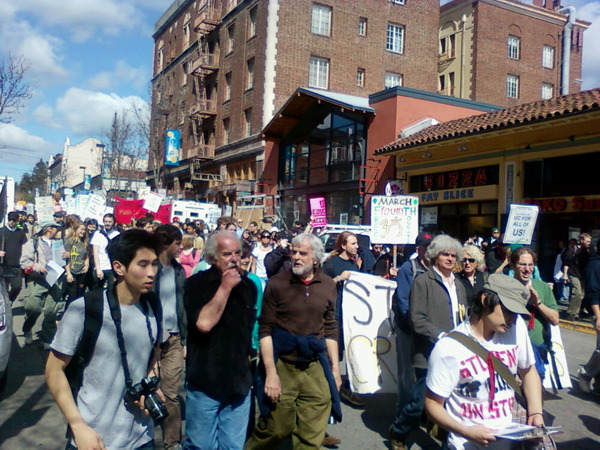 UC Berkeley's Sather Gate was taped off, sending the message that as tuition continues to increase, fewer students will be able to enter the school's halls: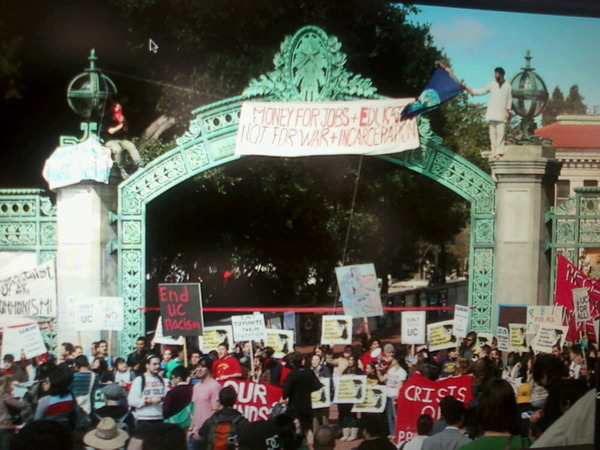 Student Perspectives:
* Asked what she thinks California will look like in ten years given what's happening in public education today, 21-one-year-old Taylor Kohles said, "We need to change our priorities and fully fund education. If that doesn't happen, it will create an education gap."
* Twenty-year-old sophomore Maria Jimenez said she's struggling to pay her own tuition because her parents can't afford it any more, and as costs increase, "it's becoming very competitive to get scholarships. They want us to be smart and get educated but how can we if we can't afford it?"
* Twenty-year-old UC Berkeley student Eddie Rivero said he has friends who will have to drop out of school because they're undocumented immigrants who can't get financial aid and are paying part of their tuition with scholarships. He said they won't be able to cover costs as tuition rises.
* Gladys Rodriguez is a 20-year-old Humanities student at UC Berkeley who said resources and supplies are limited in her department and a lot of classes have been cut.
And this from a UC Berkeley School of Education Professor from outside the State Capitol:
* "There was a feeling this week...tons of students emailing, 'I'm exhausted, I'm really angry, how do I move through this?'" Professor Ingrid Seyer-Ochi says, but today, "It's very positive, we just want to support education."
Youth Radio's Day of Action coverage is also available at Twitter.com/youthradio, or you can follow our Day of Action list.
Youth Radio/Youth Media International (YMI) is youth-driven converged media production company that delivers the best youth news, culture and undiscovered talent to a cross section of audiences. To read more youth news from around the globe and explore high quality audio and video features, visit Youthradio.org