Originally published on Youthradio.org, the premier source for youth generated news throughout the globe.
By: Mark Anthony Waters
I've been an outcast since childhood. In school, I was either the skinny kid or the only black kid or the free lunch kid. In 6th grade, there was only one kid as bad off as I was--my friend Bobby. We were on the playground when he said, "I have something to tell you. Please don't stop being my friend." He told me he was gay. Me too, Bobby, me too.
[Editor"s Note: Youth Radio will feature a series on Gay Rights, beginning Monday, June 22, in honor of the 40th anniversary of the Stonewall Riots. Click here to preview.]
Every crazy day, we had to stand up for ourselves and each other. After all, we couldn't change who we were.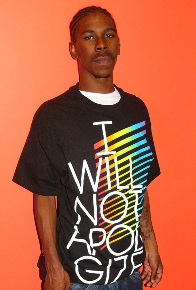 I'm a long way from 6th grade, but I still have the same struggles. Just a few days ago, I was at the bus stop in the wrong part of town, when I saw a friend. Part of me wanted to hug him like we usually do whenever we run into each other. But another part of me wanted to pretend I didn't even see him. I didn't want everyone to know I was gay.
In a flash, I got over myself. Because I realized, if I want the world to accept me for who I am, I have to let the world see me for who I am. So I opened up my arms in front of everyone, exposed and vulnerable, but so proud. And I have a feeling somebody who was watching us from the bus, or driving by in a car, or looking down from a window, was proud of us too.
I know hugging my friend in East Oakland doesn't make me some gay rights leader. But it's the little battles that give me hope we'll win the wars, like the one we're fighting about the right to marry.
In America, it's against the law for anyone to violate my rights as a gay citizen. But when it comes to same-sex marriage, America is contradicting itself, by excluding me and my gay people. I'm only 18, and I'm not even the monogamous type. But for me, the issue isn't marriage. It's equality. I know what it's like to be an outcast. And as long as gay people can't get married, it feels a little like I'm still back at middle school, all alone in a hostile environment.
The difference now is I know I'm not fighting by myself. Nobody can control love. And as long as we keep fighting, we'll make it through. Believe me, I've done it before.
Related Coverage:
Gay Fashion is the New Straight Fashion
Youth Reaction to Prop 8 Mixed
Don't Let Mama Vote "Yes" on Prop 8

Youth Radio/Youth Media International (YMI) is youth-driven converged media production company that delivers the best youth news, culture and undiscovered talent to a cross section of audiences. To read more youth news from around the globe and explore high quality audio and video features, visit Youthradio.org