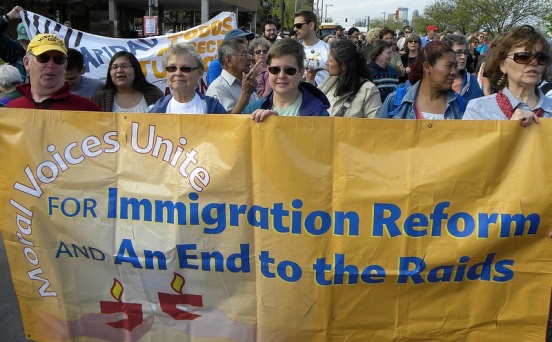 By: Denise Tejada
The Department of Homeland Security (DHS) announced a new immigration policy that could stop deportations of people who are under the age of 30, came to the United States as children younger than 16, and meet certain other criteria. In addition, young people in this category could be eligible to work legally. The news sparked lots of questions about what this new policy would mean for young people and who qualifies.
To help understand the details of DHS's immigration plan, we reached out by email to Abigail Trillin, who is managing attorney at Legal Services for Children in San Francisco.
Youth Radio: Can you give me the main headlines young people should know about this change in immigration policy for people who came to the US as children?
Abigail Trillin: This policy may provide temporary help. A lot of the details are not clear yet. You should consult an attorney before doing anything.
YR: Who will qualify for status under this new policy? Do you have to be currently in school or the military? How will you be able to prove the age you came to the US?
AT: All the requirements are in the memo (released by DHS this week). My guess is you will need to show things like school records to prove length of time in US.
Excerpt from Memo: "The following criteria should be satisfied before an individual is considered for an exercise of prosecutorial discretion pursuant to this memorandum:
•came to the United States under the age of sixteen
•has continuously resided in the United States for a least five years preceding the date of this memorandum and is present in the United States on the date ofthis memorandum;
•is currently in school, has graduated from high school, has obtained a general education development certificate, or is an honorably discharged veteran of the Coast Guard or Armed Forces ofthe United States;
•has not been convicted of a felony offense, a significant misdemeanor offense, multiple misdemeanor offenses, or otherwise poses a threat to national security or public safety; and
•is not above the age of thirty."
Via Department of Homeland Security. Read the rest of the memo from DHS below
YR: Do you have to be in the process of deportation to apply?
AT: No, but there is a question about whether applying will be risky for those not in deportation because they will be alerting immigration to their presence here.
YR: What will this mean for young people facing deportation now?
AT: For young people who qualify this may mean a temporary halt to their deportation.
YR: People who are against the new policy say it's only a way to slow down a young person's deportation. Do you agree with that? What's your perspective on that criticism?
AT: If the policy remains as it is it will only be a short-term solution.
YR:What will the new status allow young people to do? (Work legally? Vote? Get a driver's license? Other privileges?)
AT: Work legally. Avoid deportation.
YR: What advice do lawyers have for young people who are currently undocumented?
AT: Seek legal advice from an attorney before proceeding. There may be risks in applying.
YR: Do you recommend young people apply or wait and see if the policy changes to allow young adults to gain permanent status?
AT: It will be on a case by case basis but for a large number of youth it will be a good idea to apply.
YR: If you apply and then the policy is reversed under a new president, if Mitt Romney wins the election, is it possible young people who apply may later get deported?
AT: Yes-that is a risk.
YR: Once you've gotten accepted in the new immigration policy, does that mean you're legal or just safe from deportation?
AT: Just safe from deportation and authorized to work.
YR: What will happen to those applicants after the policy ends? Will they still face deportation or be eligible for another status?
AT: It's only two years and what happens after that is totally unknown at this point.
s1 Exercising Prosecutorial Discretion Individuals Who Came to Us as Children1 (2)
Originally published on Youthradio.org, the premier source for youth generated news throughout the globe.
Youth Radio/Youth Media International (YMI) is youth-driven converged media production company that delivers the best youth news, culture and undiscovered talent to a cross section of audiences. To read more youth news from around the globe and explore high quality audio and video features, visit Youthradio.org