Originally published on Youthradio.org, the premier source for youth generated news throughout the globe.
By: Lauren Silverman
Being born and raised in Berkeley, CA, I have come to accept that people will see me as fairly "liberal," even "leftist". I mean, I grew up in a place where sporting Birkenstocks and t-shirts with Che Guevara's face were the norm. Not to mention the fact that my high school classes were all centered on social justice and our homework generally required reading "A People's History of the United States," by
Howard Zinn. Yet here in Argentina, I've realized that I am not quite as far "left" as I thought.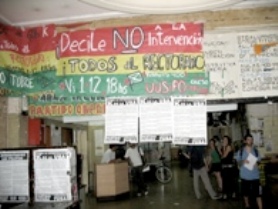 When you walk into the political science building of the University of Buenos Aires, the country's largest university and one that is free of charge for all students, including foreigners, you won't see clean white walls, nor your average graffiti. Instead, every inch of public space is covered in hand-painted posters announcing anti-capitalist meetings, rallies and other anti-establishment events. The halls are filled with students decorating these signs, pausing only briefly to put their paintbrush down and take a sip of mate (the national drink of Argentina.) I joke with a friend that these kids should be getting art credits along with their political science degrees.
So far I have been lucky - my professor has only singled me out once as the girl from the U.S., asking me to please explain to the fifty students sitting around me, the problems posed by obscure US economic policy - in Spanish.
In this kind of situation, I find myself trying to make clear that I'm not the stereotypical Yankee, and hardly the average American. A few days ago I was sitting at a park near my apartment when I struck up a conversation with a guy my age. (Yes, you can talk to strangers here.) As soon as he found out I was from the United States, the typical capitalist critique began - although he did preface each and every insult with "con todo respeto" (with all due respect.)
I was so excited to arrive in another country only weeks after President Barack Obama's inauguration. I even went so far as to screen print an "Amo Obama" shirt and plaster a "Yes We Did" sticker on the front of my journal. To my disappointment, my Argentinean friend Pablo recommended I not wear the shirt on the first day of class, and maybe only use the journal at home.
Despite the significant change that President Obama represents for many people in the U.S., his success has not seemed to change the way young Argentines see the United States. If it is any comfort, the majority of Porteños (residents of the capital, Buenos Aires) don't seem to be too happy with their government either. Maybe it's just that the general desire to fight the system is still going strong in Argentina, and is beginning to die down back home.
Youth Radio/Youth Media International (YMI) is youth-driven converged media production company that delivers the best youth news, culture and undiscovered talent to a cross section of audiences. To read more youth news from around the globe and explore high quality audio and video features, visit Youthradio.org