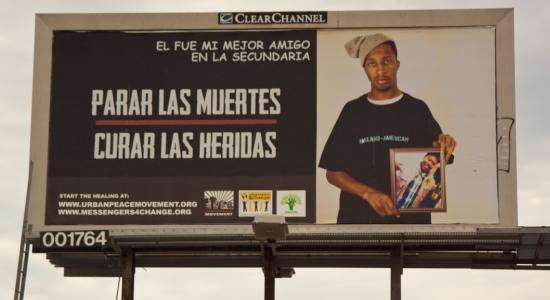 Photo Credit: URBAN PEACE MOVEMENT

Peace Ambassador Olondis Walker, billboard on International Blvd and 57th Ave.
By: Donisha Dansby
"Stop the killing, start the healing," is the slogan for a billboard campaign in Oakland, Calif. The idea came from young leaders, called Peace Ambassadors, at the Urban Peace Movement. Throughout east Oakland, a neighborhood where a lot of the city's gun violence happens, billboards have gone up depicting young adults holding portraits of lost loved ones.
On each billboard there are captions like, "He was my little brother, only 3 when we lost him," that add to the dramatic effect.
Xiomara Castro is the director of Urban Peace Movement (UPM). She thinks that young voices are often lost when stories about tragedies are reported. "Often when you do see the first headlines or the first news stories of the lost, it's the mothers, the parents, the very direct relatives. And the story that gets lost is the best friend or the sister or the cousin or the child," she said.
On the other hand Castro believes, "Seeing these young people take a stand, seeing them honoring their loved ones and wanting something better for Oakland is definitely a part of the healing."
Castro and her organization hopes that this campaign will support young people who are still trying to cope from past incidences of violence. "Young people in Oakland are too often left to themselves to deal with their trauma," she said.
Shykelah Birchett, one of the Peace Ambassadors from Urban Peace Movement and also one of the young people on the billboards, shared the story of her brother being killed. "In 2008 my brother Issac Turner he was killed on 65th [street]. He was shot in the neck by one of his friends and he passed," she said.
The young people of Urban Peace Movement said they put a lot of work into these billboards, hoping that residents will realize how violence is hurting the community. "I hope that [the billboards] will lower the violence rate and have people who are the perpetrators of violence; open up their eyes to see how much it impacts others," Birchett said.
While some of the young people in UPM are very optimistic and hopeful about these billboards, some young people stick to the reality of the whole thing. "I think that [the billboards have] made some people aware but the reality is that we see the homicide counts going up everyday," said Rayna Smith another Peace Ambassador and also one of the young people on the billboards.
Smith also told us her story about what motivates her to keep striving for change. "I was one-year-old and [my mother] got shot in the head. But she didn't die instantly... She was pregnant with my baby brother who's still here; he just turned 19. She was [kept] on life support until she had him, and then they pulled the plug because pretty much she going to be a vegetable," she said.
As the billboards go up and more young people tell their stories, it sends a message to young people who have no support. There are young people out there in the same situation; they're not alone. "[My friends were] surprised that I actually came forward and [put myself on a billboard] 'cus they thought it was very brave, and normally you won't see people step out and do something like that," said Birchett.
Peace Ambassador Rayna Smith. Billboard on International and 71st Avenue.
Originally published on Youthradio.org, the premier source for youth generated news throughout the globe.
Youth Radio/Youth Media International (YMI) is youth-driven converged media production company that delivers the best youth news, culture and undiscovered talent to a cross section of audiences. To read more youth news from around the globe and explore high quality audio and video features, visit Youthradio.org