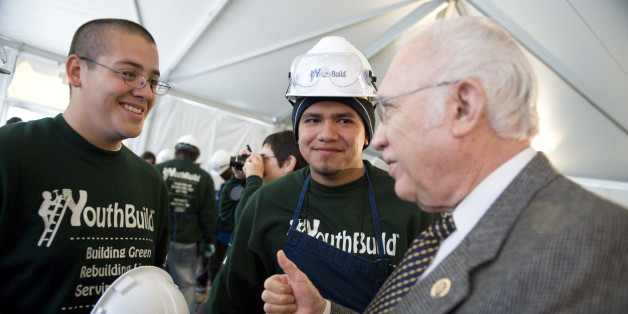 Tim Cross, President, YouthBuild International
I first witnessed the essence of YouthBuild in the actions of young people in East Harlem, New York back in 1988. Over these last 25 years I have seen it transform lives and communities in my hometown of Boston, across this nation and now outside of the United States in the 14 countries where the YouthBuild model is being adapted and implemented by extraordinary youth and adult leaders from non-governmental organizations, national governments, international development agencies and national and global corporations.
By the end of 2013, 12,000 young people will be enrolled, across an international network of 102 YouthBuild program sites. Since 1999, YouthBuild ideas and practices have touched the youth sectors in 32 different countries. And in all these cases we have received, at least as much as we have given. Gathering from our local partners' perspective, experience, methodology and inspiration, that is now woven into a stronger, more diverse YouthBuild movement.
Each young person who crosses the threshold of a YouthBuild program, anywhere in the world, pursues a dual mission: to create a meaningful and productive life for themselves and their families, while giving their best energies to improve the world around them. And in YouthBuild they find a community of like-minded change agents, who refuse to dwell in the space of what "cannot be done," but in the YouthBuild place of what "must be done," and "done by us."
We have seen this dual mission led by the actions of young people:
In post-earthquake Haiti, and post-Katrina New Orleans, where young people have responded in force to rebuilding social and physical infrastructure;
in El Salvador and Mexico, Los Angeles and Chicago, where young people affected everyday by violence in their communities are organizing safe pathways for their peers out of gangs and into productive learning and training;
we have seen it in South Africa, Peru, Newark and Detroit, where young people are on the leading edge of creating decent, affordable housing in townships, the flood zones of the Amazon and innercity U.S. neighborhoods recovering from years of neglect;
the mission is alive in the provinces of Canada and reservations of Wisconsin, Minnesota and the Dakotas, where native and first nations youth are shaping school reform efforts to reverse the numbers of Indian youth leaving schools before graduation;
we see the mission in Bosnia, Israel, Washington D.C. and Portland, Maine, where young people from different ethnic, religious and immigrant backgrounds, are weaving a universal language of reconciliation to guide the next generation and lay the foundation for cohesive, sustainable communities;
we have seen the mission carried out in the favelas of Brazil and the unincorporated colonias on the U.S.-Mexican border where young people are building infrastructure and leading efforts to generate economic activity and connect their communities to mainstream services.
Over the arc of these 35 years of YouthBuild history, we have been able to observe and celebrate the profound ripple effect that the leadership of young people can have on the world. And we wonder what kind of world would be created if this ripple affect were multiplied, creating the conditions for more young people to lead, and able to connect with their peers for inspiration and guidance.
In his 1966 speech to the young people of South Africa, Bobby Kennedy described this change potential when he observed:
Each time a person stands up for an ideal, or acts to improve the lot of others, or strikes out against injustice, they send forth a tiny ripple of hope, and crossing each other from a million different centers of energy and daring, those ripples build a current which can sweep down the mightiest walls of oppression and resistance.
Our next decade of work will tap more fully those "centers of energy and daring" that we know are present in the hearts and minds of the 1.5 billion young people between the ages of 15 and 24 on the planet today.
And we will especially dedicate ourselves to reaching those young people who comprise the 357 million youth, globally, who are not in school or training or are unemployed. We, along with many others view these young people as "opportunity" youth, whose potential contributions to the social, economic and leadership fabric of their countries could be immense.
In the next ten years, we aim to grow the combined U.S. and international network of YouthBuild programs operating in local communities to a system capable of enrolling 100,000 opportunity youth each year, across a network of 30 countries. A YouthBuild network of this scale and scope could generate over 20 million leadership service hours, contributed by young people to their nations.
And this, from our perspective, can form the kind of sustained "current" necessary to expand public and private sector investments in systems to link young people to leadership, to continuous learning and to productive livelihoods. And it is this same current that could transform global development policies as they are shaped by the "lived experience" of "opportunity youth" -- a force of young people who will be called on to lead the planet through to the end of the current century.
We move forward with optimism and resolve on this growth agenda, because we have seen the evidence that it can be achieved. This early evidence emerged from the leadership of a small group of young people, meeting together in a church basement in East Harlem, with no resources beyond their own wits, lived experience and compassion for those who were even less fortunate then themselves; the unquestioned commitment of Dorothy Stoneman and John Bell and other adults allies, to listen to their aspirations with caring hearts, boundless hope and entrepreneurial minds. We see how these early actions, were actual seeds that grew into a national and now global YouthBuild movement that is enrolling 22,000 young people each year in 45 States and 14 countries.
So as we look at the road ahead for YouthBuild we are reminded of the words of a great teacher, Marianne Williamson, who observed of human beings:
Our deepest fear is not that we are inadequate. Our deepest fear is that we are powerful beyond measure. It is our light, not our darkness that most frightens us. We ask ourselves: Who am I to be brilliant, gorgeous, talented, fabulous?
Actually, who are you not to be? You are child of God...
Your playing small does not serve the world.
That could be our headline, our cheer, our mantra... call it what you will, for YouthBuild, its students, graduates and leaders in all corners of the world. "Your playing small does not serve the world." The work of YouthBuild is unfolding in a world that calls us to play big, and that is fully our intention, as we seek to unlock the world's most precious and sustainable resource, the leadership of its young people.
Please help us continue this work by visiting our Crowdrise page today.