By Gomah Wonleh, YouthBuild Providence Graduate, Assistant Career and Training Director, Building Futures
When I started at YouthBuild Providence, I had no skills and no sense of direction. I didn't know what I wanted to do, but knew I had to do something. While I was going through the construction aspect of the YouthBuild program, I was acknowledged for working well with my hands. Upon graduation, I was selected to join the apprenticeship program at the United Brotherhood of Carpenters.
I went from not knowing anything about construction to building hospitals, banks, and luxury condos. I was given the chance to help build the very city I grew up in. I gained skills that can never be taken from me. I learned what it takes to have a good work ethic. I am diligent and take pride in my work. I'm a recognized journey-level carpenter across the country. Though I have worked with a lot of people with different personalities and backgrounds, I always find something in common that we could relate to so we could have a good working relationship.
Although I was grateful for my new set of skills, I realized I was not passionate about construction. I liked the people-centered aspect of my work more than the building aspect. I've always liked working with people and my experiences with YouthBuild made me realize that even more. YouthBuild helped me recognize that I have good interpersonal skills -- skills I would find very valuable as I pursue my career of choice.
When I graduated from YouthBuild Providence, I was selected by my peers to serve on the National Alumni Council, the governing body of YouthBuild USA's National Alumni Association. Through this experience, I was exposed to numerous personal-development training opportunities and seemingly limitless resources. The trainings helped me develop into a leader. I learned how to create and conduct workshops, organization skills, and how to speak in public. I facilitated training courses and conducted a handful of workshops for adults and young people. It was during this time that I realized I wanted to be some form of instructor or teacher.
Through its training, YouthBuild was able to bring out my natural skills that would help me discover the career of my choice -- teaching -- but what could I teach? In what subjects did I have the substantial skills and knowledge that I could share with others?
Fortunately for me, the former director at YouthBuild Providence had started a nonprofit called Building Futures. The program was created to help low-income urban Rhode Islanders train for successful careers in the building trades. After I finished my apprenticeship and started volunteering and working for Building Futures, my supervisor noticed that a lot of the participants looked to me for guidance. I shared a similar background with many of the students, so they felt like they could relate to me, and I to them. Because of this understanding, my words became a bit more believable to them.
I used my apprenticeship experience to help smooth the transition from the streets to the construction site. I was hired as the assistant construction trainer; years later I'm now the assistant career and training director. I get a chance to combine the skills I've learned in my trade with the passion I have for helping and teaching others. I've learned that experience can be just as valuable as traditional schooling.
My next challenge is to attend Springfield College to obtain a bachelor's degree in human services with a concentration in youth development. I know that with some additional training, combined with my natural people skills, I will make a difference in a lot of people's lives.
I was told that knowledge is something you share with others. In whatever way my experience can help the next person reach their goals, I'm all for it. A philanthropist by the name of Alan Shawn Feinstein has a quote on all high school and middle school buildings in Providence (it's funny that I never noticed it until I discovered my love for teaching and helping others). It states "Helping to better the lives of others is the greatest of all achievements." The lesson I've learned is that we are more powerful than we think. As young adults, with the right resources and guidance, our potential is limitless. Don't be afraid of who you are and what you've been through. We're all capable of doing amazing things -- we just need someone to believe in us.
I owe my life and my career to the training and encouragement I received at YouthBuild. The biggest thing for me was having someone who really believed in me. Without YouthBuild, I would have never known that I have the natural skills and passion for teaching. Please join me in supporting YouthBuild USA by visiting our Crowdrise page today. YOUTHBUILD!!!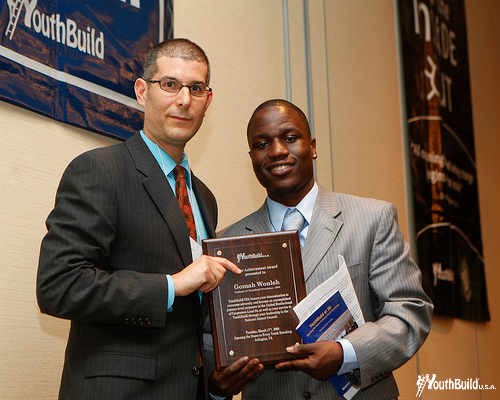 Gomah Wonleh, Career Achievement Award Recipient, with Gregg Weltz, U.S. Department of Labor