Joel Miranda, Director of Leadership Development, YouthBuild USA
Playing Batman and Robin as a child is one of the fondest, perhaps most innocent, memories I recall. I remember tirelessly running around with a towel tucked in my shirt, sounding out each "BAM" "CRACK" or "KAPOW" as I fought imaginary villains with my cousin and younger brother. With each successful battle we would stand proud, arms out, chest open; the imaginary winds of victory blowing at our capes; a classic heroes pose. I recall marveling at Superman's powers. When no one was around I would climb on a counter or table, jump off, for a few seconds I was suspended in mid-air, and believing that with practice, one day I would fly.
Years later, I fell painfully to the ground as I made the life altering decision to drop out of high school. I was an angry and disconnected young man who had lost faith in everything, everyone, and tragically myself. After realizing that I needed to complete my high school education, I decided to look into the YouthBuild Just-A-Start program in Cambridge, Massachusetts as I had heard great things about it and had seen its youth crews building affordable housing in my community. My plan was to get a GED as quickly as possible and leave before making any friends or getting too involved. The last thing I needed or wanted was new friends. Little did I know that very decision would change my life forever.
After graduating from YouthBuild Just-A-Start, I served for two years as a full-time AmeriCorps Member focusing on community outreach, recruitment, and community and civic engagement efforts. This experience allowed me to continue developing as a young professional while staying connected to the program. During this time, the staff at YouthBuild Just-A-Start saw something in me that I couldn't see and found a way to hire me full-time. I worked at my local YouthBuild program as a Peer Leader for two years while putting my AmeriCorps Education Award to use to pay for night and weekend college courses.
Because I needed to help my family pay their mortgage to keep their home, I left to pursue a more lucrative career in the fitness industry as a personal trainer. The job paid well but I was young and irresponsible, a horrible combination. I returned to negative behaviors and developed some equally negative or worse new behaviors and in the process, completely disconnected from people who cared. I had lost myself. Then, one day at the gym, Sara Fass, a teacher who had taken an interest in me years earlier at YouthBuild Just-A-Start, and whom I had completely disconnected from, walked into the gym and said she wanted to hire me as a trainer, even if the gym was 30-45 minutes out of her way. Over the course of months as we met for our weekly sessions, she would update me on the work back at the program and the successes and challenges they had been experiencing. Remembering my passion for the work at YouthBuild, she asked if I would consider returning as an employee insisting that the program needed my energy. Realizing that I was unhappy, I said "YES!"
I returned to YouthBuild Just-A-Start to work as a Youth Advocate/Case Manager and while I took a massive pay cut, I gained so much more in personal value. I realize now that Sara didn't really need a personal trainer, she wanted to find me, she was worried. That was nine years ago and I haven't looked back since, there's nothing to look for back there. Through my work with the young people and in the communities they come from, I discovered what I truly care about. I found my purpose. I found myself!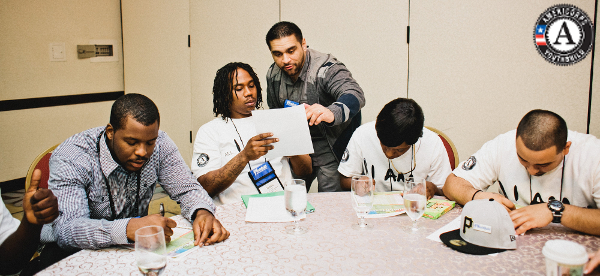 This experience - the unconditional support and belief in my abilities by a caring adult who had no other reason to care other than that it was the right thing to do, because she knew I was capable of so much more--embodied my new definition of what it meant to be a hero. This experience catapulted me into a life and subsequent opportunities that I would have never imagined possible and would have never thought myself capable of.
Through the work at my YouthBuild program I learned so much more about myself and about my potential to help bring about positive and lasting change. I learned how combining love and opportunity helps young people transform in ways that no textbook or classroom experience can replicate. I discovered the power of mentoring as I became more than a 9-5 advisor to my students. I became the older brother, father-figure, or friend they never had or always needed. I allowed myself to feel the gamut of emotions that are humanly possible rather than simply the anger and sadness that I had relegated myself to previously. Through my work with young people, and myself, I've seen firsthand when an individual learns that they are able, they are willing. Upon realizing their capacity, they develop interest. When they see that they are capable of success, they desire it. Most importantly, when they realize they are worthy of care, they discover that they care, not only about themselves but the world around them as well.
This experience, while seemingly miraculous, is not uncommon in YouthBuild. Every year 10,000 young people who have disconnected from society and, in many cases, written themselves off to a life that they wouldn't desire for anyone else but they somehow live through every day, walk through the doors at YouthBuild programs across the country. At these programs they experience the power of love, opportunity, and a belief that they already possess the leadership and ability to bring about lasting positive personal and community transformation. Their potential however, isn't created by anyone, it was always there, it simply needed direction. Their potential can easily be likened to the process that energy goes through under the First Law of Thermodynamics which states that energy can neither be created nor destroyed but rather transformed from one form to another. This is what happens at YouthBuild programs across the country. Young people come to us already possessing that potential for change and it is our mission to help them tap into that potential and use it for positive change and personal success.
As a result of this journey that started many years ago and the support, leadership, professional development, and love that have been extended to me, I have developed as a professional and as an individual. In the summer of 2012, I was accepted to the Community Fellows Program at the Institute for Non-Profit Management and Leadership at Boston University's School of Management. The program's mission is to build a strong and talented cohort of young urban leaders, able to initiate social and organizational change... leading to greater diversity, social justice, community cohesion, and inter-community collaboration and to educate, support and connect the next generation of nonprofit leaders and managers.
Additionally, I was recently afforded the privilege of joining the team at YouthBuild USA, the national organization that provides guidance, best practices, and technical assistance to YouthBuild programs across the country, as the Director of Leadership Development. In my new role, I have the honor of working with programs to deepen their understanding and practices around Leadership Development, and support and expand an ever growing network of graduate leaders. I help develop partnerships and opportunities that will help our graduate leaders have a greater impact on the world.
As I move forward in my personal and professional development, and my efforts to help others on their journeys, I carry with me and keep present the words shared with me by a graduate prior to leaving my local YouthBuild program:
Best of luck buddy, and congratulations! At the lowest of low points in my life, when everyone who knew me and my problems doubted me and wrote me off, you were the only one who encouraged me, believed in me and were willing to help me. Those 3 little things made a giant impact on my life and on who I became as a person. You are a great mentor and friend.
Bobby Farrell
YouthBuild Graduate