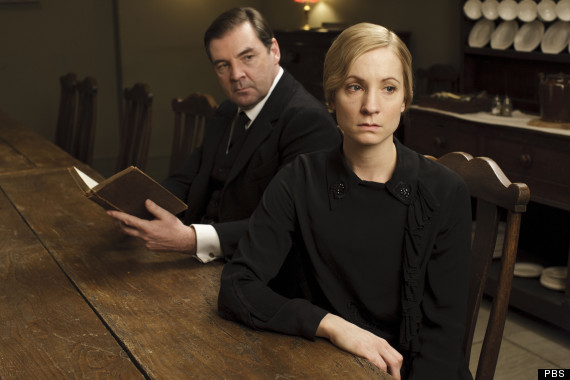 Spoiler alert: Do not read on if you have not yet seen Season 4, Episode 4 of PBS' "Downton Abbey."
Change is name of the game of Season 4 thus far. It's what keeps nipping at the heels of Downton, riling the downstairs help with a sewing machine and replacing ice boxes with a thing called a refrigerator. It threatens the very moral compass of Lord Grantham, whose staunchly traditional ways make him an insufferable chauvinist at times but a teddy bear landlord who honors century-long partnerships with a farmer at other times. And change is what drives Tom to consider moving to America to start a new life where he can be more than an uppity chauffeur who still can't parse the difference between Duchess and Countess and stupidly sleeps with the household help when inebriated.
What hasn't changed, of course, is the love between Mr. Bates and Anna, whose sad separation has thankfully been resolved in this episode. Mr. Bates, who bears a resemblance so close to Emeril Lagasse that I keep expecting him to whip out a "BAM! Kick it up a notch!" whenever he paces through the kitchen, finally grows some balls and takes matters into his own hands. He eavesdrops in on a conversation between Anna and Mrs. Hughes where Anna reveals that she is not pregnant with a baby (thank the lawd!). An infuriated Bates corners Mrs. Hughes into telling him what exactly happened to Anna by threatening his resignation. Let's be honest: Mrs. Hughes ends up telling Bates about Anna's rape not because she's devastated at his potential resignation, but because she has been itching to tell him all along. She recognizes that it is the only way to put both him and Anna out of their terrible and unnecessary misery. Of course, Hughes leaves out a crucial detail -- hiding that it was Mr. Green, Lord Gillingham's valet, so that she can still somehow protect Anna from her imminent fear that Bates would murder him. A smart woman, that Hughes -- even if she did swear on her late mother's grave that she was telling the truth.
It's a decision that will continue to haunt Hughes. After patching things up with Anna, who mutters insane nonsense about being "spoiled" for her husband, Bates makes it clear that he will not rest until he finds Anna's attacker. "Nothing's over and done with, Mrs. Hughes ... I understand and I won't press you -- but beware, nothing is over, and nothing is done with," a shaking Bates tells Hughes as thunderous music plays in the background. BAM! Bates is indeed kicking up a notch.
Downstairs, Alfred has discovered his true calling as 20th-century England's Gordon Ramsay by taking cooking lessons from Daisy. "Downton" has been a lot more fun this season, primarily because we've been taken out of the Yorkshire mansion and following its household members as they traverse through London and night clubs. Alfred and Edith travel to London where he tries out to be a chef at the Ritz Carlton hotel with an Alain Ducasse-type sous chef who parades in front of the room and instructs them to make a cold potato leek soup. He does well, but not well enough to make the cut, which inspires arch nemesis Jimmy to make a snide comment about his results. I'm not really sure what Jimmy's purpose on the show now is other than to make petty comments about what a country bumpkin Alfred is and flirt with Ivy. His moment with Thomas in past seasons is the most interesting thing about him so far -- and I'd be thrilled if he somehow leveraged his power over Thomas to give the constantly scheming underbutler a taste of his own medicine.
Meanwhile, the story of Molesley and his ultimate demotion to a footman and hard times delivering groceries just keeps on dragging on. Judging from the playful music that comes on whenever he enters the screen, am I to assume that his storyline is meant to be comic relief? I find him more depressing than anything else, and I keep wondering why Julian Fellowes bothers to write the shaggy-haired former butler into the script at all, only to put him through further humiliation. As with Carson and his offer to replace Alfred as footman, Molesley just keeps pissing everyone off.
Back upstairs, the power struggle between the Crawley generations continues to rage on. When an in-debt farmer who has used precious Crawley-owned land for more than a century dies, Mary and Tom make the executive decision to kick the family off the property and farm out the land themselves. It's the kind of cool, clean decision a McKinsey executive swooping into a faltering family's estate would make, but Robert isn't fully convinced. The traditionalist he is, he can't help but be moved by Mr. Drew's talk of the century-long partnership between his family and the Crawleys, about honoring family and history and legacy. Robert offers to pay off the the family's debt himself, a poor business decision but one that speaks to the size of his heart. "If you don't respect the past, you'll find it harder to create a future," he tells the family over a meal, which immediately draws some mocking from his own mother.
Since Matthew and Sybil's deaths, the Crawley family also seems in constant threat of diminishing completely. Tom keeps on having TMI moments in front of the family by talking about socialism and feeling like an "intruder" and "living somewhere where I don't belong." The comments are dismissed by the Crawley family, who know that Tom is right but can't bear the thought of losing yet another family member. (It also brings out vintage Mary, with this wonderfully bitchy comment to Edith: "Oh, stop moaning.") The bigger question, of course, is if Tom takes off to America, and Edith potentially off to London or Germany or wherever it is that Gregson is hiding out, what will become of the next Downton generation? Even with the arrivals baby George and baby Sybil in the house (not that we would necessarily know it, given how little airtime the babies get on the show), Downton is suddenly beginning to feel very empty.
PHOTO GALLERY
"Downton Abbey"