Spoiler alert: Do not read on if you have not yet seen Season 4, Episode6 of PBS' "Downton Abbey."
In case you needed a break from all the snow sport action of the Winter Olympics at Sochi, "Downton" was there last night to whisk you back into its rapidly changing household. Romance has hit the ladies of the Yorkshire mansion hard, in all of its various stages: Lady Mary finds laughter in slinging mud, Lady Edith confronts her pregnancy head-on with the help of Aunt Rosamund, and young cousin Rose continues her illicit love affair with band leader Jack Ross, who, yes, as many of you pointed out, can't really carry a tune, huh? The downstairs gals Daisy and Ivy are rattled by the brief return of Alfred, who finds himself embedded in a deep love triangle that even Carson and Mrs. Hughes want to avoid.
Let's begin with Lady Mary. After rejecting Lord Gillingham's marriage proposal, she finds herself questioning her decision and pours energy into her and Tom's decision to farm pigs on their precious Downton land instead. She brushes off the presence of Charles Blake and Evelyn Napier, who are assessing the properties of England's elite and threatening her existence as an estate holder. Mary does what Mary does best, which is making sharp and nasty quips at the expense of Blake, but this of course does nothing to shield the fatal attraction that brews between them. Their relationship has all the witty repartee of a Jane Austen novel, although Mary does have this weird affect where the rest of her face remains completely emotionless as the most cutting remarks come out to her mouth.
Anyway, the pigs! The pigs are dying of dehydration, and Blake responds immediately by running to fetch pails of water and quite literally save Downtown's bacon. Evelyn was a goner to begin with, but now he finds competition in Blake, who realizes that Mary is a modern 20th-century woman after she stumbles around in the mud and whips up a cool dish of scrambled eggs like Martha Stewart after a hard day's work. Pigs, bacon, and scrambled eggs: Mary's new romance looks awfully like a breakfast buffet.
Meanwhile, Lord Gillingham makes a surprise return visit to the household after he has determined that he just can't give up hope on Mary. This being Downton, the men all somehow know each other as well, further complicating the blossoming love-quadrilateral situation. Gillingham's visit now makes the upstairs portion of Downton, and the men who pursue Mary, like a 20th-century version of "The Bachelorette," which should be entertaining to watch for the next few episodes (my bet is on Blake!). But Gilligham's visit also means the very unwelcome return of Mr. Green, who pulses through the downstairs kitchen ignoring the dark, violent stares Mr. Bates shoots his way, and the blatant discomfort that passes over Mrs. Hughes' face. Mrs. Hughes confronts Mr. Green privately and gives him the hateful speech we've all been yearning for ("I know who you are and I know what you've done") but it's not quiiiiite satisfactory for the viewer who has lived through Anna's ordeal in the aftermath of the rape. Judging from Gillingham's determination to stay at Downton and Bates' previous declaration of "it's not over," I sense Julian Fellowes might have in store an unhappier turn of events for the slimy valet.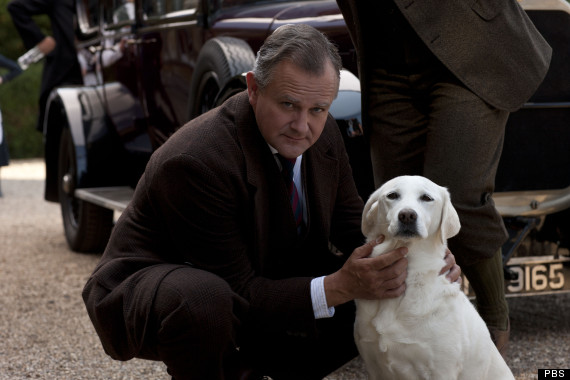 Thank god Bates is around to witness this all, by the way. Robert has been summoned by Cora's brother and mother to take care of some mysterious business involving a Senate Committee in America, and he runs around the house squawking his displeasure of having to sail overseas. The matter isn't completely explained, but the trip does force Mrs. Hughes to tell Lady Mary about Anna's attack. Now that Gillingham has returned to Downton with valet, Mrs. Hughes is probably regretting her decision not to disclose the full truth to Mary about who exactly Anna's rapist was. Thomas sails off to America as his Lordship's valet instead, and hopefully, the sneakiest Downton cast member will also end up staying there. (Remember when he shot himself in the hand? Can he please end up doing something like that there?).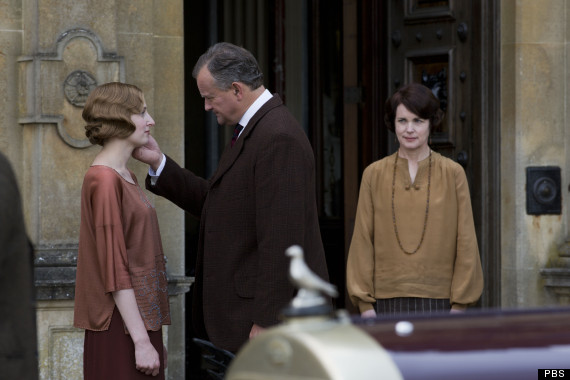 Also facing trouble is poor Lady Edith, whose bombshell pregnancy is exacerbated by the fact that she still can't get her hands on boyfriend Gregson in Munich. She makes half-confessions here and there, like when she asks her mother if she's a bad person, and gets the exact response she feared: "We all have bad feelings, it's acting on them that makes you bad." (Ouch.) And so lady Edith makes another trip to London that turns out to be an appointment at a doctor's office for an abortion, but not before finally confessing to her wise, sharp Aunt Rosamund. This is the same Aunt that ripped Edith a new one about respecting herself as a woman and not regretting decisions she has made in the past, so it was lovely to see Rosamund become such a resource for her troubled niece. "I am killing the wanted child of a man I'm in love with, and you ask me if I've thought about it!" Edith cries, a premonition of her decision, in the end, not to go through with the abortion.
Edith's decision to have the baby, for now, raises some big questions about what women of society did with babies out of wedlock. Will Edith give the baby up for adoption, and go away to some mysterious relative's household while she is pregnant? Or will she remain sequestered at Downton, and provide yet another cousin for George and Sybil? It's ironic that all three Crawley sisters will have all give birth to children within a year or so of each other, but under completely different circumstances that underscore their vastly different personalities.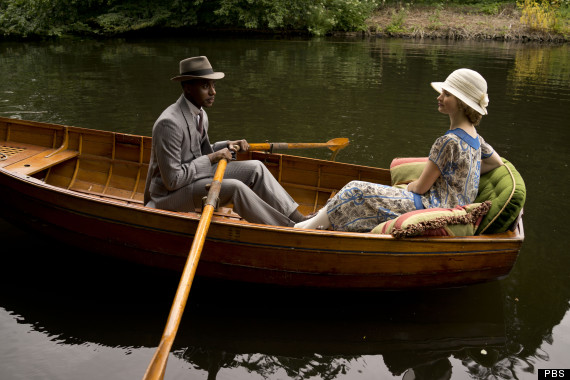 And while Edith is dealing with the biggest decision of her life, silly, impressionable Rose skips off in London-town to meet her new lover, Jack Ross. The pair share kisses over boat rides (what is this, Venice?) and talk about sweet nothings. Jack is a bit more realistic about the scandal that their interracial relationship could cause, but Rose -- ever free-spirit Sybil's replacement -- just says to take things one day at a time. Perhaps she is waiting for Jack's singing ability to dramatically improve before making a bigger commitment; it wouldn't be a bad idea.
Finally, the love-hate relationship between the Dowager Countess and Isobel comes to a head when the Dowager becomes gravely ill with bronchitis and Isobel, a trained nurse, is the best person to bring her back to health. The Dowager doesn't want her help, but Isobel, a natural nurturer, has finally found her purpose again on the show. Theirs is its own kind of romance; the romance between two ladies who can play cards with one another in the late hours of the morning and have a blast doing so.
Until next week, I'll leave you with this beautiful sight:
"Downton Abbey" airs Sundays on PBS at 9 P.M. ET.
Follow Youyoung Lee on Twitter: @youyoung_lee.