In 2005, the New York Times did a story professing Philadelphia as the "sixth borough." Writer Jessica Pressler says, "Philadelphians occasionally refer to their city -- somewhat deprecatingly -- as the 'sixth borough' of New York, and with almost 8,000 commuters making the 75-minute train ride between the cities each weekday, the label seems not far off the mark."
Five years later, I have yet to forget this article. Having grown up in neutral territory -- South Brunswick, NJ to be exact, smack-dab in the middle of the rival cities -- it's unfair for me to take a side. On the other hand, I work in Manhattan so I know plenty about the Big Apple, but what did I really know about the city of brotherly love? Not much beyond The Franklin Institute, the Liberty Bell and Will Smith. So a month ago, I ventured out to explore Philly beyond its rich history (yes, I am that shallow). I will not attempt to compare Philadelphia to New York City. They are, after all, separated by an entire state -- it's like apples and oranges. But I will tell you about my Philly experience in an effort to share all of its fabulousness...
Food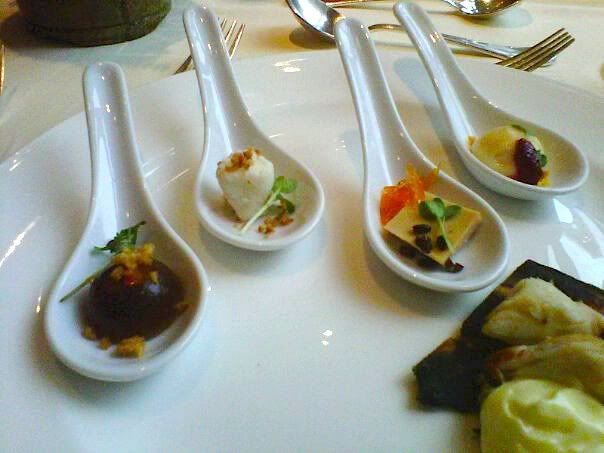 Never have I ever gone to a brunch place like Lacroix, located inside The Rittenhouse Hotel. From intricate canapes to delectable meats patrons collect from the kitchen that practically melt in your mouth (my personal fave was their roast pork belly), it's the kind of meal that's so memorable, you will likely travel back to Philadelphia for it alone. (And yes, I'm planning my next trip around this brunch.) I also can't get my mind off the little bite they call "cinnamon toast crunch" (pictured: far right spoon). It's not cereal per se -- it's a refined, deconstructed take on the breakfast staple. I enjoyed it so much, I went back for seconds, thirds, fourths.
And if delectable breakfast and lunch treats weren't enough for me to indulge in, I went to R2L, a lux restaurant located on the 37th floor of 2 Liberty Place, for dinner later that night. I started with the crisp cheese risotto and grilled truffle flatbread -- both were delish. Then, I sampled the onion soup with gruyere melted on top -- I almost-always order it whenever I see it on a menu, I can't help myself. And let me just say, in all of my years of eating onion-y things, this starter was, by far, the best I've ever had. (I'm not exaggerating, I promise!) For my main entree, I went with the smoked pork loin, braised belly, fingerlings, broccoli raabe and romesco. The meat was little tougher than what I had hoped, but the veggies were lovely. Although I was reluctant to consume even more food, I had a sorbet trio for dessert. All in all, a fine dining experience and I was more than satisfied.
Nightlife
When it came to partying, two speakeasies, and I was had! Once defined as "an establishment that illegally sells alcoholic beverages" in the '20s and '30s, I discovered two venues with that feel nestled in Philadelphia's Penn Center neighborhood. First stop: the sexy Ranstead Room. With entrances through El Rey's kitchen and outside on the street (just look for the door marked with double Rs), I had cocktails with names so complicated I can't even remember them. Even though it was quite dim inside, the naked ladies gracing the walls were hard to miss. The venue is ... hot, to say the least.
Second: The Franklin Mortgage & Investment Co., a short walk away from the Ranstead Room. Don't let the name fool you -- in the 1920s, this bar was the front for the largest alcohol ring in the country. Staying true to its roots, the venue's velvet walls, vintage murals and classic booths added a touch of authenticity (whether they are, in fact, old or not). My friends and I truly enjoyed each other's company in the great setting, not to mention cocktails called "stormy monday," "humbert humbert," and "bee's knees" -- so fun!
Style

From vintage shops to lux salons, even vast department stores with plenty of preppy and chic options to boot, there's no question -- Philly knows style. I picked the best time to visit the city, too, with the Philadelphia Collection 2010 series underway. From September 23 to October 2, the city's many boutiques, stylists, designers and modeling agencies were hosting various independently produced events. From fashion shows to trunk shows, glamazons and enthusiasts alike walked the city discovering (and shopping) this season's hottest, new looks. Nicole Miller, Boutique 77, Margot & Camille Optique, Honest Denim, Zinnis, Three Sirens and Carmelita Couture were some of the brands and retailers who participated.
If you're into high-end fashions, you should live inside Boyds, probably one of the most breathtaking department store I've seen. If you have an eclectic style, visit Old City, which boasts some funky clothing boutiques and accessory stores. That's where I scored myself some edgy cuffs -- perfect for fall.
Now that I'm back in my cozy New Jersey apartment, located 15 minutes outside of the Big Apple, I can say I've got the best of both worlds. I am situated between two great cities. From food to its rich history, from its people to the culture, there's no denying New York is glorious. As for Philadelphia being the sixth borough though? While there are similarities, the city of brotherly love is fab enough to stand on its own.