It happened -- a dear friend has invited me to a black-tie party. When Michelle and Nick's wedding invitation came, I was delighted. It's going to be the event of the year, say friends. And the best part is, it's going to be uber-fancy. How do I know? The invitation says so itself -- "black tie."
Panic! I immediately freaked because I have no idea what to wear. It's not "black-tie optional," so I can't just wear a really nice dress. It is "black-tie required" -- there's a big difference. So what's a girl to do, or rather, what's a girl to wear?
Even though I'm a style expert of sorts, wedding fashion is not my forte. I needed help, so I turned to experts.
Go Long, Go Formal
A black-tie wedding means guests should wear formal attire. That means, tuxedos for men and floor-length gowns for women, "It's important to follow the dress code on the wedding invitation because you don't want to feel uncomfortable wearing a sundress and a polo shirt if everyone else is dressed up," says Anne Chertoff, wedding editor of From "I Will" to "I Do" and The Wedding Organizer. "Men have it pretty easy -- formal either means a black tuxedo with bow tie or a black suit. Women, on the other hand, have a few more options -- a wedding ceremony held in a house of worship may require that they have their shoulders and/or arms covered, meaning a jacket, sleeves or wrap is needed.  A formal dress should be to the floor, but exceptions can be made for tea or knee-length, or shorter, if the design is very elaborate."
It's all about the drama and glam. If it's glam, the length is negotiable.
From left: Strapless Long Charmeuse Dress with Slit ($119 at David's Bridal), White by Vera Wang One Shoulder Oraganza Dress with Black Belt ($198 at David's Bridal), Adrianna Papell Pleat Bodice Rosette Ball Gown ($238 at Nordstrom)
Do Short the Right Way
Are there options for those who prefer short dresses over gowns? Chertoff says the answer is yes! "You can get away with wearing a short, yet very fancy dress," she explains. "A short dress covered in beads, crystals or other bling-y design could fall into the black-tie area." Just be sure to avoid dresses that look like cocktail dresses or sundresses.
Richie Frieman, renowned manners and etiquette expert dubbed the "modern manners guy," says yes, too. "You do not want to show up wearing something you can't even sit in or would wear to a club. Save the super-short dress for another time," according to Frieman. "However, this is not Sunday school either, where the teacher will run around with a ruler. Unfortunately there is no correct 'measurement,' but it's more of a comfort issue. How short? Well, how comfortable are you?"  
Frieman reminds that weddings are a great time to dress up, look your best and go for a night out that you don't get to do as often. "When it comes to this -- simply look your best which when it comes to deciding if you should show your legs off, it's of course the right thing to do, as long as you can function in it."
Plus, if you do short, says Chertoff, don't forget to accessorize it up.
From left: Selma Dress in Silk Taffeta ($235 at J.Crew), Origami Sheath Dress in Wool Crepe ($188 at J.Crew), twobirds Bridesmaid Convertible Jersey Dress ($290 at Nordstrom)
Consider Color
Color is very important for fall, says Lindsay Brooke Weiss, editorial and merchandising director at Sense of Fashion, an online marketplace for independent designers. "We are seeing a departure from black and the 'playing it safe' that usually comes along with it. At the Emmys we saw an abundance of color gracing the red carpet," Weiss adds. "Jewel tones especially play a big role in determining what color gown to purchase for a black-tie wedding."
Try a dress that gives you confidence, but doesn't draw too much attention to yourself, like a plunging neckline that looks inappropriate or a very short dress, Weiss points out. "Longer dresses tend to feel more formal and give you a leaner appearance," she says.
If you want to go with classic black, that's great too though. Try something simple yet elegant, but bling it up.
From left: Chiffon Gown ($795 at Nicole Miller), Stretch CDC Gown ($550 at Nicole Miller), Mauve Chiffon Gown ($199.99 at Sense of Fashion)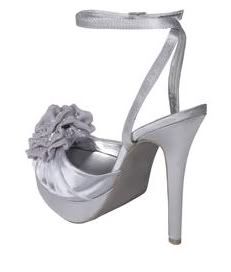 Stay Comfortable
Try your best to go with formal shoes that are also comfortable, says Chertoff. You should probably wear heels, but if you want to be even more comfortable -- after all, you'll probably be doing a lot of dancing -- a dressy pair of flats will be fine. Don't forget the drama.
For Frieman, who's a shoe fanatic, heels are best. "They look the hottest, they dress up any dress and they just put the entire piece together," he explains. "But I will say, regardless of the color and style -- based on the dress -- you have to be able to move in them! I understand that heels are not always designed for hours of dancing, but you want to be okay to stand in them and mingle. So, don't go super high, stick with at comfortable range that is functional."
For black dresses and jewel tones, a chunkier heel (but not too chunky) in a metallic gold or silver will do the trick. Not only will it give you better support than super-spikey heels, it will likely match your formal dress, as well as other stuff in your wardrobe, so you can reuse them.
On right: Liliana by Journee Co "Gabana-10" Floral Accent Platform ($37.99 at Overstock.com)
Shape Up
And, don't forget that shapewear is an option (and could end up being a godsend). I'm going with Lipo in a Box, which squeezes me to smooth those lines but doesn't cut off my circulation like other minimizers I've tried in the past. And girls, even if you're a size 2 like me, don't assume you couldn't use shapewear. Even super-skinny celebs use 'em.
Don't Be Crazy
"Aside from being late, don't use the wedding as a way to showcase something bizarre you just bought," Frieman points out. "Remember the royal wedding and the guests who wore awful looking hats? People were appalled at them, yet Pippa was widely talked about as to how beautiful and elegant she looked, wearing a clean but gorgeous dress." The same goes for the guys, says Frieman. "Save your keyboard tie for the '80s spoof parties," he adds. "You don't want to distract from the main event -- the people you are celebrating."