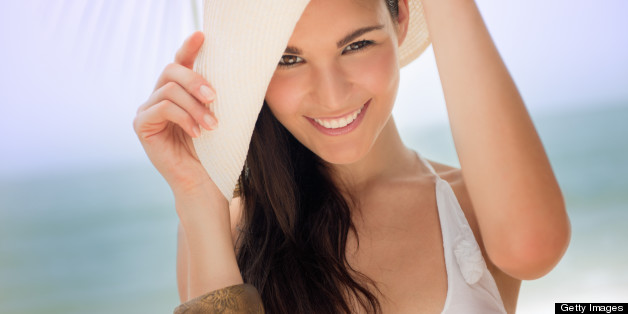 Bienvenu, dear readers!
Mother's Day has come and gone, graduation celebrations are in full swing and Memorial Day will be here in the blink of an eye. Before we know it, summer will be gracing us with extra hours of sunlight and rising temperatures! Soon you will pack away your structured separates for good and bring your linen and jersey to the front of the closet. And like a summer wardrobe, summer beauty should be effortless and casual.
Need advice on how to loosen up your look for the season? Mais oui, mes amis, that's what I'm here for! Let's start with a fresh haircut. And let's go short this time -- I know you've been toying with the idea. A breezy bob will feel so good when the heat wave hits. Even shorter, you say? You certainly know the way to my heart! I'm in!
But what about the frizz? Long or short, fighting frizzy hair with daily styling is anything but effortless. So consider a keratin treatment. Yes, keratin. But do not be careless! You must do your research with this treatment and ask questions to be sure the product your stylist uses is safe. JP Ramirez, our keratin specialist at the Yves Durif Salon, recommends choosing a treatment with 0 percent - 0.02 percent formaldehyde for the sake of your health. The right keratin treatment will eliminate frizz and can unwind tight coils, taming them into beach ready waves, without the need for a blow drier. One less thing to pack for your summer getaway!
Now on to color. It's time to brighten up! Our color expert David Johnstone swears by balayage to help you achieve the sun-kissed highlights you dream of. But he warns the sun can be your summer color's worst enemy! UV protection, on the other hand, will be your color's best friend throughout the season. Arm yourself with a nourishing UV protection spray before you hit the beach or pool. In addition, you can limit your hair's UV exposure by twisting it up into a topknot or sporting a silk scarf -- worn as a wide headband or Jackie O style.
And we can't talk about an effortless summer look without addressing your makeup. It's time to put the brushes down and give your dark colors and full coverage foundation a break. Melanie Ruiz, one of our very talented makeup artists, recommends downsizing your makeup routine for the summer -- dewy skin, black mascara and a bright lip in coral or raspberry are all you need.
You look magnificent now! The last step? A relaxing foot massage and fresh pedicure to get your toes ready for your new summer sandals!
A bientot!