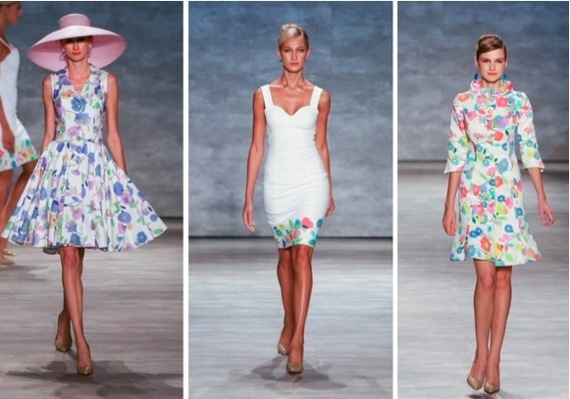 Art openings, theatre opening nights, The Academy Awards,The Kentucky Derby, White House state dinners. The b Michael AMERICA Spring collection shown at the Pavilion during New York's Mercedes-Benz Fashion Week signaled the celebration of events in American style. Elegant models sauntered in chignons with chandelier eardrops of jewels and gold or silver architectural shapes from his b AMERICA couture line. Lovely florals danced on sheaths, topper dresses and sundresses in cotton pique. Cream capri pants and full leg trousers were topped with clever toppers.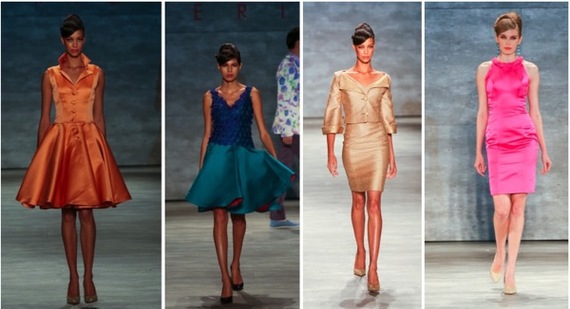 Sexy dancing dresses were bright in teal apricot and lavender. Full gore sweep organza dresses in jewel tones were a lovely surprise reminiscent of the era of Camelot. A series of mermaid gowns; a champagne gold silk choker halter gown, multi metallic mosaic halter gown and white and gold cotton gown pique whispered of old Hollywood red carpet glamour.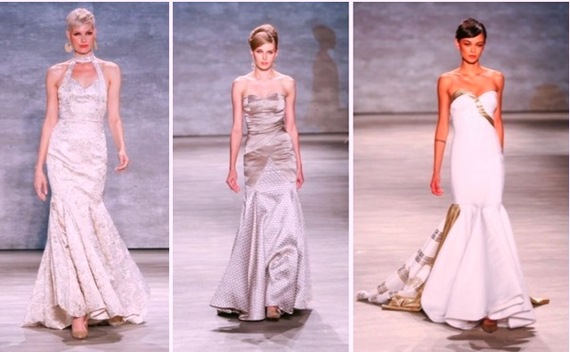 The menswear models sported a creamy fleur-de-lis shawl jacket and a smart multi checkered pattern lapel jacket and matching trousers suitable for cruise ship romances and the high roller gambling tables in Vegas. The floral shawl collared jacket in a playful color pattern matching the women's designs was repeated in two menswear items.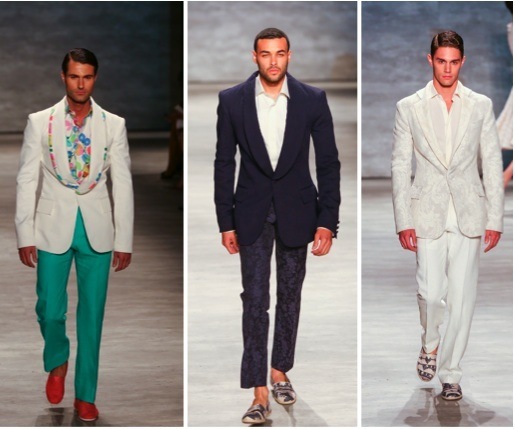 Committed to the highest quality and design interpretation, a short video presentation was shown of the b Michael atelier team in New York preparing for the couture shown on the runway. Among the illustrious guests: Andre Leon Talley, Ebony's Desiree Rodgers, George Faison, Macy's Terry J. Lundgren and his wife Tina, Muffie Potter Aston, Debbie Bancroft, Amy Fine Collins, Cece Cord, Francine LeFrak and Rick Friedberg, Karen LeFrak, Sharon Handler Loeb, Nick Loeb, Amelia Ogunlesi, Karen and Charles Phillips, Linda Johnson Rice, Muna Rihani Al-Nasser, Susan Taylor and Thelma Golden were dancers from Youth America Grand Prix were b Michael is a board member. Youth America Grand Prix provides scholarship auditions and performance opportunities to young dancers.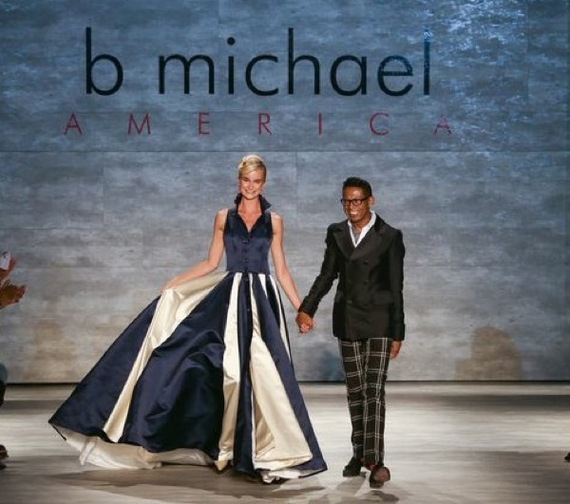 The show closed with b Michael and a regal beauty in an epic Navy and cream satin shirtwaist ball gown fit for a queen. The celebration continued with a post champagne reception hosted by Kathryn Chennault for invited guests and a few models in b Michael designs from the show.