Deepak Chopra's New York Times bestselling book, Buddha, traces Siddhartha's path to enlightenment from prince to divine deity. Mindy Frenkel's journey from Jewish wife, mother of three and grandmother of seven to yoga guru and beloved partner to Kerry, an African-American martial artist is worthy of a fascinating memoir. Someday, she will share her inspiring story.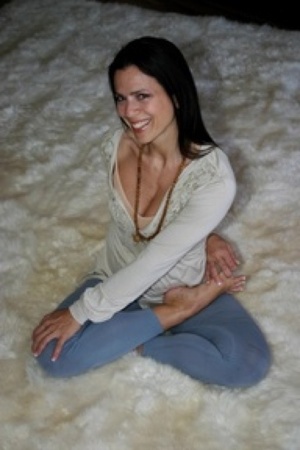 Presently Mindy is at work on a yoga app for home practice. People flock to her classes not only for the challenging flow of asanas in her Vinyasa class but enlightenment on modern life through yoga and meditation. At 52, Mindy juggles private clients, classes, teaching and retreats with study, aging parents in Israel and relationships with grace, honesty and humor.
"I always need the lessons I teach." Mindy smiles. Drawing from her studies in Sanskrit and the timeless wisdom of the dharma, Mindy applies a modern approach to quieting the mind. A mindful yoga practice evolves from the eight limbs of yoga: Yama (proper behavior), Niyama (proper attitude), Asana (posture), Pranayama (breath/energy). Pratyahara (withdrawing), Dharana (concentration), Dhyana (meditation), and Samadhi (absorption). Mindy's special offering is unthinking enlightenment as mysterious but for you to discover that you can be your own guru. Her Vinyasa class focuses on a flowing series of sun salutations, chest arches, slow-moving spinal twists, inversions, and prop-aided stretches with attention to proper alignment and breathing techniques.
"The lessons on the mat are profound. Can you stay in a challenging pose, breathe and find the joy?" Mindy asks. Music could be singing with her harmonium, live drums, Art of Noise, Krishna Das or Seal. During savasna, she reads inspirational quotes, gives perspective through her own observations of life lessons, and massages temples, necks and shoulders with essential oils from Amma.
To be focused at a retreat or seclusion of an ashram is not how we live. Enlightment comes by using your yoga practice outside the class in a complex metropolitan life. It has been said: "Yoga is like a geologist for the soul -- it can show you where to dig, and what to dig for, but the digging you must do yourself." Mindy Frenkel's yoga instruction gives you the tools to work toward your soul's divine nature. Namaste.