As the world now knows, William and Catherine are honeymooning in the Seychelles, which I correctly revealed in my HuffPost report on April 10 as the most likely of all the rumored honeymoon destinations. Like the newly-minted Duke and Duchess of Cambridge, I've embarked on a holiday after the hectic and thrilling royal wedding of the decade, and am currently sailing around the Italian and the French Rivieras.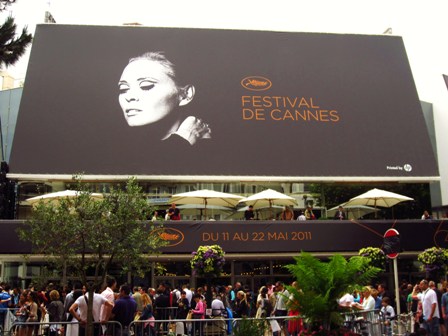 Going ashore for the 64th Cannes Film Festival last week, the famed Croisette was abuzz with glamorous bonafide stars, botoxed wannabe starlets, and pirates in anticipation of Pirates of the Caribbean: On Stranger Tides, which premiered last Saturday amidst talk of Johnny Depp being distantly related to Queen Elizabeth. It turns out he may be a 20th cousin -- yeah, talk about distant. If you're going back that far, heck we're all distantly related.
But it's fun taking in all the action and the hype -- in the first 10 minutes on the famed Croisette, I came across a French actor that I've never heard of but the French paparazzi went nuts over, a life-size stuffed tiger in the window of the Louis Vuitton boutique, volunteers offering "Etriente Offertes" (Free Hugs) to passersby, and countless movie producers in town to secure multimillion dollar deals. Then, of course, there were perennial Cannes Film Festival attendees Salma Hayek and Bollywood screen siren Aishwarya Rai Bachan, both evoking old-Hollywood glamor reminiscent of Ava Gardner. Who said that they don't make stars like they use to anymore?
Uma Thurman as jury judge walked the red carpet in a white, figure-hugging gown slit so high up that it barely preserved her modesty. It seemed that the royal wedding was still on everyone's minds. Every woman who showed up in a white gown such as Thurman, Penelope Cruz and even Jane Fonda was said to be copying Pippa Middleton. Oh really? The comparisons are ridiculous and far-fetched to say the least. Besides, when Pippa can fill out a dress like the delectable Ms. Cruz, or still have a perky bottom at the age of 74 like Fonda, then we can talk. Middleton's white bridesmaid's dress by Sarah Burton wasn't even an original creation for the wedding -- Cameron Diaz had worn the exact same gown in red to an awards show earlier.
The festival opened with a screening of Woody Allen's Midnight In Paris , the director's latest homage to Europe, which was met with generally good reviews, even if one critic said it was a bit of a "lightweight." After decades of setting his films in his beloved New York, Allen seems to have fallen in love with Europe, first with London in Match Point and then with Vicky Christina Barcelona, set in the Catalan capital.
Woody doesn't show up at the Oscars even when he's nominated, but he showed up at Cannes, along with the film's stars Owen Wilson, Adrien Brody, Michael Sheen and Rachel McAdams, although the lovely McAdams should really send her stylist packing. The red lace Marchesa gown she wore to the opening ceremony was an itchy-looking monstrosity -- whoever did the lacework should perhaps have gone to the Royal School of Needlework which did the lacework on Kate Middleton's wedding gown. If it's any consolation, McAdams was still far better dressed in Cannes than Lady Gaga, who looked like a cross between a Euro-trash biker chick and Amy Winehouse.
Everyone I talked to last week said they were eagerly anticipating Terrence Malick's The Tree of Life, which stars Brad Pitt and Sean Penn. It's also one of the most hotly-contended films drawing simultaneous rapturous applause and booing from the tough audience at its screening. Whether you loved it or hated it, The Tree of Life is a front-runner for the prestigious Palme d'Or, Cannes' top prize, and I've even heard talk of a possible Oscar nomination for Pitt. Malick's toughest competition could well be Pedro Almodovar with The Skin I Live In, a horror thriller starring Antonio Banderas as a plastic surgeon who hunts down his daughter's rapist. Also generating buzz and a possible upset for the Palme d'Or is Lars von Trier's Meloncholia, a science-fiction drama about the end of the world starring Kristen Dunst, Alexander Skarsgard and Kiefer Sutherland.
The most contentious film at the festival is director and producer Keith Allen's documentary, Unlawful Killing, which delves into the circumstances surrounding the death of Diana, Princess of Wales. Allen's famous progeny, pop singer Lily Allen, had noted that if Joss Stone, who performed at the Diana Memorial Concert in 2007 was invited to Prince William's wedding, then she, who also sang at the concert should have been invited as well. Well, after her father's documentary which likens the royal family to "gangsters in tiaras" and Prince Philip was referred to as a "psychopath," Lily looks unlikely to ever being invited to any future royal events.
The £2.5 million Diana documentary, funded entirely by Mohamed Al Fayed, claims that the princess and Al Fayed's son Dodi were murdered by the British Establishment, and that there was a media conspiracy in reporting the inquests into their deaths, which were ultimately ruled as "gross negligence" on the part of driver Henri Paul and the photographers in pursuit. Responding to questions at the press conference in Cannes, Allen maintained that "I do believe that Diana was in a position to rock a number of boats and I do believe that a warning may have sufficed... and that it may have gone too far."
Allen's lawyers told him that he would need to make 87 cuts to the film in order for it to secure distribution in the UK -- cuts which he has said he's not prepared to make. Most upsetting to those closest to Diana is the insensitive and sensationalistic inclusion of a picture of the dying princess in the crash scene, even though Allen says that "it is not as sensational or revealing as people make it out to be." It's unfortunate that while Prince William is on his honeymoon in the Seychelles and moving forward with the next chapter of his life, 4,800 miles away in the Cote d'Azur there are those who are still looking back into the tragic events in his past.