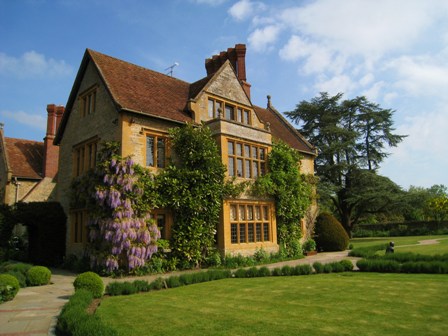 The royal wedding of Prince William and Catherine Middleton has created a huge interest in tourism to Britain. If you're one of the many international visitors who will travel to London for the event, consider also venturing outside the capital for other superlative experiences. Nestled in the picturesque Oxfordshire countryside about eight miles from the city of Oxford, is a hotel and restaurant held in such reverence by leading food critics, gastronomes, and fine hospitality connoisseurs, that it is the only country house hotel in the UK to achieve and maintain its two Michelin star status for 25 years. It has also garnered countless "World's Top Hotels" accolades, and food awards in Relais and Chateaux, Zagat, AA Restaurant Guide, and others. I've had the exquisite pleasure of experience it for myself first-hand.
Le Manoir aux Quat'Saisons is a fulfillment of a personal vision for proprietor and chef Raymond Blanc, who has been a major force in the British culinary landscape, and a proponent of the organic movement for over 20 years. For a man with such far-reaching gastronomic influence, surprisingly Blanc has never been formerly trained. Starting from work as a waiter, by the time he was 28 years old, Blanc had opened his own restaurant in Oxford which obtained its Michelin Star status in just a year.
In1984, Raymond Blanc fulfilled his long-time dream and opened Le Manoir aux Quat' Saison, offering the best in gourmet dining and hospitality in a 15th-century Chiltern manor house. The property is surrounded by manicured lawns filled with statues and sculptures, a Japanese tea garden and ponds, a private helipad, as well as a two-acre organic garden which produces 90 types of seasonal vegetables and over 70 varieties of herbs - all of which are featured in the restaurant's modern French menus.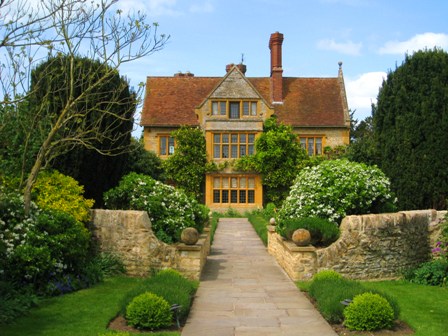 The meticulous attention to detail and aesthetics that Blanc puts in his cuisine also carries over to the design of the Manoir's 32 guest rooms and suites in the main house and in the garden wing. As the master chef says, "simplicity is never that simple". Blanc collaborated with interior designer Emily Todhunter and others to come up with contemporary rooms each based on a color scheme to evoke a different theme or mood.
Blanc explains his design vision, "I don't give a damn about clever things. I see a texture - I want to touch it. A flower - I want to smell it. That's where you get weight, excellence, comfort." For instance, modern amenities such as the flat-screen TV may descend from the ceiling at a touch of a remote, but disappear into the ceiling when not in use. The ubiquitous mini-bar is banished altogether and replace with complimentary mineral water, a decanter of Madeira, and fresh fruit and homemade chocolates served on a tray. The underlying feel is that you're a guest in someone's home rather than in a hotel room.
The split-level Dovecote is a perennial favorite room for honeymooning couples due to its seclusion in an original 15th century dovecote, located between the main house and the garden courtyard. The contemporary bathroom on the lower level contains a Victorian clawed bathtub surrounded by glass walls and full body water jets. On the upper floor is a bedroom with a queen-sized bed with LED enhanced headboard, open wooden structural beams, and purple wall hangings overlaid with Picasso doves.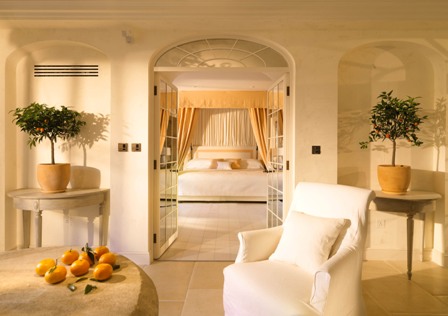 The seven superior suites are spread throughout the property and include the new Blanc de Blanc - a stunning, all-white suite with private garden access; L'Orangerie which evokes the fading elegance of an Italian palazzo; Provence - decorated in deep aubergine shades with a private terrace; the contemporary Lace is furnished with an antique ebonized, four-poster bed and textured paper-covered walls; and the Far East-influenced Jade where guests enter beneath the canopy of an Asian tree.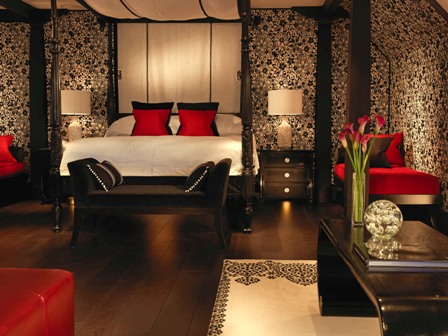 Another evocation of the Orient is the Opium Suite which offers a sitting room which opens out onto a private water garden, and is furnished with bamboo ornaments and Chinese dark wood furniture. The seductively opulent bedroom is separated by heavy silk drapes, and dominated by a bed draped in rich red shades and surrounded by original Ming dynasty stone carvings. The Lemongrass's vibrant lime green silk wall coverings was inspired by Blanc's extensive travels in Asia and is reminiscent of the curving paddy fields of the region. This suite's bathroom includes a cavernous walk-in shower and steam room with stone relaxation beds.
There are 12 superior bedrooms - all individually created in the main house and in the garden courtyard. The Botticelli room, decorated in traditional style, has perhaps the most exquisite and unusual bathroom found in any country house hotel. A spiral staircase leads guests up to the bathroom where two Victorian claw foot bathtubs sit side by side, surrounded by hand-painted murals depicting cherubs and the ocean.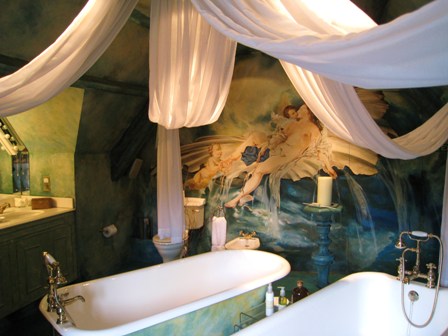 As gorgeous as the accommodations are, guests come here to dine on cuisine that has been described as "a twist of imaginative genius". Since opening in 1984, Le Manoir aux Quat' Saison has become a food mecca for those with discerning palates the world over. During that time, it has received the highest honors of any restaurant and country house in the UK, and is hailed as one of the best in Europe. Much of this stems from Raymond Blanc and his team's dedication in searching for the finest and freshest ingredients that not only tantalize the taste buds, but also impart the greatest nutritional value.
As Raymond Blanc puts it, "The good does not interest us. The sublime does." He also adds, "The garden is an integral part of Le Manoir's culinary and aesthetic experience, supplying the restaurant with its daily needs for eight months of the year, as well as providing a sensual pleasure for our guests."
Le Manoir has the first organic wild mushroom garden in the UK with around 15 edible species. In 2006, after years of experimentation and multiple visits to Southeast Asia, Blanc added a Malaysian Garden with herbs and spices such as varieties of ginger, lemongrass and turmeric, as well as exotic vegetables. During the summer, an explosion of wild lavender, poppies, cornflowers and buttercups bloom along the edge of Le Manoir's apple orchard.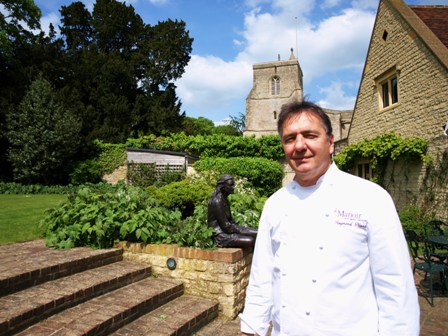 To share his lifelong passion for food, in 1991 Blanc opened the Raymond Blanc Cookery School alongside his gourmet restaurant. It became the only place in the world where students have the opportunity to learn culinary technique in the kitchens of a two Michelin Star restaurant. There is also La Petite Ecole for children between the ages 7 to 16 to learn about food seasonality, free range and organic foods, sustainable farming and nutrition.
The dining experience is, of course, an integral part of Le Manoir's hospitality. In addition to his impeccably trained staff, Blanc often works the tables himself with his affable charm. Perhaps as a reflection of Blanc's more relaxed attitude toward haute cuisine, Le Manoir is one of the few Michelin star restaurants to accept children.
In addition to a la carte selections, many gourmets opt for Les Classiques du Manoir - comprised of five courses of the best seasonal dishes, and accompanied by classic French wines. However, for the gastronomically adventurous who come with a big appetite as well as a big wallet, go all out for the extraordinary Menu Decouverte, like I did - an imaginative culinary journey of ten small courses each masterfully balanced in flavors and textures, while Le Manoir's expert sommeliers serve complementary wines Blanc had personally sourced from both established and new vineyards in France.
During my visit, the menu consists of an amuse bouche of yellowfin tuna with bonita jelly and curry pastry with confit of duckling and mango chutney might start off the evening. The gazpacho of cherry tomatoes, nicoise olive and basil starter I've tried was like a fresh burst of sunshine in the mouth, followed by main courses such as a roasted loin of Pyrenees lamb with a barley vinaigrette. The desserts are equally sublime and ignite a whole range of taste sensations such as Gariguette strawberry with Szechuan pepper and cream cheese ice-cream, and an exotic fruit "ravioli" with kaffir lime and a kalamansi sorbet.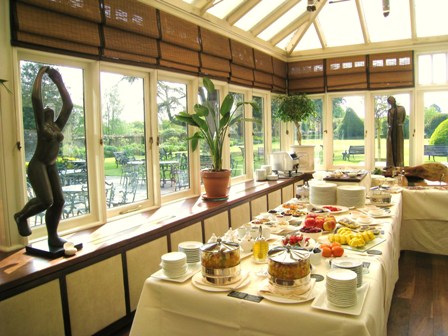 The conservatory is also the site for Le Manoir's Wellbeing Breakfast which showcases Raymond Blanc's devotion to organic and holistic values. Normally I'm not a breakfast person, but I've never come across a breakfast quite like this. A virtual smorgasbord is laid out on a white linen covered table with every conceivable choice of organic seeds, nuts, fresh and dried fruits, cheeses, and cereals, in addition to cold cuts including imported Iberico ham, pastries, and a dozen loaves of bread baked twice daily by the restaurant's bread artisan. Freshly squeezed pomegranate juice is available as well as a choice of hot a la carte entrees. This might be the most visually and appetite-stimulating, as well as the most nutritionally satisfying breakfast that I've ever enjoyed.
So while we can't all arrive at Le Manoir aux Quat' Saisons by helicoptor, we can all leave on cloud nine.
CONTACT
Le Manoir aux Quat' Saisons, Church Road, Great Milton, Oxfordshire (8 miles SE of city of Oxford); tel: +44 (0) 1844 278881; fax: +44 (0) 1844 278847; email: lemanoir@blanc.co.uk; www.manoir.com)
Photos by Yvonne Yorke and Le Manoir aux Quat' Saisons.