This entry is part of a contest by HuffPost Books and The Buried Life. Click here to read more about it.
I started sponsoring Prosper in February of 2010. I was going to school in Boston at the time and doing an internship at a travel agency. On my way back from work one day, a little after 5 o'clock in the evening, I was stopped by a guy about my age holding a clipboard. It was freezing cold, rainy, and windy outside, and I was only feet from my T-stop. I could've easily told him that I was in a rush to get home, but I decided to hear what this guy had to say. It turns out that was one of the best decisions that I have ever made.
After a few minutes of conversation he explained to me that he worked for a nonprofit humanitarian organization called children.org. It was only $22 a month to sponsor a child, and he explained that it was easy for anyone to do. Not able to stand in the cold any longer, I assured him that I would look at the website when I got home. I'm sure he had heard that excuse many times before and the dejected look on his face showed that he didn't believe me.
I was home 45 minutes later and sure enough the first thing I did was go to the children.org website. In all honesty, I wasn't expecting to actually go through with a sponsorship, but I had promised to check out the website and so I did. I browsed through several pages, looking at all the different countries where kids were waiting to be sponsored. Eventually I landed on Zambia, where on the 2nd page I saw a picture of a child named Prosper. He was shy looking, but still showed the faintest sign of a smile.
My first thought was that there couldn't be a better name for a child to sponsor than Prosper.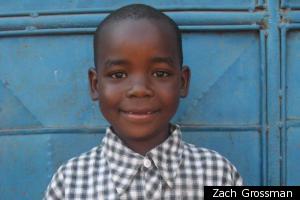 I decided to look at the other information about Prosper and his family that the website provided. His family income was $60 a month, and that was supposed to take care of him as well as his two siblings. Prosper's personal "favorite pastimes and talents" included drawing, playing soccer, playing with friends, and playing with toys and cars. Like any 7-year-old, it was obvious that Prosper enjoyed a lot of playing. Prosper lived in a one-bedroom house and slept on the floor with a mat. Five minutes later I had signed up for the website and was an official sponsor of Prosper.
It's been over two years now any my sponsorship of Prosper is still going strong. I occasionally get drawings from Prosper and letters (written by his mom), as well as photographs showing how much he has grown up. The best photograph that I have received was a picture of Prosper holding a soccer ball that I had sent him. There was no guarantee that the ball would get to Zambia and just to see him holding it in his hands with the biggest smile on his face made me happy beyond explanation.
I've been out of school and unemployed for about 10 months now, but I will continue to send Prosper $22 a month no matter what my situation is. I've always felt that actually visiting Prosper in person would bring the entire experience full-circle. It's easy to send someone money each month over the Internet, but I feel like actually getting a chance to meet that person and see how much your donation means to them, their family, and their community is a once in a lifetime opportunity that will really solidify the bond that has been made.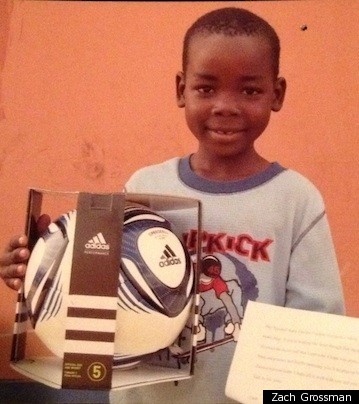 It's hard to say that I "deserve" to visit Prosper. There are so many people in this world who sponsor children and give even more to charities than I do, so how can I say that I deserve something more than the next guy? That being said, I'm still young (23 years old) and I feel like I'm at a prime age to have an experience like this. I may not be able to have this experience once I get older. I'll have a job (hopefully), a family, and all sorts of other responsibilities to take care of. I'll still sponsor Prosper, but who knows if I'll have enough time to take a trip over to Zambia. All I know is that I've developed some sort of connection with an 8 year old boy half a world away and I'd love to be able to see his smile in person and not through a photograph.