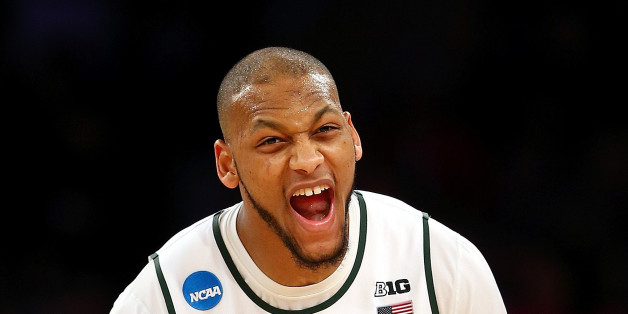 The NBA Draft is tonight and by now we've all heard and read about the top picks ad nauseum. But what about that next tier of prospects -- the dudes that won't hear their names called until Adam Silver hits double-digits?
I sat down with one such dude, Adreian Payne, a few days before the draft in the Blackberry Suite in NYC. We talked about his game, what he expects on the big night and the people that have helped him make it to Barclays Center. Here's an edited transcript of our conversation:
Zach Wasser: What's the experience been like for you leading up to the NBA draft?

Adreian Payne: I would say it's been a hell of an experience. You know, being able to fly city to city and have an opportunity to work out for teams. And just knowing that you are very close to making your dream a reality.

ZW: And how do you see yourself standing out in the NBA and having that staying power?

AP: I see myself being able to stay in the league just like anybody really that's fortunate to make it this far: you work on your game and get better. I just think that if you continue to work on your game and get better you'll be able to stay in the league.

ZW: The versatility of your game, especially on the offensive end, I feel like it's going to be hugely important for whatever team drafts you, but what aspect of your game do you think needs the most work though?

AP: I would say my ball handling maybe. Yeah, I would say that because you know I really don't handle the ball that much. In full court situations or bringing the ball up, I need to work on just seeing the game at a different angle. I'm used to seeing the court not bringing the ball up just running down, you know, getting it and playing and if the ball happen to come to me then I score the ball. I would say definitely bringing the ball up and taking somebody off the dribble, you know dribble pull up or something like that.

ZW: Do you see yourself more as a stretch four or do you see yourself also working in that post game?

AP: Yeah, I definitely see myself in and outside the post. I like playing in the post and I like playing outside. I get excited making both types of plays and it's just part of the game I try to work on every year. Just try to expand my game to something new.

ZW: Nice. And you said before that you worked out for the Bull's today?

AP: Yesterday I worked out for the Bulls.

ZW: Yesterday, OK.

AP: I had a great workout, did good and I feel good about it.

ZW: Requisite NBA Draft question: do you have a preference which team you end up on?

AP: No, I don't have a preference, you know, I just want to get drafted to play in the NBA

ZW: Yeah, I figured. On a more technical level, when you catch the ball on the low post, what are you thinking? How do you read the defense?

AP: First of all when I first catch it I try to wait because I'm thinking I'm going to get double-teamed. So, you know, I used to have a tendency to just catch it and go and I used to get into some trouble and turn the ball over. So now I try to catch it, gather myself, see what the defense gives me and then I would go straight into a jump shot and jump hook depending on what block I'm on. If I'm on the right, right hand jump hook; left [block], left hand jump hook. So sometimes that doesn't work so I do an open drop and I normally do a stick shot instead of a drop step into a hook shot. You know just read the defense.

ZW: Right. And how do you determine when you want to face up as opposed to backing your man down?

AP: I would face up on much bigger guys. Especially if they pushed me off the post or if I caught the ball off the block, I would face up and try to see what the defense gives me. If it's somebody my size, I would back them down.
ZW: You're in kind of an interesting position because a few pieces have to fall in certain places and then your name is up. What's that experience been like? And do you feel like someone in the top ten could jump up and grab you or are you waiting for the picks 10 through 20 something?
AP: Not sure, you know, it's a crazy draft.
ZW: Can't really control it.
AP: Yeah, I don't have no control. I feel like I did good in all my workouts and I worked out good, so you know, it's not in my hands no more.
ZW: And in your personal life, you've overcome a lot and you have succeed and thrived. Where does that strength come from?
AP: I'd definitely say my grandmother. She was strong willed and I learned from her and it's just been in me since I been a little boy. Just never giving up and trying to be the best I can be.
ZW: That's the reason you improved your game every year you were at Michigan State -- that drive to be the best?
AP: Right, right.
ZW: And finally, is there anybody else in your draft class that you've been talking to or that you've gotten close with?
AP: Yeah, I talk to Nik Stauskas from Priority and everybody in Priority [Priority Sports is the management firm that represents Adreian]. But outside that, just Gary Harris [Michigan State teammate also projected to be a top pick in the draft]. We really talk a lot. And I talk to the guys back at Michigan State, just to tell them what to look forward to whenever they enter this process and try to help them out the best way I can.