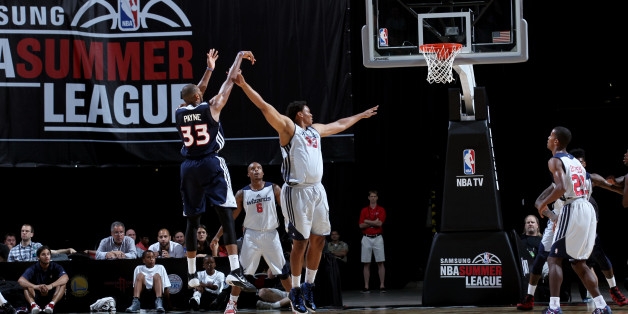 When the Atlanta Hawks drafted Adreian Payne with the 15th overall pick, they helped the 23-year-old forward realize a life-long dream. I spoke with Payne earlier this summer, days before he headed out to Las Vegas to participate in his first NBA Summer League. During our conversation, we covered topics ranging from his experience on draft night, what it was like to meet Atlanta's All-Star forward, Paul Millsap, and how it feels to part of the NBA family. Below is an edited transcript of our conversation.
Zach Wasser: What's it been like for you since you made it down to Atlanta?
Adreian Payne: It's been pretty good, just been working out and playing with the guys.
ZW: Who have you gotten to meet so far?
AP: I've gotten to meet Paul Millsap, Dennis [Schröder] and a few other guys.
ZW: Did you know anybody in Atlanta before heading down there?
AP: No, I didn't know anybody coming out here.
ZW: What's it like to meet a guy like Paul Milsap after watching him on TV?
AP: It's great, you know, he's an older guy, so he plays the game the right way and it's just good to have somebody who's been in the league that knows the system -- that knows the game in and out.
ZW: And in a way you could pattern your game after him: you're a bit taller, but you guys do a lot of similar things. You agree with that assessment?
AP: Yea, I do. And he's very strong and he's just real smooth, so I'm going to be able to learn a lot.
ZW: What do they have you doing down there, just situating yourself? Have you already started training?
AP: Yea, I've been training. Really, that's it.
ZW: How does it work in terms of housing? You find out where you're going to live on draft night and then you have to scramble to find a place?
AP: No, I'm just training right now, getting ready for Summer League and then going to go Summer League. After that, I come back and look for a spot.
ZW: How was it on draft night?
AP: Yea, it was great.
ZW: Who'd you go with?
AP: I went with my family and just a bunch of my friends, my cousins.
ZW: What's next for you this summer?
AP: I'm going to Summer League. After Summer League, going to Rookie Transition Program for next year then back to Atlanta.
ZW: It must be crazy, these are the first days of living your dream.
AP: Yea, it hasn't hit me all the way yet, but it will.