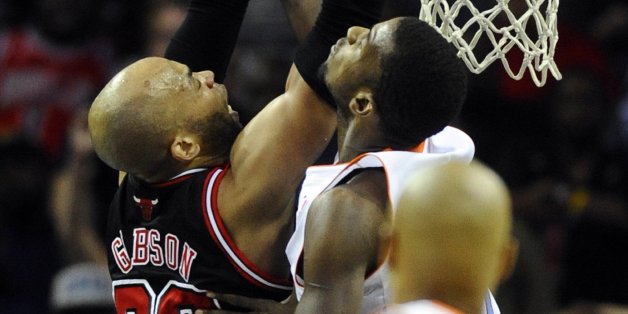 Before the start of the season and even through the first quarter of games played, the outcome of the Eastern Conference playoffs seemed predetermined: the Indiana Pacers would square off against the Miami Heat for a spot in the NBA Finals. Now, with the Pacers in rapid decline and the Heat sliding not far behind, anything seems possible. Check that: almost anything (sorry, Charlotte). With hopes of early upsets, here are my picks for the first round of the Eastern Conference playoffs.
#1 Indiana Pacers vs. #8 Atlanta Hawks
The Atlanta Hawks have a better offense than the Pacers? Yes, yes they do.
Atlanta used that somehow-superior offense to embarrass the Pacers on April 6th, beating them by 19.
I'm hard-pressed to pick an eighth seed over a one -- especially this eighth seed, a team that lost it's best player, Al Horford, in December to a torn pectoral muscle and whose own general manager, Danny Ferry, said that he didn't care if the team made the playoffs or not.
That being said, the Hawks do pose a matchup problem for the Pacers -- specifically Roy Hibbert's inability to guard center-ish Hawks big man, Pero Antic. I'm not completely comfortable pegging this thirty-something year-old Macedonian rookie as a potential "difference maker" in this series, but Pero has torched the Pacers this year.
With Roy reluctant to meet him on the perimeter, Pero shot a staggering 72 percent from the field, 60 percent behind the arc and averaged 17 points per game in two Hawks wins this season against the Pacers. This is an admittedly small sample size and could definitely just be an aberration. For the season, Pero averaged 7 points and shot a pedestrian 41.8 percent from the floor and 32.7 percent from long range. But I like this guy -- I'm not sure why.
Since the NBA changed its first round series from five to seven games in 2003, three eighth seeds have upset the top dog in the first round: Don Nelson's Warriors over Dirk and the Mavs in 2007, Grizzlies over Spurs in 2011 and Philadelphia over a Rose-less Bulls team in 2012.
Of those three upsets, I think this Pacers-Hawks matchup most resembles that 2007 Mavericks-Warriors series. The Pacers, like the Mavs of yesteryear, have a yet-unproven star (Paul George and Dirk respectively). Of course Dirk was much more accomplished in 2007 than George is now, since Dirk actually won the MVP award in '07 while George was merely an early season third-place candidate for the award at best.
But my point is that George is not a reliable star (don't forget Dirk choked the year before in the Finals after going up 2-0 against the Heat and then followed that up with a subpar postseason series against the Warriors in which the Mavericks were the first one seed to lose to an eighth seed since the first round changed to seven games).
And just as the Hawks stretch the Pacers out -- drawing Hibbert and David West out of the paint to guard Pero and Paul Millsap on the perimeter -- so too did the Mavs face a match-up nightmare in Golden State. The 2007 Warriors, coached by Don Nelson, were ahead of their time. Nelson favored smaller, quicker lineups, shunning the conventional wisdom that any good team had to feature a back-to-the-basket big. Nelson encouraged his players to take the first good look they had which led to a lot of field goal attempts early in the shot clock often from downtown.
Of course, this Hawks team lacks the swagger (what's a good synonym for swagger? I'm not a fan) which defined that 2007 Warrior team - a group of players that no other team wanted and who were brought together by Nelson, the mad scientist, who encouraged them to be their purest and baddest selves. And the 2011 Hawks are nowhere near as talented as '07 Warriors. Yes, Paul Millsap earned his first All-Star appearance this season and Pero is a real problem for Roy, not to mention the lights-out shooting of Kyle "Ashton Kutcher" Korver giving the Pacers fits and the improved play of Jeff Teague... wait, the more I write, the more I am convinced. Alright, I'm in Hawks. You can all laugh at me later when they get swept or hail me as a prophet. Pacers's top-ranked defense be damned! Atlanta in seven!

#2 Miami Heat vs. #7 Charlotte Bobcats
Heat in five. Wah-wah. When the Heat want to be the best defensive team in the league, they flip that proverbial switch and send teams packing quickly, especially in the first round. Kemba Walker, though it breaks my Hungry Husky Heart to say it, is an average NBA point guard (which, in truth, is not really an insult considering the quality at that position in the league today). He's not a great shooter -- he's below 40% from the field -- and the Mario Chalmers/Noris Cole combo should play him to a relative standstill. Yes, Big Al Jefferson can dominate the interior offensively, but he's also a kitchen-door defender. Which is a problem because the other team has Lebron James and a well-rested Dwayne Wade (at his best this season, Wade looks like he's just woken up from one of those perfect two hour naps -- not groggy, just ready to attack the day). And just for good measure, the Heat have Chris Bosh -- a player that would be the go-to guy on that Bobcats -- as a third option. The Bobcats will steal one on their home floor and after which we can finally, mercifully lay the Bobcats nickname to rest forever; amen.
#3 Toronto Raptors vs. #6 #6 Brooklyn Nets
This might be the most intriguing matchup of the first round in the Eastern Conference. I've gone back and forth on this one, but I like the Nets in six.
Jason Kidd, to his credit, righted the ship after a shaky start to the season. After losing Brook Lopez, Kidd adapted his lineups and game plan to fit his personal, starting Shaun Livingston - who has been a revelation -- benching Derron "Horrible Hairline" Williams and utilizing Paul Pierce as a stretch-four (a progressive move reminiscent of how Kidd's former coach, Mike Woodson, changed Carmelo Anthony's role in 2013). So often NBA coaches are rigid seemingly for no good reason (Scottie Brooks and Marc Jackson, come on bros). It's refreshing to see a new head coach as unflappable and as open-minded as Kidd.
The biggest question for the Nets is Garnett. KG has averaged 20.5 minutes in 54 games this season.
Put another way, he's missed over a third of the season and in the games that he actually got on the court, he was only out there for less than a half of the game. Considering the way Jason Kidd's career ended - forty-years old, exhausted and having no legs under him from having played too many minutes earlier in the season, Kidd shot 0 for 17 over his last ten playoff games and limped off into the sunset. Perhaps Kidd had KG on the Duncan plan so that he would be fresh for the games that really matter. Or maybe KG just can't play any more than 20-plus minutes at this point in his career. The answer to that question will influence how far Brooklyn can go in these playoffs.
#4 Chicago Bulls vs. #5 Washington Wizards
Bulls coach Tom Thibodeau is one lonely dude, or so I imagine.
He's 56, he doesn't have a wife or kids -- really any family to speak of -- which leaves him with plenty of free time to design defensive schemes as maniacal as his laugh.
For that reason alone, I'm taking the Bulls over the Wiz in six -- but I'm not happy about it. I want the Wizards to win: they're a more entertaining team largely because of their fourth year point guard, John Wall. Wall has developed a consistent outside shot to compliment his freakish end-to-end speed. And he's playing with great pace this season. In years past, he only had one gear, but this year he's learned how to shift down in order to read the defense and make the best play rather than barreling headlong toward the rim without a plan. I would love Wall to prove me wrong and emerge as the star of these playoffs, but I don't know if he has enough help to make it happen.
Plus, the Bulls have an advantage in the frontcourt (even with Boozer? You ask, and I, ashamed, shake my head yes). The trio of Joakim Noah - my choice for Defensive Player of the Year - Taj Gibson and and the Booze Cruise should outplay the Wizards line of "Fragile, Do Not Shake" Nene, the ne'er-defend-well Marcin Gortat and Drew Gooden who I hear is having a good season, but I refuse to believe it.
The fact that the Bulls are a four seed with D.J. "Chubby Gopher" Augustin as their -- wait, what? -- LEADING SCORER upsets me deeply. Augustin's improved play is proof enough that Thibodeau is so deeply bored and deeply evil that he has the time and the pathological yearning to create a system in which the chubbiest of gophers can thrive as an NBA point guard.