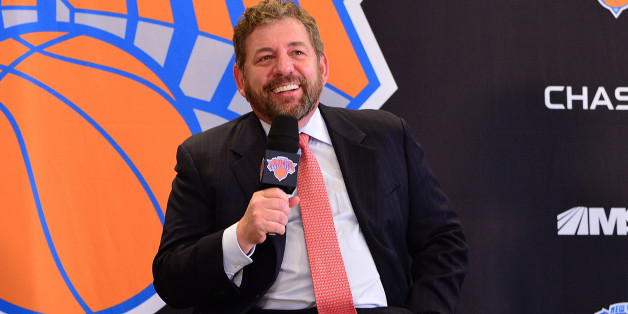 To be a Knicks fan in 2014 is to willfully enter into an unhealthy relationship. Exhibit A: Frank Isola of the Daily News reports that Executive Chairman of the Madison Square Garden Company and possible Sith Lord, James Dolan, has stopped new President of Basketball Operations, Phil Jackson, from completely cleaning house and firing certain Knicks employees. Cue the exasperated sighs, the hands thrown up in disgust -- again. Here we go again.
Jackson, to his credit, downplayed the issue at a news conference Wednesday afternoon: "As far as Jim Dolan's promise or his premise when I took this job that's he's going to leave basketball decisions up to me, really, he's been loyal to that promise," Jackson said.
Remember, it was only six short weeks ago that Dolan "willfully and gratefully" ceded all basketball decision-making to the 13-time champion (11 as a coach, two as a Knicks forward in the seventies). Even if we believe (which I do not) that Jackson is telling the truth and Dolan, the worst owner in the NBA, has changed and will no longer meddle, Jackson is still a 69-year-old rookie executive attempting to revitalize a perennial loser in the toughest media market in the world. On top of that, Jackson will not be involved in the team's day-to-day operations, but instead will (somehow) create a new, winning culture, which will permeate the entire organization, from the comforts of his home in Playa Del Rey (he plans to stay on the West coast for at least part of the season during his tenure as president).
If that isn't enough adversity, here's some more: the roster is, to put it lightly, not good; the team is at least a full season away from any meaningful cap flexibility and does not have a first-round pick in this year's draft, the deepest in recent memory; Carmelo Anthony, the team's best player, is going to opt-out of his contract and become a free agent this summer (and if he does resign after flirting with prospective suitors, he will eat up a big chunk of whatever cap room the team will have in 2015); Raymond Felton may go to prison (which, from a team perspective, as netw3rk writes, is, sadly, not a bad thing); and in case you needed anything else there is, as always, James "Darth Sidious" Dolan.
After this latest development out of Knicks camp, the New York faithful are forced to face a sobering reality: Jackson, despite all his accomplishments, is simply the messiah-du-jour -- just like Isiah Thomas, Larry Brown and Donnie Walsh before him -- and it is only a matter of time before something goes wrong, he's gone and we're lost all over again. I'd like to believe that Jackson's return to New York will yield the team's first championship since the Nixon administration, but I've seen this movie before and it does not end well (think The Departed -- everyone dies except Mark Walhberg, err James Dolan).
As any good Knicks fans will tell you, time is a flat circle -- everything we've ever done or will do, we're going to do over and over again. So when I read about the Knicks now, I feel like I'm combing through articles from six years ago -- back when Donnie Walsh took over and the Knicks were stuck in a version of basketball purgatory: always at the end of the draft lottery without a pick, saddled with under-performing, overpaid players and completely directionless.
But if Knicks history is bound to repeat itself, maybe we can reach back far enough and find something to hold onto, something to remain hopeful for. Maybe hiring Jackson is actually the team's first agonizing step toward a championship. And if so, if one day the Zen Master is holding up the Larry O'Brien trophy, you'll find me front row in the Canyon of Heroes as the confetti falls -- I'll be the guy in the Shumpert jersey with a bottle of Dom weeping uncontrollably.
For now, it seems Dolan, always one to make a big splash, is on his way to realizing his greatest failure yet: running the greatest winner to ever stalk the sidelines out of town before he can even get his feet wet as an exec.