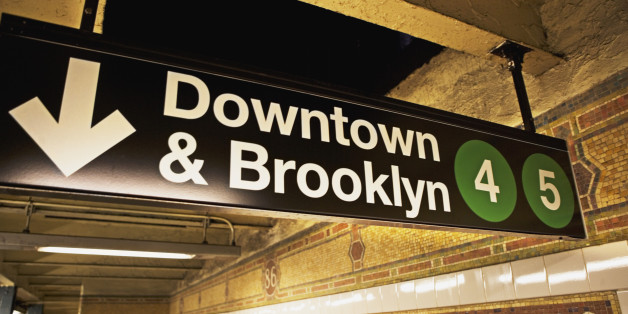 Living in New York, I see Nets gear everywhere: subway cars and sidewalks dotted with the same black hats and HELLO BROOKLYN shirts. To shed the team's unofficial title as "Knicks' smelly cousin from Jersey," the Nets brain trust rebranded the organization as the physical incarnation of Brooklyn -- settling on a logo that highlights the team's new digs. The goal: to win over fans by co-opting Brooklyn's vibe and cultural relevance and relegating the team's actual name (and its corresponding associations) to an afterthought.
So when I see people wearing Nets apparel, I figure they're just reppin Brooklyn. That leaves the Nets in a potentially unique situation: everyone loves their brand, but not many people actually follow the team.
Brooklyn had a great opportunity to convert disenchanted Knicks fans these last couple of seasons, but the current Nets roster -- comprised mainly of past-their-prime talent -- feels impermanent and destined for an ugly decay. I respect that Billy King swung for the fences and mortgaged the team's future for a shot at the title right now, but in so doing he left the team without any young prospects of note (sorry, Mason Plumlee) and whatever championship aspirations the Nets had crumbled early this season with Brooke Lopez's foot.
So I walked into the mouth of the Barclay's Center on Monday night for Game 4 between Brooklyn and Miami searching for that illusive, authentic Nets fan: the diehard unwilling to stop the "DE-FENSE" chant even as the crowd of fairweathers, too busy Instagraming selfies, remained seated; that girl or guy screaming at each made basket and sickened by every miss. When the spirit moved me, I jotted down a few bullet points to document my findings (and missed a sweet Kirilenko assist in the process, or so my friend Zeb told me; all in the name of journalistic integrity!). Here are five of the highlights:
Orthodox Jews: Who knew? The people in our section cheering the loudest and high-fiving the hardest also happened to be sporting the freshest payos and tightest kippas. As a fellow Tribesman, I felt a kinship to these young people so in love with their hometown team. Mazel Tov!
Heated: When I first got to my seat, as is the custom, I fist-bumped my fellow section mates -- including the father-son combo a few seats down from me -- to communicate Nets solidarity, only to realize mid-bump that both dad and teen were wearing throwback Heat jerseys. I knew going into the game that there would be a lot of Miami fans, but the actual number was ridiculous. The crowd was about 60-40 split Nets to Heat fans (and that's being generous). Worse yet, the Miami faithful erupted with every Lebron basket (of which there were many) while Brooklynites too often let their chants die and rarely waved their rally towels with any sort of vigor. Finally, in perhaps the most shameful display of all, so many people left their free t-shirts hanging on the back of their seats that from my vantage point in the nosebleeds, the crowd appeared as a patchwork quilt -- a sheet of black in one section then, BAM, a guy in a salmon collared shirt.
T-Shirt Cannon: The Brooklyn Knight simply aims too low and shoots free shirts too infrequently. If the Nets organization wants to create a loyal fanbase, they need to arm him with an arsenal of free stuff and tell him to launch more of it into the upper decks -- that's where the real fans sit, which is to say, those are the only seats I can afford.
Fashionably Late: Halfway through the 3rd quarter, a sea of seats remained open (mainly in the pricier sections). Those lower sections (which were supposed to be wearing white) looked like a mouth missing teeth. Solution? Use the aforementioned underutilized t-shirt cannon to send those good tickets up to the people who actually showed up. Where's the suggestion box when you need one?
The Realest: I happened to be sitting next to the self-proclaimed #1 Nets Fan. When I asked her how she was confident in her position at the top, she needed only to point her regular human finger toward her enormous foam finger which read, "#1 Nets Fan." In Brooklyn, that's all it takes.