On a dull September afternoon, I was combing through emails when my attention was drawn to a particularly intriguing message. It had been sent from the chamber music department at the Eastman School of Music in Rochester, New York, where I'm currently pursuing my Masters degree in Cello Performance, and the yellow star to the left of its subject line told me that its contents were especially significant. Curious, I opened the email, and soon found my eyes widening in excitement as I read its contents: New York Senator Chuck Schumer, the chair of the Presidential Inaugural Committee, had invited Eastman to send a string quartet comprised entirely of students to perform at the presidential inaugural luncheon on January 21, 2013. While this event would not be a part of the inaugural ceremony itself, it would happen immediately afterwards and include the president, vice president, and several other notable politicians amongst its attendees.
I leaned back in my chair, an excited adrenaline coursing through my veins. A quartet from my music school would be performing for the president of the United States! Although I wasn't planning to apply myself, as I was new to the school and wasn't a part of a quartet at the time, I still felt honored to be a part of an institution that would be represented at such a prestigious occasion. I've always followed U.S. politics quite closely -- especially during election years -- and felt gratified that an elected official had demonstrated an appreciation for the role that classical musicians play in communities around the country. In a nation where funding for the arts is almost always the first on the chopping block when it comes time for budget negotiations, the invitation from Senator Schumer and the inaugural committee was most certainly an encouraging gesture.
Unsurprisingly, the email appeal generated great interest throughout the school, and a month later several hopeful quartets auditioned before a panel comprised of both chamber music faculty and members of the Eastman administration. When the results were released, I was pleasantly surprised to discover that I knew the members of the winning ensemble: violinists Che Ho Lam and Markiyan Melnychenko, violist Kelsey Farr and cellist Hyeok Kwon. In fact, Hyeok is also in my studio at Eastman, and had brought the quartet to one of our studio classes to practice performing their repertoire prior to the audition. They had sounded great, and I couldn't think of a better group of players to represent Eastman. They will be heading off to DC the weekend before the event, and all of them are obviously quite excited.
"It truly is a great honor for us to represent the school at this historic occasion, and we are deeply privileged for the opportunity," said Lam, who is currently in his senior year at Eastman. "We are thrilled and excited to share our music with the audience."
That music will include selections from both classical and jazz genres, including standard quartet works by Haydn, Beethoven, Mozart and Dvorak in addition to several jazz selections arranged for the occasion by students in Eastman's jazz department. The performance in Washington won't be their only opportunity to represent the school, either; they already performed together at a University of Rochester holiday reception in New York City in early December, and will be performing at other similar occasions in the new year as a part of their preparation process for the inaugural event.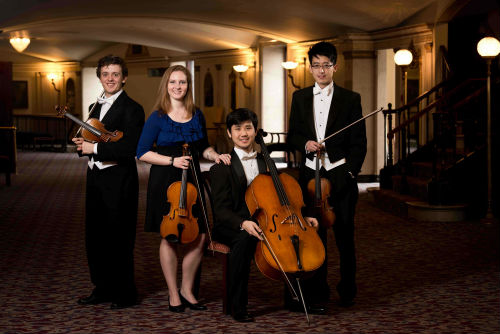 Eastman String Quartet
However, readying themselves musically is not the only challenge. As violist Farr told me, "this is an inaugural group itself," so each of the individual members will need to be able to play well with each other in addition to getting along on a personal level. According to Farr, though, neither of these aspects of ensemble playing has been difficult.
"The four of us really get along on a deeper level beyond professionalism, so playing together and traveling is hardly work," she stated. "We're living the dream!"
The group plans to remain together after their performance in January, and hopes to continue touring and connecting with new audiences around the country. Regardless of their future prospects, however, one thing is for certain: This will be an unforgettable occasion, both for the performers and everyone who is a part of the Eastman community.