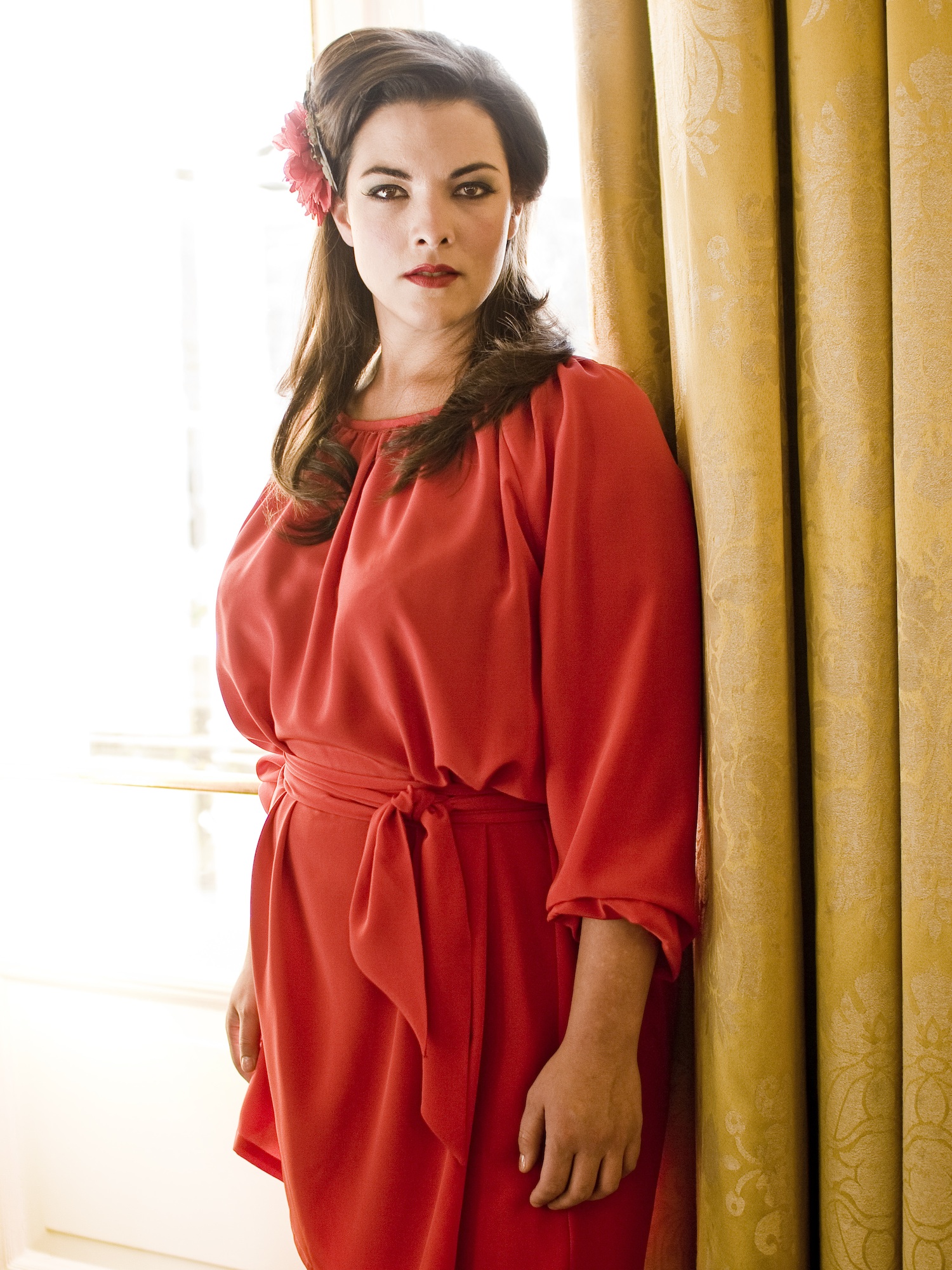 Photo credit: Adrie Mouthaan
Haven't heard of Caro Emerald? That could change soon. The global pop superstar's debut album Deleted Scenes From the Cutting Room Floor outsold Thriller in Emerald's native Holland. The album spent nine weeks in the UK top 10 and won so many European music awards that you'd fall asleep if I listed them.
Deleted Scenes was released stateside this April, and Emerald recently played her first U.S. live shows in New York and L.A. Armed with an eight-piece band, the album is a seamless blend of contemporary hip-hop/pop production with the instrumentation and vocal stylings of a '40s jazz club. Emerald uses the warm glow of nostalgia as a base for her fresh, contemporary sound. The classically trained singer has a chameleonic voice, channeling artists as varied as Lily Allen and Nelly Furtado are from Beth Gibbons and Trish Keenan.
Most importantly, the album is a lot of fun. Especially indelible are singles "That Man" and "Back It Up," which are two of the most left-field earworms this side of OMD's "How Bizarre." While the overseas release of Emerald's second album will keep her off our shores for the time being, now's the perfect time to catch up with Amsterdam's other signature export.
Zack Rosen: You grew up in Amsterdam, one of Europe's most famously queer cities. Did this influence you as an artist?
Caro Emerald: Amsterdam is very liberal in any kind of sense. That has influenced me. It gives you the freedom of trying to be whoever you want to be, so it makes sense that it's a very creative city as well. It's pretty much the same as Berlin.
Rosen: Do you think Amsterdam gets as much credit as Berlin?
Caro Emerald: I'm not complaining about it. Usually people would point out Berlin as being very creative, but Amsterdam gets enough credit for being a cool city.
Rosen: Your sound and look are so steeped in the '40s. What is the appeal of that era to you?
Caro Emerald: It's just fun. That's how we created this project. It happened by accident. I wasn't supposed to be the singer for the first demo they made in this style. They wanted to sell that song, and it really suited me and my voice. We decided to make a DIY project out of it. I'm a jazz-trained singer, so I've always sang that old-school jazz.
What I really liked is that crazy mix of modern music and [retro] music. To me that is the focus of the whole thing. Then the whole look and feel came. I just wanted to create something clever around it. My personal style has always been feminine and classic. I just wanted to enhance that.
Rosen: How do you put your modern stamp on these songs to prevent them from sounding like they are actually from an old era?
Caro Emerald: We start with the music. The way the guys work is very hip-hop. They create loops, then we put lyrics and melodies on. The last bit is the most crucial, when they finish up the production. It takes a lot of time. They are very much looking into the details of their arrangement, putting in all the scratches and sound effects. That's what makes it sound modern.
Rosen: Do you think the Netherlands had ever heard an album quite like this?
Caro Emerald: Yes, but to put it in this pop structure, I don't think that's been done before. This was the first time that it was put out to a big audience. They actually thought it was from America; they think that everywhere. It's so based on American music that you don't really hear a specific nation inside of the song.
Rosen: Are there any contemporary American musicians that influenced you?
Caro Emerald: I'm not sure. Is Portishead from America?
Rosen: No, but I wanted to ask you about that! Parts of this album remind me of Portishead or Broadcast.
Caro Emerald: That's more the production side of it. I like that. An artist that has influenced me as well with her music and her voice is Rihanna. I've always been listening a lot to R&B and soul music as well.
Rosen: Any older influences?
Caro Emerald: Vocally? I'm not sure where's she's from, but Nina Simone. Dusty Springfield is definitely an influence. I've listened a lot to Otis Redding, Aretha Franklin and Louis Armstrong.
Rosen: To what do you credit your massive success? How did you strike a chord?
Caro Emerald: I get asked that a lot, and I think it's a big risk to try and explain success. It can easily go the other way, and you never know what's going to happen. But what I think makes it so interesting is it appeals to a lot of different people: people that don't normally listen to jazz, people that do, people that like to dance, or just listen to complicated music, because it's so very layered.
It's very easy listening. The songs are very recognizable, but they have a complicated level in the detail of the production, but the lyrics are very clever. For everybody there is something to find in the music. Not only in Holland, but all of Europe and all over the world, I've had the same kind of response.
Rosen: How did your first two shows in the States go?
Caro Emerald: Fantastic! They were the reason for me to think that there is a place for me in the American market. I didn't know what was going on before. I'd been plugging the first single for some time; it's always hard to go watch the stats and see what that means. When you actually go to a country, you can feel it. This the most enthusiastic audience I've had as far a first show goes. I didn't realize I had such a fan base in the U.S. The New York and L.A. shows were fantastic. People told me they'd been waiting for years for me to come over.
Rosen: When do you think you'll be back here?
Caro Emerald: I wish I had an answer, but right now it's complicated. I'm working with my second album here in Europe, and its going fantastic. I just had a number-one album in the UK. Things are crazy around, and I'm waiting for the right time to come back. It's a big thing to go all the way over and bring my band. We're definitely making plans, but nothing to be announced right now.