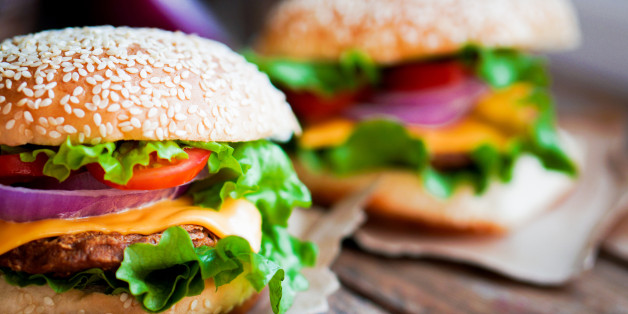 New season, new burgers. Chefs around the county just can't stop themselves from playing around with America's favorite fast food. Whether you like out-there versions with peanut butter and jalapeño jelly or high-end takes with imported cheese and dry-aged meat, we've got a burger for you. If we missed a killer new burger in your city, lets us know in the comments below. (Feature photo by Republique/Lesley Balla).
Atlanta: PB&J Burger at West Egg Café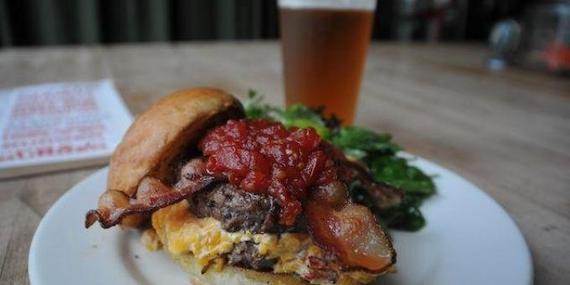 Best known for its brunches — "egg" is in the name, after all — this Westside restaurant also has a killer menu the rest of the day. Check out the "PB&J" Burger ($12). The P stands for pimiento cheese, which oozes from between two custom ground patties. Up top you'll find crisp bacon and a savory/sweet tomato jam, rounding out the B and the J. The burger's served with a cup of soup or field greens, or fries for an extra $1.50. —Christopher Hassiotis (Photo by Ben Johnson)
1100 Howell Mill Rd.; 404-872-3973
Los Angeles: Dry-Aged Burger at Republique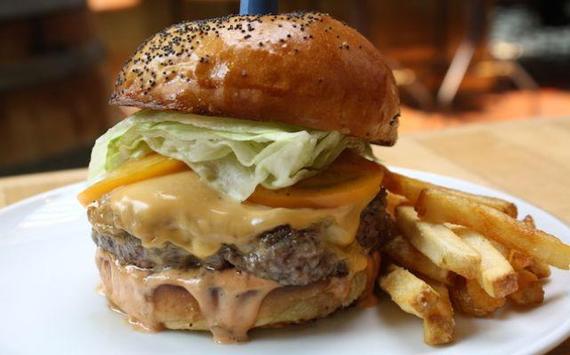 Introduced almost a year after the restaurant opened, diners couldn't wait to get their hands on chef Walter Manzke's burger ($14) and the demand has been off-the-charts. The dry-aged beef patty is seasoned just right, grilled to perfection and topped with grilled onions, Thousand Island dressing, American cheese and iceberg lettuce on a soft poppyseed bun. Sound a little familiar? Yeah, and it's a 1,000 times better than In-N-Out. It comes with a cone of fries that are basically perfect. Be warned: it's only served at lunch. —Lesley Balla (Photo by Leslie Balla)
624 S. La Brea Ave.; 310-362-6115
Philadelphia: GSLT Burger at The Gaslight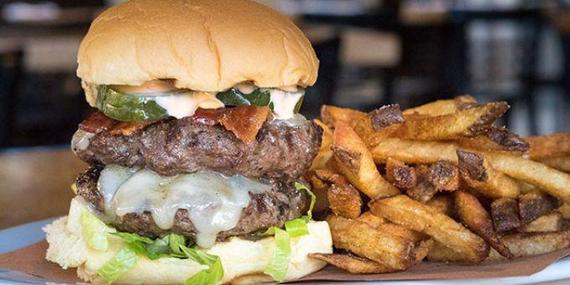 After shutting down for a few weeks to repair water damage, this Old City gastropub re-emerged with a new chef and a new burger. Instead of the unwieldy eight-ounce patty in the previous burger here, chef Jordan Sauter went for a double stack of slim four-ouncers. Still juicy, they smush together appetizingly with house-smoked pickles, shreds of lettuce, bacon and a spicy cream sauce inside a Martin's potato roll. Hand-cut fries on the side are dusted with a secret blend of spices that somehow doesn't overwhelm as it bursts with umami ($13). —Danya Henninger
120 Market St.; 215-925-7691
New York City: Cheeseburger at Bowery Meat Company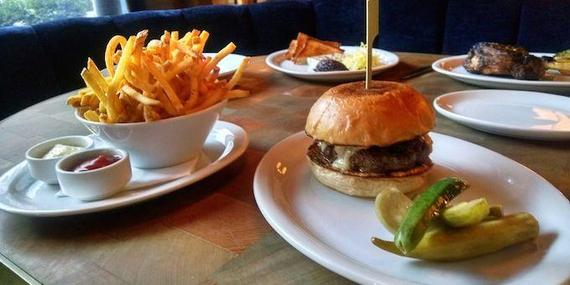 Chef Josh Capon is a burger savant, so his new Bowery steakhouse just had to have a killer burger. Alongside executive chef Paul DiBari, he's created another killer creation. This juicy patty is topped with griddled onions, raclette cheese and tomato aïoli and is served with fries ($22). It's pricey, but worth it, with plenty of dry-aged beef lending some deep, steaklike flavors to the burger. —Kelly Dobkin
9 E. First St.; 212-460-5255
Boston: Shojonator at Shojo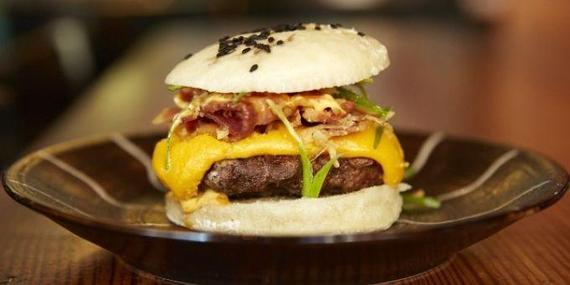 About six months ago chef Mark O'Leary stepped into the kitchen at this Chinatown spot. And as one of the masterminds behind the pop-up "The Future of Junk Food," it was inevitable he'd come up with something like this: the late-night menu's Shojonator ($5), which was inspired by the Wendy's Baconator, one of O'Leary's favorite burgers. Slightly bigger than a slider, the four-ounce beef patty is sandwiched by steamed bao shaped like a burger bun and crusted with black sesame seeds. Inside: bacon, fried shallots, scallions and O'Leary's "kimchi Velveeta," a sharp, tangy and thick cheddar sauce. —Scott Kearnan
9 Tyler St.; 617-423-7888
To discover the rest of the best new burgers in America, get the complete story on Zagat!
More from Zagat:
America's Next Hot Food Cities
America's Most Iconic New Dishes
The 10 Hottest Restaurants in Las Vegas