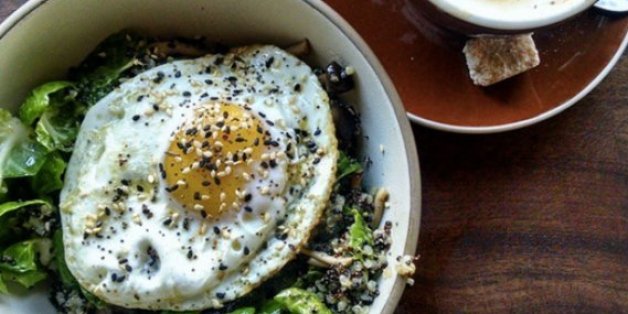 By Kelly Dobkin
Eating a good, solid breakfast used to be the antithesis of cool, but now breakfast has become the meal you never knew you wanted to wake up early enough to eat. More and more restaurants are experimenting with the early-morning meal, infusing global flavors and highbrow ingredients into AM classics like eggs, yogurt and toast. There are even breakfast-focused restaurants that are far from your classic diner, like Dimes in NY, Sqirl in LA and Milktooth in Indiana. What's behind this new chef-driven trend? Maybe it's a backlash to brunch (long hated-on by chefs)? Or maybe restaurants are realizing that focusing on the meal is a clever way to maximize profits, as breakfast has a high turnover rate and uses relatively low-cost ingredients. Below we take a look at some of the most prominent trends and dishes making this early-morning meal hipper than ever.
Avocado toast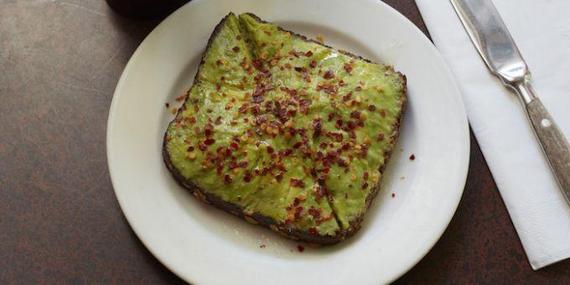 Practically its own breakfast-food category at this point, avocado toast began invading menus a few years back as part of the Australian coffee-shop influx (down under they call it an "avocado smash"). Now its ubiquity rivals the kale salad, even though the origin of the dish's popularity is still debated. In NYC, many point to NoLita standby Cafe Gitane as an early adopter; they sprinkle theirs with chile flakes, lemon juice and olive oil (pictured). Given avocado's status as the poster fruit of California, others point to Los Angeles or San Francisco as the natural birthplace of the dish. Regardless of its origin, this dish has become synonymous with "trendy breakfast" — where both chef-driven and health-driven interests intersect on the plate.
Where to try: Cafe Gitane in NY, Eveleigh in LA, Frog Hollow Farm Cafe in SF
Global breakfasts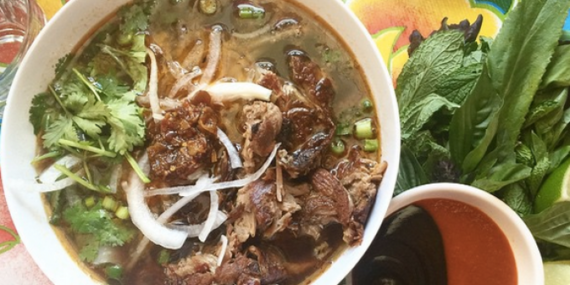 More and more chefs are thinking of breakfast as a place to experiment with both global flavors and cuisine mashing. Diners flocked to Danny Bowien's Mission Cantina when he announced he was going to serve a Vietnamese breakfast at his LES Mexican eatery that included items like pho, beef tartare and duck porridge (recently the breakfast offerings have gone Mexican). Ivan Orkin of Ivan Ramen also began serving his 8 a.m. ramen, which combined a traditional Japanese dashi broth with American cheddar cheese and mixed in New Jersey breakfast favorite Taylor Ham (used in pork roll sandwiches) and a scallion omelet. At Stephanie Izard's Little Goat Diner in Chicago, you'll find an all-day breakfast with cuisine-bending combos like paratha burritos (Indian flatbread, sunny-side eggs, avocado-bean salad, chile pepper sauce, sheep's milk cheddar) and a Chinese take on an American breakfast sandwich that includes Sichuan pork sausage, sunny-side up eggs, chile-garlic-chive sauce and blackberries atop a sesame cheddar biscuit. (Photo by Instagram/Mission Cantina)
Where to try: Ivan Ramen and Mission Cantina in NY, Little Goat Diner in Chicago
Grain and acai bowls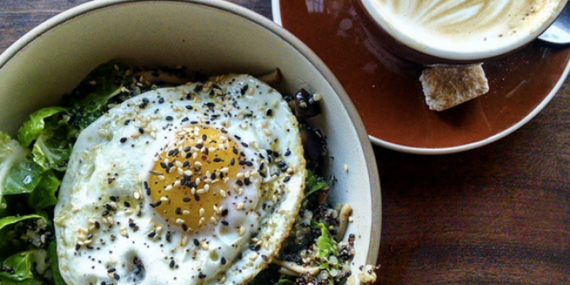 On the health-conscious end of the breakfast trend, grain bowls and acai bowls are the craze du jour. The latter migrated to the U.S. from Brazil to Southern California and Hawaii in the early aughts and has slowly made its way to menus across the country. At Dimes on Manhattan's Lower East Side, you'll find an array of both grain bowls and acai bowls on the menu including a black rice bowl with kale gomae, sweet potato mash, eggplant, bonito-chile cucumber and grapefruit-ginger ponzu. At Austin's Dai Due, a former supper club and butcher shop gone brick-and-mortar, you'll find an Asian spin on the grain bowl trend for breakfast mixing brown rice, kimchi, collard greens, a fried duck egg and thin-sliced venison. Bowls are even going fast-casual. A Southern California chainlet called Backyard Bowls serves up acai bowls with toppings like bee pollen and goji berries and porridge bowls made from ancient grains. (Photo by Michael Endelman)
Where to try: Dimes in NY, Sqirl and Backyard Bowls in LA, Dai Due in Austin, Basik Cafe and Outerlands in SF (pictured), Zeal in Boulder
Find out about more delicious breakfast foods by reading the full story on Zagat!
More from Zagat:
America's Next Hot Food Cities
The 10 Best New Burgers Around the U.S.
America's Most Iconic New Dishes