Based on reactions from Instagram and Twitter, I was prepared for a big cry-fest when I watched the HBO film, The Normal Heart, but I didn't shed tears. Instead, I felt a deep profound feeling in my gut that challenged my own attitudes towards what I allow to hold me back.
Set 30 years ago, the overarching themes are have a strong impact today. We watch the characters struggle against tremendous emotional and physical obstacles. In his fervent mission to gain awareness of the emerging epidemic of HIV/AIDS, Ned Weeks (Mark Ruffalo) finds love but also loses friends and family because of what he believes in. Felix Turner (Matt Bomer) initially hesitates to get involved in the cause as he doesn't recognize the difference that he can make.
I asked Matt Bomer what lessons he learned from helping tell this story.
1. Be Open to Intimacy
Be open and available to cultivating a stronger sense of unconditional love with others and with yourself.
2. Look Out for Others
Yes, it is important to take care of yourself and have your needs met. But beyond that? Give back. Commit to something that is greater than yourself. Rally behind it with like-minded individuals as there is strength and support in community.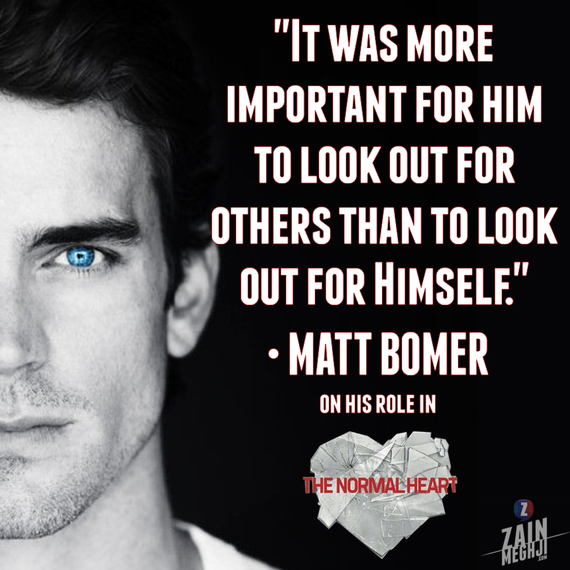 3. Be Authentic
Get out of your own way and tell your story as honestly as possible. Using your voice to express what you know to be good and true has the power to change lives.
4. Be the Best You
Take charge of yourself and what you are personally in control of, bringing the best version of you to the table.
5. Trust
Believe in your vision and practice a disciplined commitment. Allow the rest to fall into place.
"The only thing necessary for the triumph of evil is for good men to do nothing" -- attributed to Edmund Burke #TheNormalHeart

— Zain (@ZainMeghji) May 25, 2014
What did you take away from the film?
Let me know in the comments below.
Connect with me at zainmeghji.com.