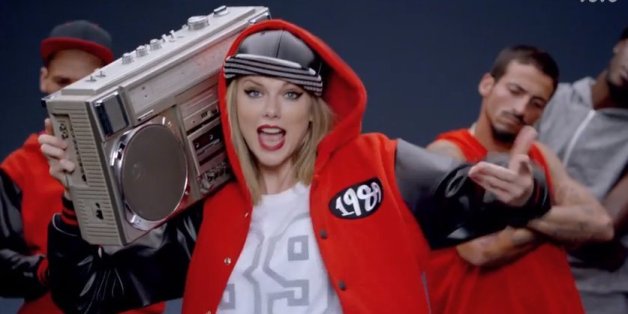 So yesterday, Taylor Swift slayed once again. She announced via a worldwide Yahoo! live-stream at 5 p.m. ET her single name, her album name/cover art and her date for when the album comes out. However, BEST OF ALL, she debuted her first music video for the first single of the "Fifth Taylor Swift Era." Crazy, right?
So here are the deets before we get started: Taylor's new single is called "Shake It Off," from her upcoming album, "1989," out on October 27. She said on the live-stream that this new album was going to be purely pop, and that her inspiration mainly came from the late 1980s, where people did what they wanted to when it came to music, experimenting and being bold. She ended up calling the album, "1989," because that was the year she was born and it made perfect sense hence her inspiration for it all.
The cover art for "1989" is a Polaroid picture of herself in a sweater with the caption, "T.S. 1989." She's really going for this whole "vintage-esque" theme for this new album and we could not be more excited about it.
Okay, so now, the single: "Shake It Off." The whole idea for this song came from, well, haters hating on whatever Taylor was doing in her day to day life. The single speaks high volume in its message for people -- EVERYWHERE. Taylor said in the live-stream that there are two options for you when negativity arises. Option one: you can let the hate affect you, drive you crazy, insane, and eventually, allow it make you a become monster. Pretty awful, right? There's no control and we have all been down that road. It's awful.
However, then there's option two: You can shake it off and let those haters know that they're missing out on the fun that is the positivity of life. Don't mind what people say. Do what you want to do and the only opinion that matters is your own. Of course, you are going to say that you have heard this message before, but this song has a new vibe of its own that makes you want to dance to the rhythm and shout out on the streets and to everyone and to anyone who has ever told you that you can't achieve what you so badly set your mind to. ("IT'S GONNA BE ALRIGHT. PLAYERS GONNA PLAY PLAY PLAY. HATERS GONNA HATE HATE HATE. I'M JUST GONNA SHAKE SHAKE SHAKE IT OFF!")
Go out there, Taylor Swift says, and show the entire world your willingness to dance no matter what people throw your way. Your life is too short for your determination and success to have a block in the road.
No one can ever stop you with whatever it is. No one. "I never miss a beat. I'm lightning on my feet, and that's what they don't see. I'm dancing on my own. I make the moves up as I go, and that's what THEY DON'T KNOW."
I hope this new song inspires you to start or continue whatever it is and make a change in this world, one dance step at a time. Don't bother with the haters. They're missing out on the fun.