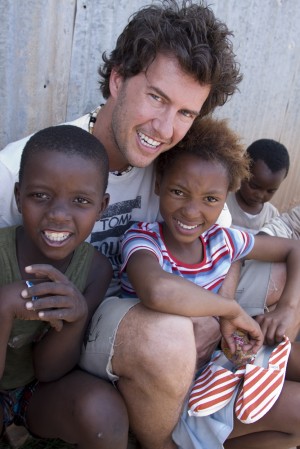 Blake Mycoskie, Founder of TOMS Shoes, with two children during a shoe donation drive.
If food, fireworks, and fun don't occupy your time tomorrow, then maybe buying shoes will?
TOMS shoes is counting on this with the opening of their first pop up store on the East Coast. Sole East Resort in Montauk will be the pop-up location for the three year-old brand which has become a cult hit for its simple, comfy footwear and charity outreach. The shop will carry a range of styles from the Spring and Summer 2009 collection, and will also be the site of TOMS-sponsored events throughout the summer until September.
"The Hamptons encapsulates such a cool, easy lifestyle that it seemed the perfect place to open our second pop-up store," said Blake Mycoskie, founder of the brand. "The boutique will help us reach our favorite East Coast customers this summer and as always, with every purchase, provide a new pair of shoes to children in need."
The signature shoe giveaway program which is called One-on-One donates a pair of shoes to kids in Argentina, Ethiopia, New Orleans with every purchase. Since the program began, the company estimates that over 140,000 pairs of shoes have been donated. Over the next year it aims to give 300,000 more.
The charity aspect is as heartwarming as Black is handsome. I'll be checking out this store for the opportunity of doing both.